Nigerian man sentenced to prison for $1 million fraud in United States
- Fawaz Olarewaju Animasaun was charged with aggravated identity theft and conspiracy to commit bank fraud
- He was accused of duping some people of the sum of $1 million
- Animasaun has been sentenced to 2 years in a federal prison
A 27-year-old Nigerian man, Fawaz Olarewaju Animasau, has been sentenced to 2 years imprisonment in the United States for aggravated identity theft and conspiracy to commit bank fraud.
Animasaun and two other persons were named in a federal indictment for charges of aggravated identity theft and conspiracy to commit bank fraud, as well as aiding and abetting.
He was on his way to the U.S. from Ghana, through Amsterdam, when he was arrested at the airport in New York in November last year.
Under a plea agreement finalised in May, Animasaun is serving three years in prison on the conspiracy charge. He is ordered to pay $930,737.60 in restitution to three financial companies.
Court documents show Animasaun will pay $135,989 to East Texas-based Austin Bank as part of that restitution.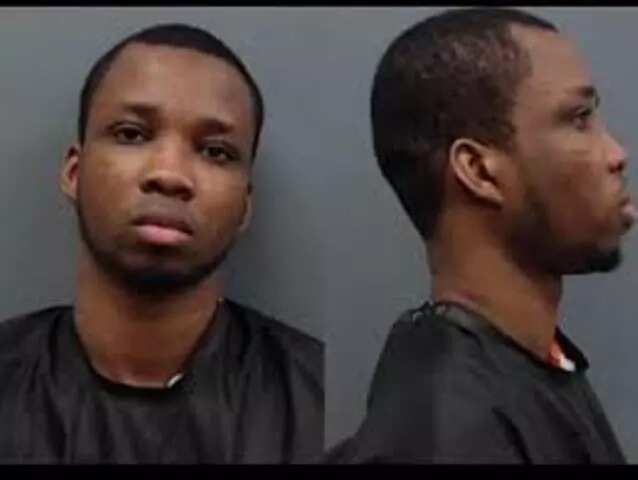 In addition, the agreement states that Northern Trust Company is due $46,800 and UMB Financial Corporation is due $747,948.60.
READ ALSO: Why Nigeria's unity is in dilemma - Atiku Abubakar
Animasaun and his alleged accomplice Idowu Temitope Omolade, also from Nigeria, are believed to be involved in at least 21 fraudulent wire transfers between April and August of 2012. And that may not be all.
A rare footnote made by a U.S. Attorney in the 21-page federal indictment reads: "Because the purpose of this complaint is to set forth only those facts necessary to establish probable cause to arrest, I have not described all the relevant facts and circumstances of which I am aware."
The indictment says the purpose of the conspiracy was to "… unlawfully obtain money through unauthorised transfers of funds from bank accounts and brokerage accounts."
To do that, the Nigerian men allegedly impersonated actual account holders in emails exchanged with banking and financial services personnel. In those email conversations, the indictment says the suspects "… harvested details about the target accounts, including account balances, and obtained wire transfer instructions."
PAY ATTENTION: Read the news on Nigeria's #1 news app
With those details, the suspects were then able to initiate a wire transfer without the account holder's knowledge or authorization.
The indictment said that the money was moved through a series of accounts using "money mules," or people who may or may not have known they were assisting in the transfer.
Other financial institutions affected include Wells Fargo, UMB Bank, UMB Financial Corporation, Northern Trust and Northern Trust Corporation.
Animasaun was transferred out of the Gregg County Jail on June 28, in the custody of the U.S. Marshals. Federal Bureau of Prisons records show he is now in a detention centre in Brooklyn, New York, and will remain there until June 2019. He could have received up to 30 years in prison for each count of the indictment.
The indictment states that Animasaun kept Omolade informed of the progress, and told him when to expect specific wire transfers. Omolade is not listed as a federal inmate, and there is no record of an arrest. Aliases listed in the indictment include "Michael Chernick" and "CLICKIDONLINE."
Animasaun is listed in the indictment with four aliases, including "Larry Hoover" and "Slim Husstle Olanraywaju."
Meanwhile, for using the identities of British members of parliament, judges and police officers during an elaborate £10million scam, a gang of Nigerian fraudsters are now facing jail time.
Reports show that over a four-year period, the crew stole personal details from the British Civil Service Sports Council (CSSC) to make fraudulent claims.
The suspects comprised of 30-year old CSSC events manager Adedamola Oyebode, who stole membership lists and passed them on to her brothers-in-law, 34-year-old Oluwatobi Emmanuel Odeyemi, and 39-year-old Oluwagbenga Stephen Odeyemi, who ran the fraud with 38-year-old Kayode Sanni.
Watch this Legit.ng TV video of a visit to the house of billionaire kidnapper Evans:
Source: Legit.ng