Legit.ng Weekly Price Check: As prices of goods continue to rise, traders decry low sales
- Prices of goods remain the same across various markets in the country
- Findings by Legit.ng at Bariga market, Lagos, showed an increase in the prices of basic food items like rice, beans, garri and perishable items
- Some traders in the market attribute the rise in the cost of items to the economic situation of the country, others blame the price increase on rise in foreign exchange rate
- Buyers lament low income leading to a reduction in their purchasing power
It has been a challenging period for traders, as well as buyers in some major markets of Lagos state, as they now witness poor patronage sales after the Sallah celebration.
A recent visit to Bariga market, Lagos, showed that there has been a drop in patronage as some traders complained that they no longer make profit as they used to make daily.
The prices of tomatoes, rice and garri, which went up at the turn of the season, have not witnessed any reduction in most markets in Lagos metropolis, Legit.ng confirme.
The survey revealed the increase in the price of some basic food items. As buyers lament increase in the cost of items, traders continue to decry the reduction in their purchasing power thus reflecting in their profit margin.
Some dealers in food items in the market, have attributed the rising cost of some commodities on the increase in the cost of transportation in the state.
A yam dealer, Mr Kayode, said the prices of yams increased because of the high cost of transporting the product from the source to the city.
"An average size of an average tuber of yam sold for N450 last month, now sells for N650, while a big sized tuber of yam earlier sold for N700 now goes for N1000. The yams that are expensive is only with a margin of N50 and N100. And the prices difference is determined by the market. If it is a major market, it will be a little affordable, but if it is not, it will be expensive.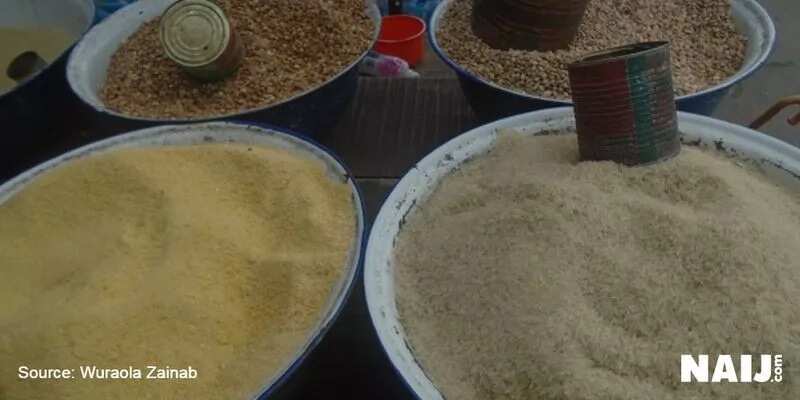 "We sometimes find it difficult to get trucks to bring our goods to Lagos; drivers often refuse to come due to bad roads as reasons and increase in transportation which as a result of long distance," Kayode said.
At the market, the price of perishable items like tomatoes, chili pepper and onion have increased. A basket of Hausa tomatoes now cost N25,000 upwards as against its old price of N14,000. While a big bag of Chilli pepper cost N16,000 and a bag of new onion goes for N28,000 and the old one goes for N35,000.
Mrs Onyinye, a plantain dealer, said the cost of conveying the product to from the farm in other states had become very expensive, leading to a rise in the price of the goods.
Adding that only few transporters now accept going to other states to carry plantains to Lagos because of the nature of the roads.
"Even when they accept to come to Lagos, they refuse to follow us to the bush where we buy the commodity cheap because of the state of the roads. A bunch of good plantain that usually cost N6,000 now goes for N8,000 upwards.
"It is worse now that the rains are heavy; as you can see, everyday rain falls and that makes the matter worse," she said.
A trader who sell foodstuff in the market, identified as Mr Chidi, however, said that the increase in prices of goods was not new.
"The price increase is not unexpected in the market especially when you witness consistent rainfalls. The price of a bag of rice has moved up to N17,500 from N18,500 it was sold last month, while a bag of garri (white) that cost N15,000 last month, now goes for N16,000. The price of beans in various markets across the country are witnessing a sharp increase due to the recent drop in the value of the naira. A bag goes from N30,000 upwards.
"A big bag of egusi (Machine)that cost N55,000 before, now cost N62,000 and the bag of Egusi (Handpeel) that cost N45,000 before, now cost N48,000 now. the price difference is as a result of the size of the bags. sometimes one cannot really give a fixed price for these food items because they fluctuate when you least expect it. A bag of Ogbono that cost N100,000 before, now goes for N110,000. While a big nylon crayfish that cost N32,000 before, now cost N28,000. This was due to the change in the weather pattern.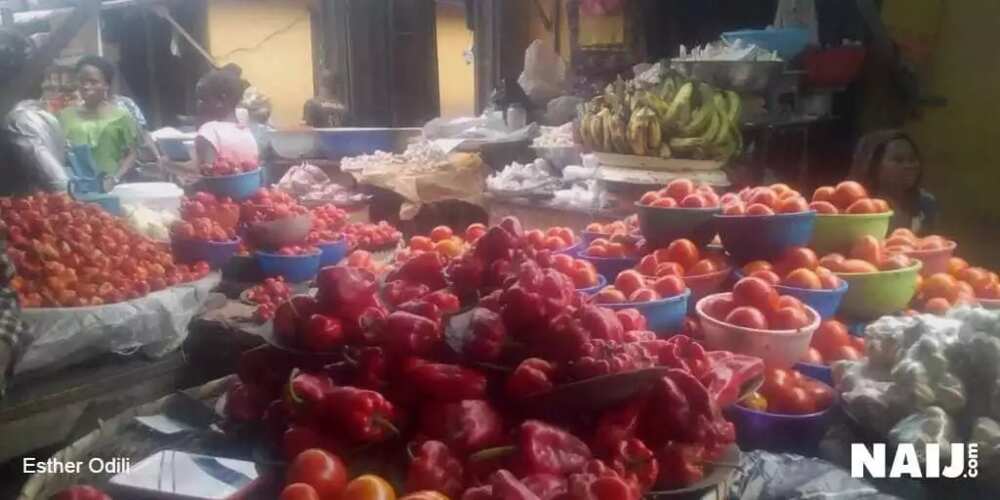 "We turn to alternatives, but that does not mean that we are happy over the cost of goods in the market," he said.
Moreso, some traders stated that products that have nothing to do with dollar value have increased. For instance, maize sells at N7,500 as against N6,500 while sorghum is now N12,500 instead of N10,500. While beans goes for N44,500 upwards as against N38,000 few weeks ago. These prices is determined by the size of the bags, the market location, the traders decision and the type of beans.
Consumers who spoke with our correspondent, expressed concern over the persistent price increase of some food items, especially imported rice, vegetable oil and palm oil.
The market is popularly known for cheap prices of goods, especially food items like rice, spaghetti and cooking oil, residents are now living under difficult circumstances as a result of the increase in prices of various commodities.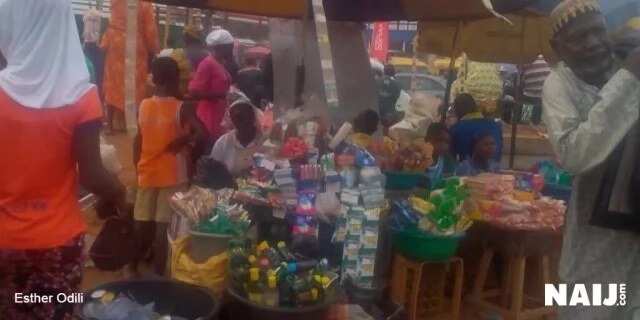 "25 litres of vegetable oil, which was sold at N15,000, is now N16,000. While 25 litres of palm-oil that cost N12,500 before, now goes for N13,500. A carton of popular tomato paste that goes for N2,800 before, now cost N3,600. A carton of noodles is now N2,500 instead of N1,800 as observed in the market," Chinansa told our correspondent.
Some beverages, cereals, and powdered as well as liquid milk have also witnessed a slight increase. A dozen of Peak Milk (sachet), which goes for N350 before, now goes for N450. And a dozen of Three Crowns milk (liquid) that usually cost N1,200 now cost N1,450. As a result of the increase in prices, there has been a shift in patronage of these goods from abroad.
The story is the same with other food items. Checks by Legit.ng revealed a mixture of hope and despair as many people struggle to make ends meet due prices increase.
Nnamdi, a trader at the market who deals in essential commodities, said there was a general decline in patronage as most customers can no longer afford many things, including those considered essential.
Meanwhile, many residents are lamenting the deterioration of living standards following the sudden rise in prices of basic commodities.
Also, energy drinks, candies, especially chocolate and other imported commodities, are disappearing on the shelves of various supermarkets because customers hardly afford them.
"Customers are changing their tastes, going only for the necessities of life. Chocolates are no more selling, so we have decided not to go for chocolates and energy drinks because majority of our customers are coming for just the basic necessities," said a sales attendant at Grace supermarket, opposite the main market who pleaded anonymity while speaking with our correspondent.
Further investigation at the market revealed that about where about 70 per cent of stock is imported, the prices are not so different.
Although the naira has depreciated, Dubem, another sales attendant close to the operations of the supermarket, however, disclosed that their prices are reasonable considering the situation on the ground.
"The fall in the value of the naira is certainly having an effect on importation, but we still have stock of goods that will last for a long time. You know we have other places in Lagos, and they are all well stocked. We only hope that things would soon stabilize," he said.
Similarly, David a trader who sells wigs and other hair extensions at the market, revealed that the prices of the goods have risen by almost fifty percent. According to him, the prices of the goods arose as an increase in exchange rate. Adding that, the wigs and hair extensions that are of good quality have become expensive while the cheaper ones are those of low quality made in Nigeria.
"Human hair wig that cost N25,000 before, have risen to N35,000 and above. Also good quality lace wig that usually cost N7,000 before, have risen to N12,000 and above. Before, you can get hair extensions from N450, but now it goes from N700 upwards, depending on the brand. Also, we have Wigs of N1,500 before, but now they are sold from N3,000 upwards. This depends on the style, the quality of weavon used and the length of the wig. the ones wigs that are short are always affordable while the longer ones are not.
"The amount purchased often times determines the price offered for sale. If we buy at a cheaper rate, we will sell at a cheaper rate. But if we buy at an expensive rate, we will sell at a higher rate," David stated.
Furthermore, a kitchen utensils and furniture trader, Alhaja Zainab informed that they are still selling old stock.
"We are yet to open the new stock as they just arrived from abroad. And given the exchange rate of the naira to the dollar, the goods will surely cost more.
"Middlemen take advantage of the situation. The increase in the prices of some locally produced commodities, according to our findings, was necessitated by some few traders and middlemen who are taking advantage of the forex market to exploit buyers," Alhaja Zainab added.
Further survey by Legit.ng indicated that apart from imported items, prices of local products are on the increase.
Some residents of Bariga who spoke to our correspondent , said they were really feeling the impact of the situation at hand.
Baba Ibrahim, popularly referred to as Baba Ibro, a father of four, who works in a private company, said his salary could no longer meet the demands of his family as the prices of goods have gone up.
"The increase in prices was unprecedented and unjustifiable. It was unfortunate that the prices of commodities were on the increase while the income of many Nigerians have reduced as a result of job cut by some industries."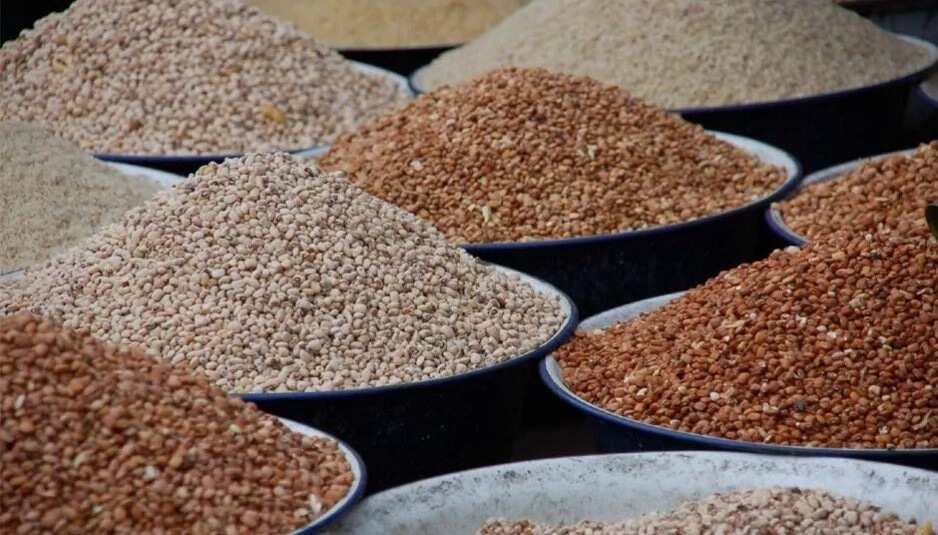 He however, blame some Nigerians who are taking advantage of the situation to increase prices unnecessarily.
Udoka, a consumer at the market was of a different opinion. In his view, he said although the increase in prices of goods was not a welcome development, Nigerians must wake up to cultivate the savings attitude and look inward in order to have a sustainable consumption pattern.
He further explained that the attitude of over- dependence on imported goods is behind the issues we are facing at the moment.
Other traders at the market, informed that the depreciating value of the naira is not the only reasons for the economic hardship that Nigerians are facing.
According to them, other factors such as cost of transportation, agricultural inputs such as fertilizer, and the rainy season, are some of the reasons for the increase in prices.
Some traders who recently spoke with Legit.ng TV expressed their displeasure at Nigeria's leaders over the state of things in the market.
Watch the video below:
Source: Legit.ng