Arrested robber revealed how his mother died upon hearing about his arrest (photo)
- A devastated robber has revealed how his arrest led to the death of his mother
- The 26-year-old man was arrested for stealing a car
Sikiru Lawal, a 26-year-old Nigerian man, has revealed how his arrest led to the death of his sick mother. He was taken in by the police for stealing a green Peugeot 206 saloon car in Badagry.
The young revealed how sad he is upon hearing that his ailing mother passed on when she heard the news of his arrest.
He revealed what made him venture into a life of crime as he had hopes of raising money and traveling out of the country.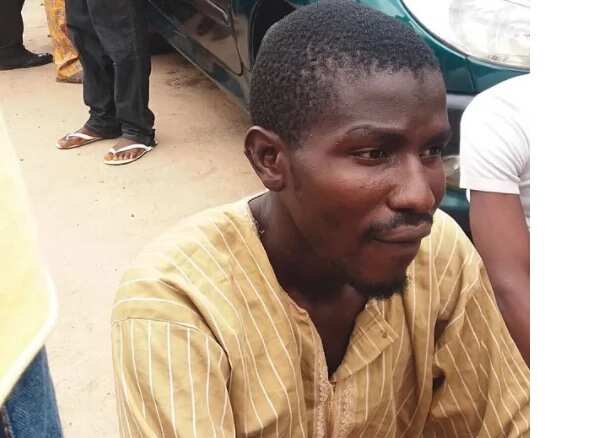 READ ALSO: Little boy takes his own life after grandmother complained about missing money (photos)
"She had been sick and had been on hospital bed for some time. We were praying she would get better. I'm one of the three children she had. I was told that when she heard I was arrested for a criminal offence, she gasped and died. I regret my action."
Prior to his arrest, Lawal had been imprisoned for stealing and conspiracy in March. The police interrogated him further to know the country he was planning to relocate to but the young man simply insisted that he wanted to leave Nigeria.
Lawal was paraded along with other suspects by Dasuki Galadanchi, the deputy commissioner of police and the acting commissioner of police in Lagos state.
The young man not only regretted the fact that he was arrested, he also regretted the fact that his mother's life ended because of him.
PAY ATTENTION: Install the latest android app to get updates from Nigeria's number one online news platform
What are your thoughts on this?
Watch the Legit.ng TV video below to see how frustrated this man is with the situation of things in the country. He said he could go into robbery if the government wants him to:
Source: Legit.ng