Blindfolded man identifies his wife by touching her hands
A video of a blindfolded man picking out his wife from a line-up of women has gone viral.
When you fall in love with someone, the both of you share a deep physical, mental and spiritual connection that is very powerful.
READ ALSO: Love Nwantinti: This lovely couple met at a wedding 7 years ago and you will adore their magical love story (photos)
In a recent viral video of a blindfolded man searching for his wife, the man is only allowed to hold each person's hand and tell if the person is his wife. Watch love work its magic in the video:
READ ALSO: Top actress flaunts her new boyfriend on social media (photo)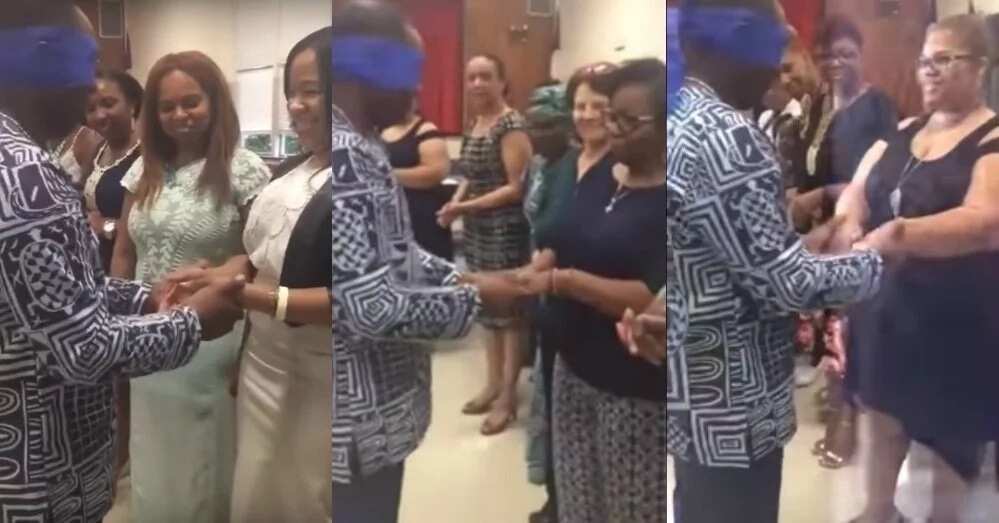 Women of different ages and sizes took part in the little game. The man walked round patiently, touching each lady's hand.
Once he reached his wife, he lingered on her hands and eventually pulled her into a loving embrace, to the pleasure of the crowd.
WANT MORE? Download Legit.ng Wedding app for android to get the latest posts
The power of love is a great one and here it brought the man straight to his love even though he could not see her.
Watch the video below of Nigerians telling Legit.ng who lies most between men and women:
Source: Legit.ng