See the General Purpose Machine Gun Navy used to destroy Calabar police station
- The naval operatives used a General Purpose Machine Gun to attack a Police station in Calabar
- Two policemen identified as Sergeant Odudu and Corporal Emmanuel Mbang were shot dead at close range
Indications have emerged that Nigerian naval officers used a General Purpose Machine Gun to destroy a section of the Akim Police Barracks in Calabar, Cross River state capital, Punch reports.
Legit.ng reported that an altercation between an unidentified naval rating and a police officer was the genesis of the trouble.
The Naval officer was allegedly shot in the left shoulder by a policeman over a traffic offence.
READ ALSO: BREAKING: Court strikes out Independence Day bombing charge against Charles Okah
Legit.ng also reported that the situation brought about an attack on the Police station by some Naval officers.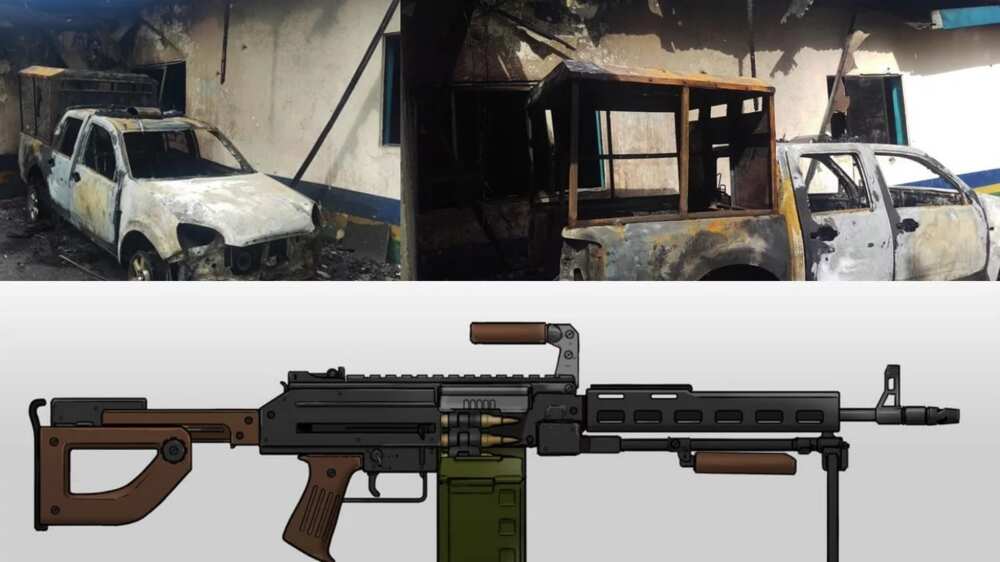 Punch reports that two policemen identified as Sergeant Odudu and Corporal Emmanuel Mbang were shot dead at close range while a third policeman simply identified as Ibiam was shot in the left eye.
Samson Inok, an eye witness while reacting to the incident said some naval officers came out of a nearby gutter and shot the policemen who were trying to escape from the Police Station.
PAY ATTENTION: Read the news on Nigeria's #1 new app
Inok said: "The navy operatives came out from the gutter and started shooting at a very close range with their guns while a GPMP which was mounted some distance away was firing at the station. This is not an ordinary gun that they use for this kind of small clash. Those that shot the policemen came out from the gutter.
"They accessed the police station through the underground water drainage channel. The policemen that died were shot at a close range by naval personnel that emerged from the gutter. They were running out for safety thinking that the naval men were far away."
Wikipedia describes a general-purpose machine gun (GPMG) as "an air-cooled, belt-fed weapon with a quick change barrel that can be used in a variety of roles, from bipod- or tripod-mounted infantry support, to deployment as a helicopter door gun, or a vehicle-mounted support weapon. Modern GPMGs fire full-power rifle cartridges such as the 7.62×51mm NATO, 7.62×54mmR, 7.5×54mm French, 7.5×55mm Swiss, 7.92×57mm Mauser, etc."
Recall that Legit.ng reported that three policemen were reportedly burnt to death, following a clash between the police and some officers of Nigerian navy in Calabar, Cross River state capital, on Tuesday.

According to witnesses, the attack began shortly after 8.30 p.m., and was still underway as at 10.19 p.m. at Akim Divisional Headquarters.
"The police station is still burning as we speak," a horrified witness said.
But when contacted, Naval spokesperson, Suleiman Dahun,claimed that he was not aware of the development as at 10.26 p.m.
Below is a Legit.ng video in which Acting President Yemi Osinbajo delivers a speech on the Biafra war.
Source: Legit.ng