Check out the weird pre-wedding photo Nigerians are talking about (photo)
- The pre-wedding photo of a couple has set the social media world on fire
- The groom to-be held his fiancée in an 'unusual' manner
The pre-wedding photo of a savvy black couple has caused a stir in the social media world as people are shocked beyond words with the groom's action.
The young man whose size is half of that of his fiancée showed that he was in control with the picture taken. He grabbed his woman's bum in the pre-wedding photo that has gone viral.
It is not unusual for slim men to have a thing for bigger women; however, this young man's action showed that he knows how to call the shots and would not trade his position as a man irrespective of the stature of the person he was dealing with.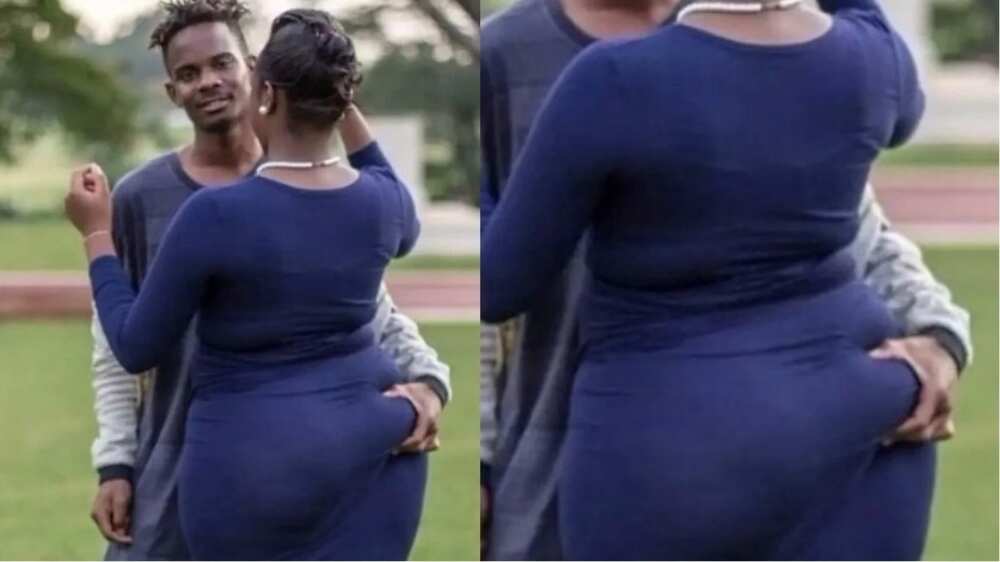 READ ALSO: Lady rescues newborn baby dumped under Coker Bridge in Lagos (photos)
While many people may think it rough for the man to have grabbed his woman's bum in that manner openly, the couple may very well be starting their journey to forever. Whatever the case may be, we wish the couple a happy life as they start the new phase.
PAY ATTENTION: Install the latest android app and get updates from Nigeria's number one online news platform
Watch the Legit.ng TV video below to see how some Nigerians reacted when being asked how far they can go in helping their partners do house chores:
Source: Legit.ng