3 Nigerian scammers jailed for 235 years in United States
- Three Nigerian men between the age of 30 and 45 have been sentenced to 235 years in prison
- The convicts were arrested over online scam
- The three have reportedly duped unsuspecting people of tens of millions of dollars
Three Nigerian men arrested for their involvement in online scam have been sentenced to several years in prison by a court in Mississippi, United States.
The men have reportedly made millions of dollars from duping unsuspecting people through the internet.
Legit.ng learnt that Oladimeji Seun Ayelotan, 30, was sentenced to 95 years in prison; Rasaq Aderoju Raheem, 31, was given 115 years and Femi Alexander Mewase, 45, got 25 years behind bars
A court in the Southern District of Mississippi had in February found them all guilty of crimes including mail fraud, wire fraud, identity theft, credit card fraud and theft of government property. Ayelotan and Raheem were also found guilty of conspiracies to commit bank fraud and money laundering.
Dating back to at least 2001, the scammers were involved in multiple internet fraud schemes, resulting in losses in the tens of millions, according to the Department of Justice, NAN reports
READ ALSO: BREAKING: APC chairman dies in ghastly motor accident in Delta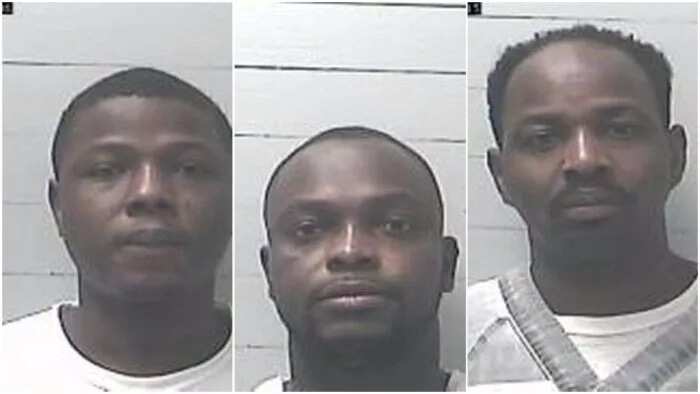 It claimed that they would befriend women on dating sites, establish a romantic relationship and then either get them to send money or have them participate in fraud schemes, usually without the victim's knowledge.
The unsuspecting women would sometimes be required to cash counterfeit checks and money orders; use stolen credit card details to purchase goods; and use stolen personal information to take over victims' bank accounts.
They were also apparently used to launder money via Western Union and MoneyGram, and re-package and re-ship goods obtained fraudulently.
A whopping 21 defendants have already been charged in this ongoing case, 12 of whom have pleaded guilty to charges involving conspiracy and 11 of whom have been sentenced.
The three Nigerians were among the six extradited from South Africa by US Department of Justice in 2015 to face charges of running a series of scams against gullible Americans over the past 16 years.
Fourteen others resident in the US were also arrested to face trial in Gulfport, Mississippi on nine federal charges, including conspiracy to commit identity theft, wire fraud, bank fraud, theft of US government funds, and conspiracy to commit money laundering.
PAY ATTENTION: Read the news on Nigeria's #1 news app
The indictment states that since 2001 the accused, were part of a string of scams against Americans, facilitated by internet communications.
These include the longstanding 419 scheme, whereby a massive windfall is promised once a small number of payments have been provided, but the DoJ claims it went much further than that.
The team was also accused of running romance stings to bilk the lonely of funds, shipping fraud, running fake work-from-home businesses, check fraud, and plain-old hijacking of other people's bank accounts and credit cards to divert funds.
Global fraud continues to grow thanks to the internet and an increase in the use of both anonymizing technology and bots designed to mimic human behavior.
ThreatMetrix, which analyzes 20 billion annual transactions, blocked 130 million fraud attempts in Q1 alone, a 35% increase on the same time last year.
However, it is Europe that has become a major fraud hotspot. There were 50% more fraud attempts originating from the region than the US in the quarter, the firm claimed.
Meanwhile, Canadian authorities have showcased the expensive lifestyles of four Canada-based Nigerians who are alleged fraudsters.
Reports claim that 45-year old Adedayo Ogundana (also known as Oladipupo Ogund), 37-year-old Adekunle Johnson Omitiran, 44-year-old Duro Akintola (also known as Michie Noah) and 47-year-old Emmanuel Salako (also known as Gee Salaq) are into credit card theft and mail pilfering. These four are at the center of a riveting police investigation of frauds running into several millions of dollars.
Sources say they spend monies gotten from their fraudulent activities to live lavish lifestyles.
Watch video of members of Economic and Financial Crime Commission (EFCC) protesting corruption:
Source: Legit.ng