Man proposes to his girlfriend, who is the nurse, by hiding ring in his stomach wound
- This man allegedly convinced doctor to hide ring in his stomach wound
- He then asked his girlfriend, who is a nurse, to dress the wound as he watched
- The girlfriend, while addressing the wound, bumped into the golden ring
- It was a marriage proposal. She broke into tears, washed the ring, then put it on
Of all the marriage proposals that you have heard of, this could, perhaps, be the most painful way to propose to someone you are madly in love with.
An unidentified Russian man practically cut his stomach, hid a ring inside the wound, and then went ahead to propose to his girlfriend, who is a nurse. His action drew mixed reactions on social media.
"You don't have to cut your stomach and sew a ring inside the wound just to prove that you love someone. This was really a stupid thing to do," one user commented. "I don't see anything wrong with how he proposed. He just showed the girl that he was ready to get hurt for her," another user, who goes by the name Taisa Grozny, responded.
READ ALSO: Buhari's health: Embassy source reveals detail of president's status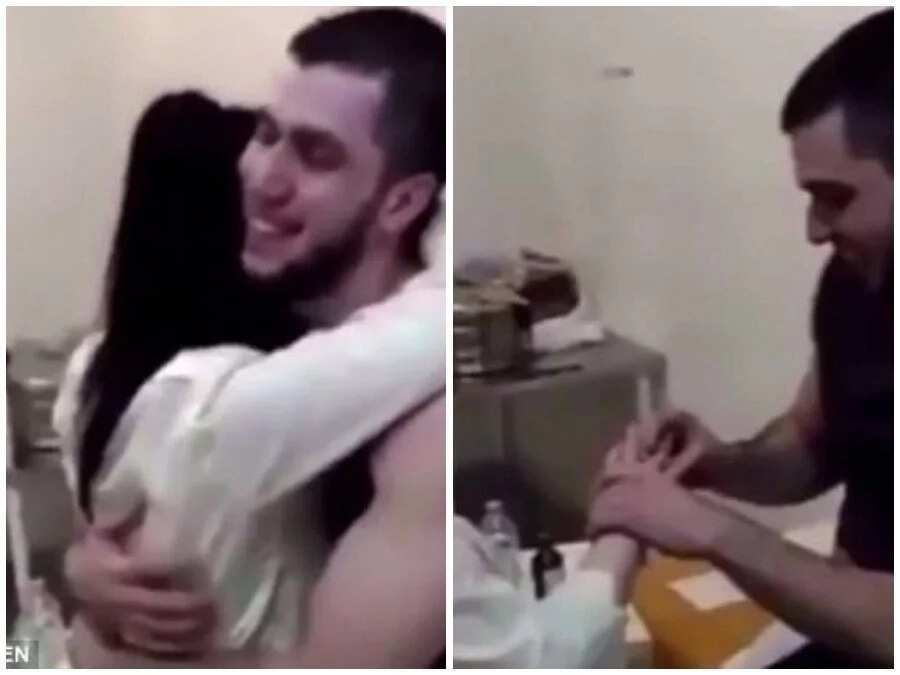 Sources privy to the bizarre proposal arrangement claim the man had convinced a surgeon to cut his stomach and bury the gold ring in the wound.
He then proceeded to propose to his girlfriend. He reportedly asked her to take care of the wound, as he sat back and watched.
As she was addressing the wound, the lady bumped into the ring. It was a marriage proposal. She was overwhelmed by emotions and started crying. She eventually accepted the proposal, washed the ring and put it on.
Unless your girlfriend is a nurse and you know of a surgeon who can actually agree to play along, it may not be a wise idea to borrow this proposal trick.
READ ALSO: Dad shows INSPIRING support for 3-year-old son with heart defect (photos, video)
Watch video of the strange marriage proposal:
Watch the video below:
Source: Legit.ng