Disregard information about Buhari's death - Presidency tells Nigerians
- The presidency spoke out concerning the news of President Muhammadu Buhari's alleged death as further speculated by a British politician
- Garba Shehu released a series of tweets stating the true position of the situation of the president who is in London
The information revealed by British politician Eric Joyce that Nigeria's President Muhammadu Buhari is dead is not true, the presidency has revealed.
READ ALSO: Aisha Yesufu is painting BBOG in bad light, she needs to step aside - Onochie
In reaction to the alleged rumour started by Joyce, who picked it from a fake UK Metro, the presidency has spoken out asking the Nigerians to disregard it since Buhari is alive.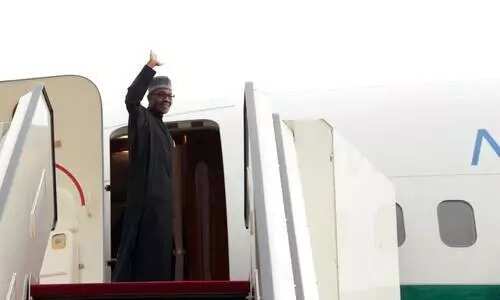 In a series of tweets by Buhari's spokesperson, Garba Shehu, the presidency described the information as plain lies spread by vested interests to create panic.
"Baseless rumors are trending again that an unpleasant thing has happened to our beloved President, Muhammadu Buhari.
PAY ATTENTION: Read the news on Nigeria's #1 new app
"If you have received this information on WhatsApp or Facebook, disregard it because it is plain lies spread by vested interests to create panic.
"Nothing unpleasant has happened to the President. No cause for apprehension. Thanks for the many calls," Shehu said.
Nigerians have been criticising Joyce for allegedly carrying what is considered false news about the country's president.
Some also wondered why the presidency was yet to deny the claim.
In reaction, the British politician posted on his blog: "First, if you're a president then it's up to you to show people you're alive and well – it's not up to your people to prove the opposite. Every politician in the world knows this. A statement from a PR guy doesn't cut it. Angry ripostes from supporters don't cut it. Only your personal appearance cuts it.
"Second, if your'e a president and you're not well, then a doctor needs to come out of the hospital and explain to your nation what's up. This let's everyone, including your people and the markets, know if your alive at all, alive enough to recover or have just sprained an ankle."
He added:
Legit.ng reports that ever since Buhari recently returned to London for medical checks, many Nigerians have been calling for prayers for him since then.
Watch this video as Femi Fani-Kayode speaks about what President Buhari told him:
Source: Legit.ng