Aisha Yesufu calls for President Buhari's impeachment
- President Muhammadu Buhari's health crisis is still generating reactions from Nigerians
- Co-convener of the Bring Back Our Girls (BBOG) group, Aisha Yesufu has joined the debate
- She advised the president to resign, adding that the National Assembly should impeach him if he fails to do so
Co-convener of the BBOG group, Aisha Yesufu has advised President Muhammadu Buhari to resign in the interest of Nigeria.
Yesufu gave the advice in a two minutes, 20 seconds video she recorded and posted on Twitter page.
She stated that the idea of Vice President Yemi Osinbajo acting as president is not working, adding that governance is stagnated in the country.
PAY ATTENTION: Read the news on Nigeria's #1 news app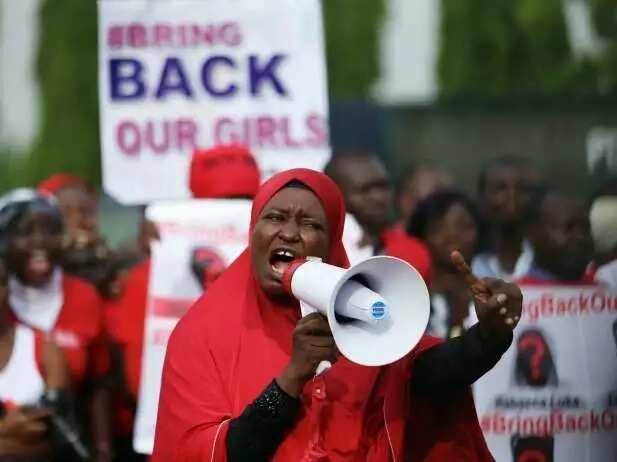 Her words: "For crying out loud, the president is sick, the president is not capable of discharging his duties as president, why can't he resign?
"Sickness can be on anybody, nobody is wishing the president bad. The fact that he is sick doesn't mean he is going to die today or tomorrow. Somebody that is as healthy as I am now can drop dead. It is life!
"How long are we going to wait and keep watching everything go in disarray. Who is going to sign the budget, we don't know. The report on Babachir, what is happening to it? Why are we being held to ransom?"
In a direct speech to the president, Yesufu said: "President Muhammadu Buhari, you have gotten the best in this world. A lot of things that you have, most people cannot even dream of.
"You have being president twice, you said it yourself, you have reached the peak of your career as a military man and as a politician.
"Can you allow each and every one of us as Nigerians be able to reach the peak of our careers? Can you just take some time off, take care of yourself. May God give you good health."
She then called on Nigerians to "wake up", adding that the acting president can't do anything because he wants to be seen as a good man.
READ ALSO: Any attempt to unseat Buhari will be combated - APC
"We need to take our country back, let the president resign, if he can't resign, let the National Assembly do the right thing and let's have another president. It is not about President Buhari, it's about Nigeria, and right now Nigeria is suffering and we cannot continue to allow this," she concluded.
Watch the video below:
Legit.ng earlier reported that the All Progressives Congress (APC) has warned against any attempt at unseating President Buhari, via a coup.
Mallam Bolaji Abdullahi, spokesman of the APC, stated this while reacting to Chief of Army Staff, Lt. Gen. Tukur Burutai's warning, that some politicians were approaching soldiers.
A report by The Nation indicates that some top politicians are under watch by security agencies following the recent alarm raised by the chief of army staff, Lieutenant General Tukur Buratai.
Nigerians were asked if they think Buhari should hand over to Vice President Yemi Osinbajo due to his health challenges. Watch their reaction in the Legit.ng video below:
Source: Legit.ng