EXCLUSIVE: Young lady calls out Nigerian pastor who allegedly has 58 wives
A Nigerian pastor based in Onitsha, Apostle Harrison Charles, is said to have 58 wives and 28 children.
According to a young lady, Chizzyfaithia Peters Anokwuru, one of the pastor's victims, who spoke exclusively to Legit.ng Gossip, some of the women are church members.
She claimed that the Dayspring Assembly pastor who calls himself 'Apostle And Apostle' is in the habit of 'snatching' women from their husbands.
Dayspring church is located at Orifite street Awada in Onitsha.
"His name is Apostle Harrison Charles, once my pastor though. He has 58 wives in the last 6 years and 28 children. Some of d wives were being snatched from their husbands who happen to be his members too.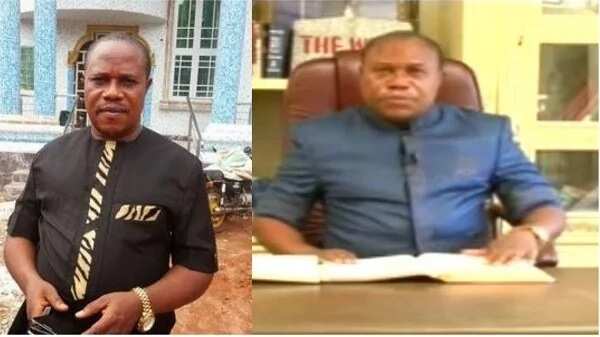 "7 of the wife are dead now and he buries them in his land where he bought in Awada without proper burial rites.
"All he does is to employ few people to dig the graves and that's it. He sleeps with kids, when I mean kids I mean from 18 years up to 45 years old women.
READ ALSO: SEE What young man did to lady he met on Facebook (photos)
"Nobody confronts him anymore because all those who have attempted it die mysteriously afterwards.
"You can do your own investigation if you so wish...and I'll guide you in doing so. He bribes his way out of police cases. The latest now is that he now dashes some of his children to couples in the church that do not have children medically.
"He preaches that when an apostle fornicates, it's divinely. People still attend his church because they are under a spell. Please help me circulate this story."
According to Chizzyfaithia, the pastor wears real animal skin to the pulpit to preach,with some strange mantles which he uses for 'destruction'.
"He calls himself prophet of the end time and wears real animal skin on the pulpit with some strange mantles which he uses for destruction only. So many souls are being trapped in this man's occultic web.
"I lived with this man when I was young, at age 7 because of the prophecy he gave my parents then. I lived with him for 9 years. He is worse than Rev King."
Asked if the pastor lives with all the wives and she said:
"Yes he lives with all the wives. He has a mansion he built from the plots of land he acquired from some few rich members he already snatched their wives and had killed. If the deceased has a son, he will tell the woman to send her son to the orphanage or back to his former husband's people, if the woman has a grown daughter like 15+, he will marry the woman and her daughter as well.
"If he wants to enter a family, I mean targeted (victims) he will first of all ask the woman to stop having s*x with her husband, stop taking care of him as the husband just in other to create rifts between them.
Then when they start having issues, he would ask the woman to come live in the church, and then excommunicates the man in question from the church, the next thing he will give the woman some huge amount of money to go and return her bride-price to his husband's people."
When Legit.ng asked Chizzyfaithia how she escaped from the alleged shackles of the pastor, she said:
"It was only God....all my family members were victims. I escaped long time ago, leaving my family there, they now forced my dad to throw me out at the age of 19..."
Below is one of the links to the videos Chizzyfaithia gave to Legit.ng as the pastor's preaching:
Source: Legit.ng