How Goodluck Jonathan wasted 6 years as president - Bayelsa Governor Dickson
- Governor Seriake Dickson of Bayelsa said there was a gran plan to get him removed but it failed
- He said Bayelsa and the Ijaw nation lost a unique opportunity for development under former President Goodluck Jonathan
For the governor of Bayelsa state, Seriake Dickson, the six years spent by Dr Goodluck Jonathan as president of Nigeria was a wasted opportunity for Ijaw people.
Dickson made the declaration on Tuesday, May 16, while reportedly regretting that Jonathan, his own kinsman, wasted a very good opportunity for the Ijaw people.
Governor Dickson also revealed that during the administration of Jonathan, ministers and other presidential aides from Bayelsa were strictly after selfish interests.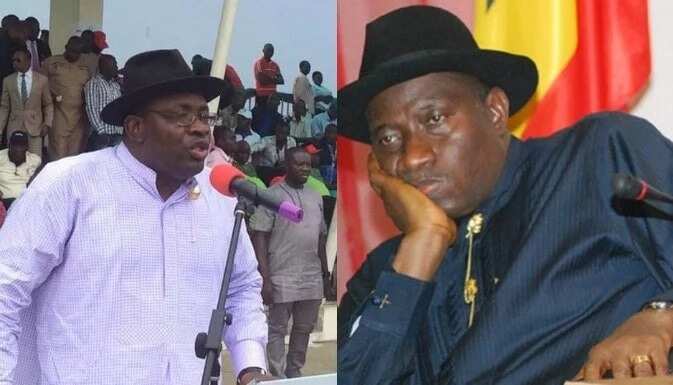 This, according to him, made the state and the Ijaw nation lose the unique opportunity of attracting development.
The Nation reports that the governor spoke at the Ijaw House, Yenagoa during the annual celebration of their hero, Major Adaka Boroh, who fought and died in the struggle for self-determination for the Ijaws.
READ ALSO: Nigerian Army raises coup alarm, warns soldiers not to mix with politics
Dickson, who was at the event with his deputy, John Jonah, and members of his cabinet, said he and some others have suffered from the "Bayelsa-Ijaw disease of pulling-him-down syndrome."
He revealed that at a time, there was a devilish plot to unseat him as governor of Bayelsa state.
Legit.ng learnt that Dickson lamented that the scenario under Jonathan was repeating itself in the current administration of President Muhammadu Buhari where ministers and appointees from the state have refused to use their positions to assist his government's developmental efforts.
"It is true that we are celebrating Boroh, but ask yourself whether you are doing your bit.
"Boroh came, saw and did his bit and has gone. I and my team have come and we have taken up the battle from where Boroh stopped and we are doing our duties.
"Each of us must examine ourselves and to be frank we have not done very serious examination in this state and in the Ijaw nation.
READ ALSO: Nigerians react after Pastor Adeboye asked them if they've prayed for Buhari
"We cannot blame God. God has been very merciful and kind to us particularly of late," he said.
He thereafter laid wreaths at the tomb of Boroh in the Heroes' Park in the presence of traditional rulers from the state.
Legit.ng had earlier reported that in a new book published by his aide, Reno Omokri, former President Goodluck Jonathan revealed names of those who conspired to ensure his defeat in the 2015 general election.
Jonathan specifically mentioned former Governor of Adamawa state, Murtala Nyako, among others as one of the arrowheads of the move.
He also detailed the alleged roles Nyako played in the entire saga.
Meanwhile, some Nigerians insist that Jonathan was a good leader who was surrounded by some wrong people. Watch this video:
Source: Legit.ng