Nigeria's external reserve hits $4b gain, highest in 12 months
- Nigeria's external reserves has recorded its highest gain in 12 months, data collected from the website of the Central Bank of Nigeria
- This increase comes even as Naira closed at 386 per dollar against the 388 it traded for previously
- There was also a drop of $77.2 million to a balance of $30.98 billion it recorded about seven days earlier
Nigeria's external reserves has recorded its highest gain in 12 months, data collected from the website of the Central Bank of Nigeria (CBN).
This increase comes even as Naira closed at 386 per Dollar against the 388 it traded for previously.
Checks also revealed that as at May 4, the reserve was at $30.98, an approximate of $31 billion compared to the year's balance of $26.94 - a $4 billion growth difference.
While the latest reserve balances at $30.922 billion on Thursday, May 11, which shows a decline of $11.3 million against $30.922 the previous day.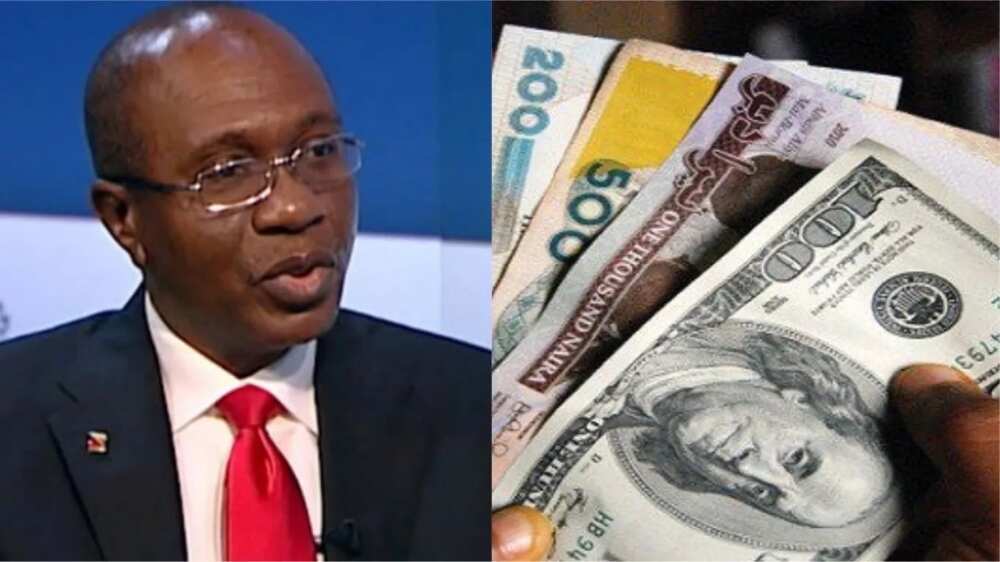 READ ALSO: Buhari is alive in London - Presidency debunks death rumour
There was also a drop of $77.2 million to a balance of $30.98 billion it recorded about seven days earlier.
While at the end of January the reserve showed an increase of $2.3 billion.
Reacting to the reserve growth, the chief executive officer of Economic Associates Ayo Teriba said that the recession, inflation and weakness of the Naira which has been experienced in Nigeria is likely to come to an end soon.
Teriba said the oil prices has risen from a low of $28 per barrel in the first quarter of 2016 to $55 in the first quarter of 2017.
He added that the price of oil may average to about $55 through 2017.
"The parallel market rate is beginning to appreciate in response to improvements in the central bank's capacity to supply foreign exchange, with the parallel market rate rising to N380/$ in March 2015, after touching an all-time low of N520/$ the month before.
READ ALSO: Where this community in Benue state gets drinking water from will break your heart (Video)
"If the oil price holds up at the current level and external reserves continue to grow, the parallel market rate will continue to appreciate until it converges with the inter-bank rate," Teriba said.
Also advising the Central Bank of Nigeria (CBN) Teriba said: "A better response would have been for the CBN to look beyond the current account and boost foreign exchange inflows on the capital account to counter the downswing.
"The problem was the sharp drop in foreign exchange supply that a fall in oil price from US$110 per barrel in 2014, to $53 in 2015, and $28 in the first quarter of 2016 implied. Boosting supply would have been a better way to stabilize the market than restricting demand to amplify the downswing, or attempting to float the exchange rate in the face of the supply shortfall as the CBN did."
Watch this Legit.ng video of Nigerians reacting to the current recession in the country below:
Source: Legit.ng