Shettima reveals Buhari's integrity was key factor in the release of the 82 Chibok girls
- Governor Shettima has said that President Buhari's integrity was a key factor in the latest release of some of the Chibok girls
- Shettima says the negotiations would not have been possible, but for Buhari's personality
- Governor Fayose has said that the freedom of the 82 Chibok girls was a "cheap dummy"
Borno state governor, Kashim Shettima has said that President Muhammadu Buhari 's integrity was responsible for the release of additional 82 Chibok girls.
Shettima made the disclosure in a statewide broadcast on Sunday night in Maiduguri.
According The Guardian, Shettima noted that the negotiations that led to the release of the girls would not have been possible if Buhari was not sincere.
He said: "The international actors who helped in facilitating the negotiations would not have been involved if they had doubts about Buhari's sincerity in piloting the affairs of the country.
"It was also the president's integrity that made countries in Africa, Europe and the U. S. to support Nigeria in the fight against Boko Haram insurgents and terrorists."
He, however, noted that the efforts of the military and multi-national joint task force (MNJTF) and volunteers placed the Federal Government in a vantage position to negotiate the girl's freedom.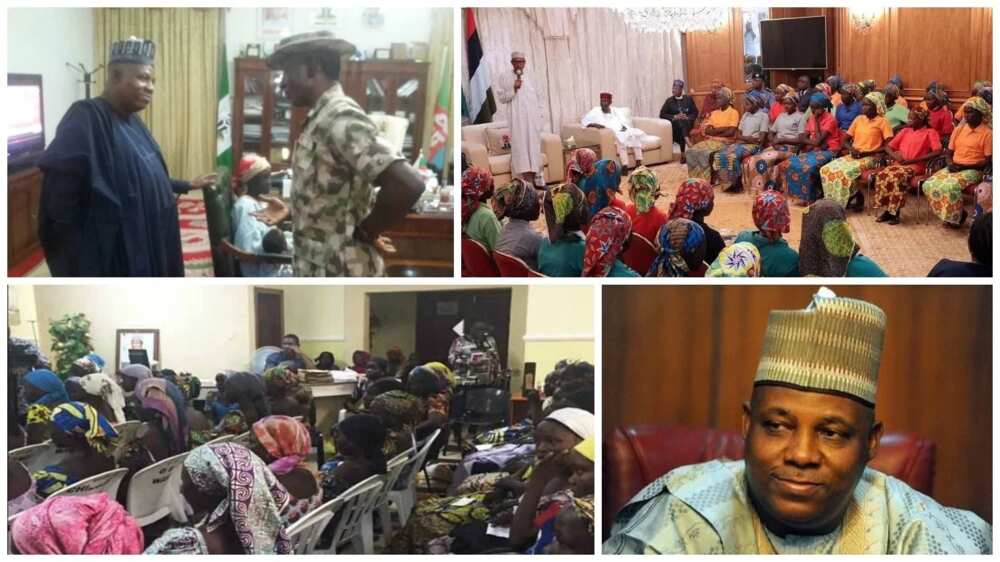 In Benin City, the national president of the Pentecostal Fellowship of Nigeria (PFN), Dr Felix Omobude yesterday lauded the release.
READ ALSO: Anambra 2017: Okorocha moves to unseat Obiano
He described their freedom as heartwarming and urged the government to further intensify efforts to free the remaining girls.
In a statement by his Media Aide, Ralph Okhiria, he also condemned those who are making mockery of Buhari's health.
He said: "Although Buhari belongs to a particular political party, he is not the president of that party, but that of the entire Nigeria. We should all learn to wish our leaders well and not evil."
Also yesterday, the Diocesan Bishop of Lagos Rev Dr Adebola Ademowo lauded the federal government for the girls' release Ademowo, who is Dean Emeritus, Church of Nigeria said government's efforts to curb the menace of insurgency in the country was commendable.
In variance with all applauding the FG, the Ekiti state Governor, Ayo Fayose, has described the release as a tactic to divert attention from the Buhari's health status.
In a statement by his Chief Press Secretary, Mr. Idowu Adelusi in Ado-Ekiti yesterday, he said it had become the habit of the administration to "resort to flying dubious kites and selling cheap dummy to distract the people and obfuscate the issue at hand."
Also, the factional Chairman of the Peoples Democratic Party (PDP), Ali Modu Sheriff, has explained that an unnamed prominent person in Borno state scuttled the swap deal, which was initiated by former President Goodluck Jonathan.
He disclosed this in Abuja yesterday, at a press conference addressed by the Acting Deputy National Chairman of the faction, Cairo Ojougboh.
Meanwhile, the federal government has described the PDP's position as indecent and inhuman.
A statement by the Minister of Information, Lai Mohammed said "it is insensitive for any individual or organization to seek to douse the matter on the altar of politics."
Source: Legit.ng