See the meal Nigerian soldiers fighting Boko Haram in Sambisa prepared (photo)
- Some pictures have emerged showing what some Nigerian soldiers are up to in Borno state
- Chiefson Kelechi and his colleagues made Jollof rice and garnished it with snake meat
Amidst the ongoing fight with the dreadful Boko Haram terrorist group, some Nigerian soldiers have made a meal of Jollof rice.
A Nigerian soldier identified as Chiefson Kelechi and his colleagues garnished the food with snake meat. The picture of the soldiers with their meal was shared by Instablog9ja.
READ ALSO: See "living ghosts" who die when they touch another person, who also dies
While Borno state appears to be a war zone because of the fight against terrorism, the soldiers who are constantly facing them deserve to live and enjoy their lives.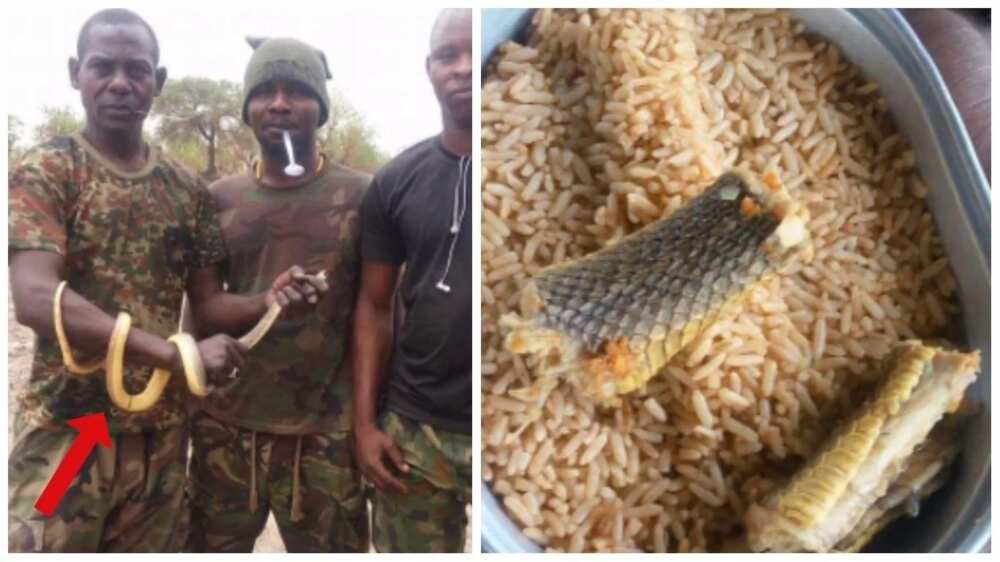 The Nigerian Jollof rice would always be a delightful meal as soldiers stuck in Borno state do not want to miss this food. Eating theirs with snake is the best option for them at the moment.
READ ALSO: 7-year-old disabled girl shows off her new leg for the first time
The picture of the soldiers posing with the deadly snake indicates that they killed the slithering animal themselves.
Include the soldiers in your prayers today as they keep fighting for your safety.
The agitation for the release of the Chibok girls continues even though about eighty of them were released on Saturday, May 6. Oby Ezekwesili reacted to the news by saying her heart beat fast with the reality of the girls being released.
Watch the Legit.ng video below to see what people are doing to ensure the girls are returned:
Source: Legit.ng