Father disowns daughter for going out on date with a black boy (photo)
- An irate father has taken a drastic decision over his daughter's choice of going to prom with a black boy
- The racist father dealt with her by disowning her
Anna Hayes and Phillip Freeman are both high school seniors who attended their school prom last week. The two school seniors come from Lake Village in Ark.
The duo had a fantastic time even though Anna's father disapproved of her going to prom with a black boy. The father went on a racist tirade after seeing pictures of his daughter with her date on the social media.
He sent a text message to his daughter afterwards stating his opinion about the whole thing.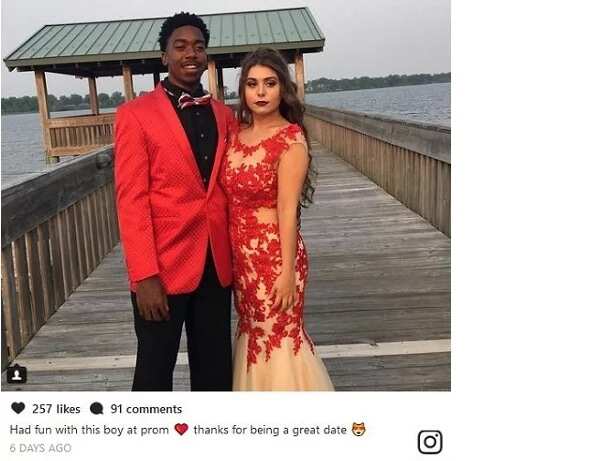 "We are done. I wont be coming to your graduation. Nor will I pay for your college. Go live with the n***ers," he begins in a text message.
"I went to prom with a black guy so that's a problem? Racist much," Anna responded.
"Yes I am," he admitted. "Your dead to me."
Anna's father referred to her friend as being subhuman and that hit her hard.
Anna revealed that the relationship between herself and her father had been strained since her early teens when she moved in with her mother. Her parents had separated when she was younger and she remembers him being a racist all the while.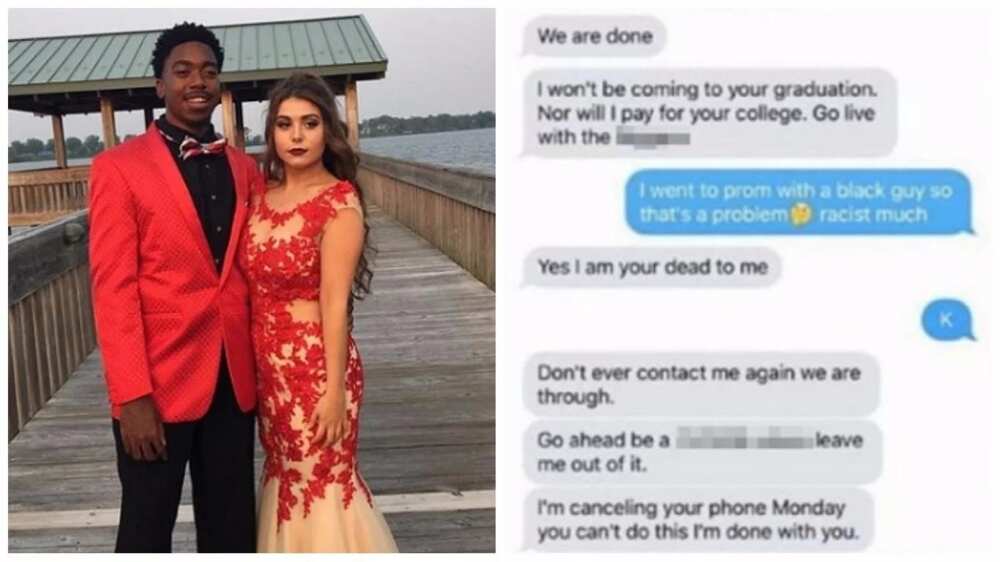 READ ALSO: 2 children labelled as witches share nauseating torture experience
"He has told me that if I ever dated a black guy that I will and would be dead to him," she said. "I stood my ground for what I believe in. He has called me several horrible things before."
The teenage girl said she was sad when she saw the messages her father sent. She showed them to Phillip who shared them on Facebook. The pictures and messages went viral as soon as they hit the internet. Many people condemned her father's actions and said all sort of things to him.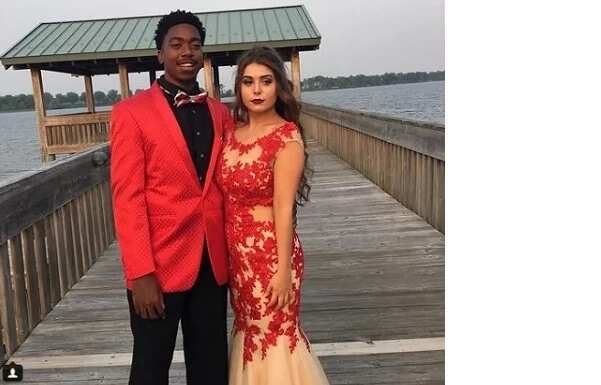 READ ALSO: Mother of three dies while undergoing liposuction surgery (photos)
"I cannot believe someone would cut off there own daughter just bc they went to prom with a person of different race," one woman commented. "This really upsets me."
"People tend not to see racism actually exist until it affects them, hence all the 'I can't believe we're still going through this' post."
"I have legitimately never heard someone, outside of a documentary, refer to a different race as subhuman. #heartbroken"
Watch the Legit.ng video below to see the disturbed mother who lost her 16-year-old son to cultists:
Source: Legit.ng