OPINION: Saint Peter Obi's epistle and the parable of 1 wristwatch and 2 shoes
OPINION: Saint Peter Obi's epistle and the parable of 1 wristwatch and 2 shoes
Editor's note: Mixed reactions have continued to greet former Anambra state Governor, Peter Obi's comment at Platform that he used a wrist watch for seventeen years. Many Nigerians have vented their anger over what they termed as blatant lies coming from someone who rule a state for eight years.
In an article sent to Legit.ng, Churchill Okonkwo writes about the drama that played out at the forum.
Okonkwo is the Managing Editor, Climate Sense Afrique African Center for Climate Science and Policy Research Washington DC.
He could be contacted via: http://www.quantumafrica.org/, Churchill.okonkwo@gmail.com or follow him on Twitter @churchillnnobi.
As I bent down to tie one of my 17-year-old shoes, I heard the voice of the Lord, loud and clear, saying; you must not be terrified about this parable of 1 wristwatch and 2 shoes. Rather, you should testify this Epistle from God to all Nigerians. Do not be afraid, you are the oracle – Peter okwute.
So, it came to pass that God commanded all imams and men of God; take this third letter of Saint Peter, sorry Senator Peter, what's wrong with me, President, Peter… whatever, just take this letter to all the churches and mosques. Say unto them, go yea into the high mountains and announce to Naija people, the coming of a 2-shoed messiah on good governance.
READ ALSO: How God used Buhari to expose Mbaka, Pastor Tunde Bakare's hypocrisy – Reno Omokri
The Lord said you should look at my shoes closely. I bought that shoe for $49.99 at Marks and Spencer near the banks of Agulu Lake, finish. That is the epitome of simplicity and good governance.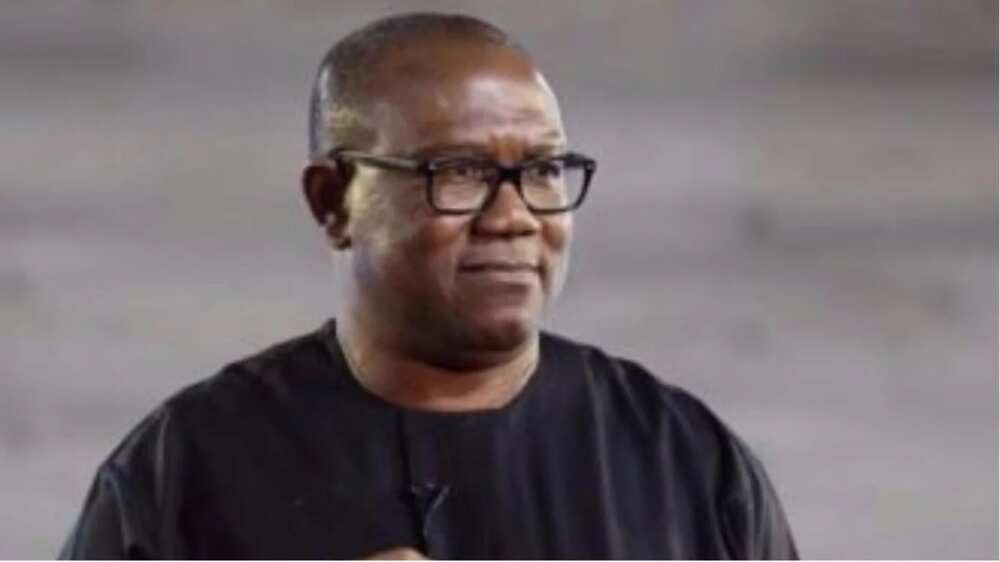 Behold, Senator Peter Obi, the economic messiah will accelerate economic development and boost local shoe production in Aba by mandating all Nigerians to go shoeless.
When God created Adam did He provide shoes for him? Even if we need to wear shoes, why should we have more than one? Is the purpose of a shoe not to protect the leg from being hurt? Why do you think I campaigned for the re-election of shoeless President Joe?
The answer is simple: to save money for Nigerians. The level of corruption in Nigeria has made it very imperative that we should be electing only shoeless politicians. Forget about our wives, like mama Patience.
Just in case you don't know, I lease an apartment in the dilapidated Osborne Towers Ikoyi, close to apartment 7B dash-dash. To demonstrate my cost-cutting ingenuity, I pay a chicken change of about ten million Naira (only) a year.
I don't even live there and I don't need it. If you doubt, ask EFCC. It is just for my wife and children, even though they don't need it too. That's why you should trust me as the best brain in Nigeria when it comes to economic management.
When I boasted in the Lord that I spent N2.8 billion on schools in Anambra State, I forgot to let you know that the money was used to buy over the Anglican and Catholic churches. That was the smartest covert political operation in Nigeria. In the process, I demonstrated my good governance credentials by re-establishing the churches, not save Anambra citizens, but to rule the state.
The Lord said you should see me as a political genius. I re-engineered these churches to lay down the cross and pick up the sword. Forget about the old doctrine that the existence of the church is meant to glorify God.
The existence of the church in Anambra according to the gospel of Saint Peter Obi is meant to keep me happy. The good governance legacy I left in the state has enticed men of God to lay down their bibles in lieu of Benjamins from Government House Awka.
If you doubt, ask my former boy, Governor Obiano. He has been using that single strategy to hold onto power by doling out millions to churches under the cover of maintaining schools.
As the political power struggle for the 2017 election in Anambra State heats up, I have initiated moves to use the churches in my back pocket to settle scores with that ingrate.
The bishops I gave billions of Naira in the last three years of my administration have agreed to convince their diocesans to pull the rug under that champagne Governor that build bridges for car-less Anambra citizens. He has been wasting state resources on aides. A smart Governor does not need aides.
Just before you start distorting and gossiping about this parable of 1 wristwatch and 2 shoes in 17 years, the Lord is warning all Nigerians that gossip is cancer in the body of Christ. James said the tongue is a fire (James 3:6). So my quest for political power should not turn Anambra State into a gossip mill. This is the command from God.
The Lord has given me power over Governor Obiano and Victor Umeh. The Lord has commanded Ndi Anambra to stop supporting the clown, Victor, wasting money on long red caps and feathers.
The Lord said I should not forgive Governor Obiano and Victor Umeh. Rather, He as commanded that the gospel of Christ be used to make me the Senator representing Anambra Central.
The good Lord said I should warn all Nigerians not to own more than one wristwatch. Why would you keep a watch at home? Whose time is it keeping? As a matter of fact, you don't even need a wristwatch.
How do I know? I know because I am a philosopher from the prestigious University of Nigeria, Nsukka, where as a student, I invented the old fashioned way of telling time by simply looking at the location of the sun.
This parable over wristwatch is an Act of an Apostle. Don't mind those mischief makers circulating my pictures with different expensive watches in social media. The good Lord has commanded me to tell you that those watches you saw were borrowed from the galleries. I have since returned them to keep the Covenant I made with God.
Now that I have finished tying my shoes, the Lord whispered to me to command you to go back and look at my pictures from the talk on The Platform Program. Look closely at my dress. See how simple I am? I have been wearing that dress now for over ten years, even before I became Governor of Anambra State. The color and simplicity is a hallmark of good governance.
By the way, I heard that one Kemi, an ordinary Finance Commissioner that was elevated to an office bigger than her by Asiwaju questioned my credentials. Kemi that does not know the number of shoes, pieces of jewelry and watches in her wardrobes. Good-for-nothing, wasteful economic light-weight.
How could Kemi forget that I am the only wise man from the east? Did I intimidate her? That's how they messed up the corruption-free vibrant economy my shoeless President built.
So, whenever Mr. President is done with working from the "other room", Pastor Osinbajo should tell him that the Lord has sent his chosen one, the shoeless economic maestro, the chameleon from the tribe of Arewa, the apostle that lies with sincerity, the I was that I am.
READ ALSO: Revealed! How Ooni's humiliation, miminum wage top Google search
Let Kemi remind Mr. President that I single-handedly transformed the economy of Anambra State to the Dubai of West Africa. What else are they waiting for?
Verily, verily, I say unto you, unless the remnants of this battered Nigerian economy are entrusted into my safe hands, this current recession will not cease until the second coming of the Lord.
This is the word of the Lord. Thanks be to Saint Peter Obi. Mr. President, in waiting.
The views expressed in this article are the author's own and do not necessarily represent the editorial policy of Legit.ng.
Your own opinion articles are welcome at info@corp.legit.ng — drop an email telling us what you want to write about and why. More details in Legit.ng's step-by-step guide for guest contributors.
We're ready to trade your news for our money: submit news and photo reports from your area using our Citizen Journalism App.
Contact us if you have any feedback, suggestions, complaints or compliments. We are also available on Facebook and Twitter. Subscribe to Legit.ng Opinion page!
In the Legit.ng video below, watch reactions that trailed the bail condition granted to Nnamdi Kanu in court today, April 25.
Source: Legit.ng