Amazing! Read how 22-year-old Nigerian who built Helicopter, flying drones wants to make Nigeria proud
Editor's note: Information and Communication Technology has played a vital role in connecting the world especially in this 21st century. Many Nigerians at home and abroad have proven that Nigeria should not be underrated when it comes to technological development.
In a message sent to Legit.ngLegit.ng, a Facebook user, Najib SG Mohammed explains how he started building helicopters, flying drones, Office Pac and how he intends to rule the world through his work if he could get assistance from Nigerians
I am Najib Saleh Gaiya Mohammed and I believe I am the Nigeria's most talented due to my profession as a Social Science student and also as a science student. I studied both science and social science and presently an inventor that creates almost everything.
I am the C.E.O and founder Global Technology (got talent project). People should not be surprised as all these drones are made up with very light cans such as Maltina, Amstel Malta, Smirnoff ice cans etc.
READ ALSO: PDP crisis: Tension as Supreme Court begins hearing on leadership tussle
The boards, propellers, receivers for remote and the remote control is all got inside scrap DVD and scrap FM radio boards while radio antennas, super glue and super glue cover is what I use to make the little handle holding the propellers and the motors which I also got inside the same scrap DVD.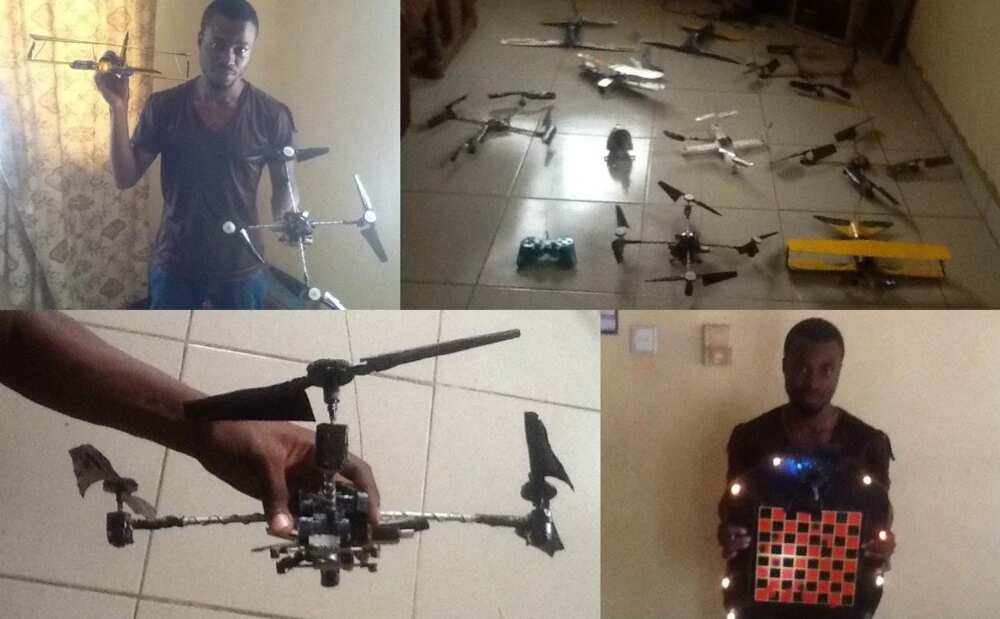 View the pictures below and see how I transform each and every material I mention into drones like airplanes, helicopter and quadcopters and I can sell each one between N150 to N300 that is for the well customized ones with cameras.
From the pictures, you can see my uncompleted humanoid robot and one single bomb detector and one metal detector robotic cars. The ones without paint, propellers and tires are the newly improved and advanced drones I am still working on. But I will announce the lunch date by the end of this week by God's grace.
I am about to write jamb this year. I just need sponsorship, encouragement and support. Please help me broadcast this because I need to finish the project I stated and to finish my own industry, my factory for making and producing all kind of technology. I make them according to the way people want it to function for them.
This is the first Nigerian made office Pac. It functions like phone but the difference is that the office Pac does not have cameras because it has no screen and it is used for office and school use.
The uses and importance of Office Pac include:
1. You can use it to communicate from one office to another, it replaced wired telephones that people use to communicate from one office to another, it makes it easy to communicate cos it is wireless and it uses no simcard. You communicate with it like Walkie talkie.
2. It has clock with calendar which u can see your time and date.
3. It has reading bright light that u can use to help u see when der is no light at night. It helps you see what ever u want to write or read.
4. It is rechargeable. U can charge it when d battery is low.
5. It has power bank that u can use to charge your phone or use to charge itself storage battery. So it charges itself also from it storage battery to its battery.
6. It has MP3 player. U can use it to listen to your audio music when you feel like. Also it has FM radio stations and audio recorder to record conversations.
7. The Office Pac has light indicators that show light of the entire instrument you remove. It will remind you to return the pencils or biros u remove n forgot to return.
8. You operate it using the instrument. So you press the instrument to operate it likethe button in phones etc.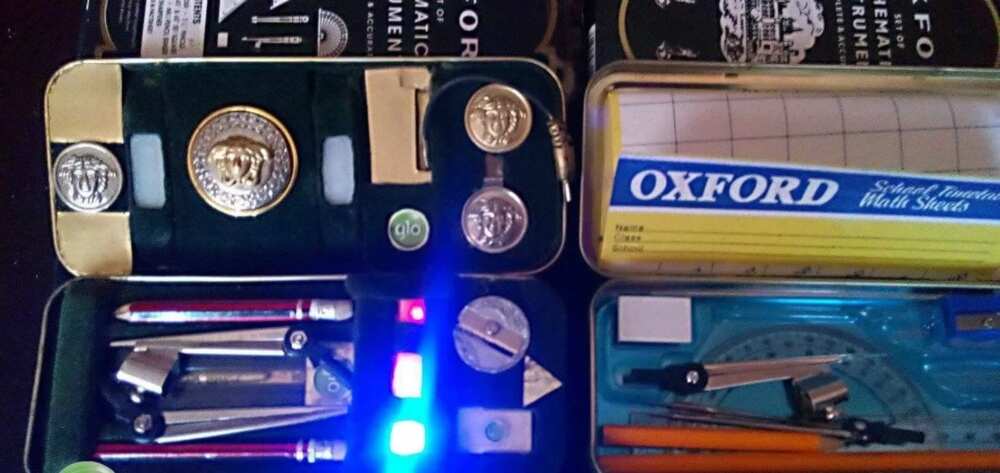 9. For school use u can use it to communicate or lecture your student when busy at office or staff room.. So if each n every student in class has it u can lecture them by talking through your own office pac to your student in class without coming to d classroom. So you can dictate their note while in your office.
10. It has all the writing instrument your need to write with or draw with.
READ ALSO: Alleged certificate scandal: Group wants Shehu Sani suspended, prosecuted
Please nothing like this in the world and this is the first in d world. I call it the Office Pac and not digital mathematical set anymore.
My rechargeable reading and chess board are used for reading without light at night and playing chess when having nothing doing. Legit.ng you are my last hope. I am just a student about to go to the university so my English is a little not too perfect m still studying. So please if you wouldn't mind with the arrangement of the writings please. My project is to build Nigeria's technology and to encourage others. Thanks a lot.
The views expressed in this article are the author's own and do not necessarily represent the editorial policy of Legit.ng.
Your own opinion articles are welcome at info@corp.legit.ng — drop an email telling us what you want to write about and why. More details in Legit.ng's step-by-step guide for guest contributors.
We're ready to trade your news for our money: submit news and photo reports from your area using our Citizen Journalism App.
Contact us if you have any feedback, suggestions, complaints or compliments. We are also available on Facebook and Twitter. Subscribe to Legit.ng Opinion page!
Watch this Legit.ng video of a man on the streets of Lagos who has harsh words for President Buhari who he believes is not doing so well for the masses.
Source: Legit.ng