Unarmed young man allegedly shot by vigilante officer in Abia state (photo)
The story of a young man has gone viral on the internet after he was shot by a vigilante officer, as he was leaving a night club for his home.
Legit.ng gathered that the young man, who was identified as Onyedikachi Ahia, is currently hospitalized and recuperating at the Federal Medical Center (FMC), Umuahia after he was allegedly shot by vigilante member, Bakassi in Abia state.
It was further reported that the young man, Ahia was leaving the Latinos lounge and bar in Umuahia on Monday, May 1, around 2am where he greeted the vigilante officer attached to the place.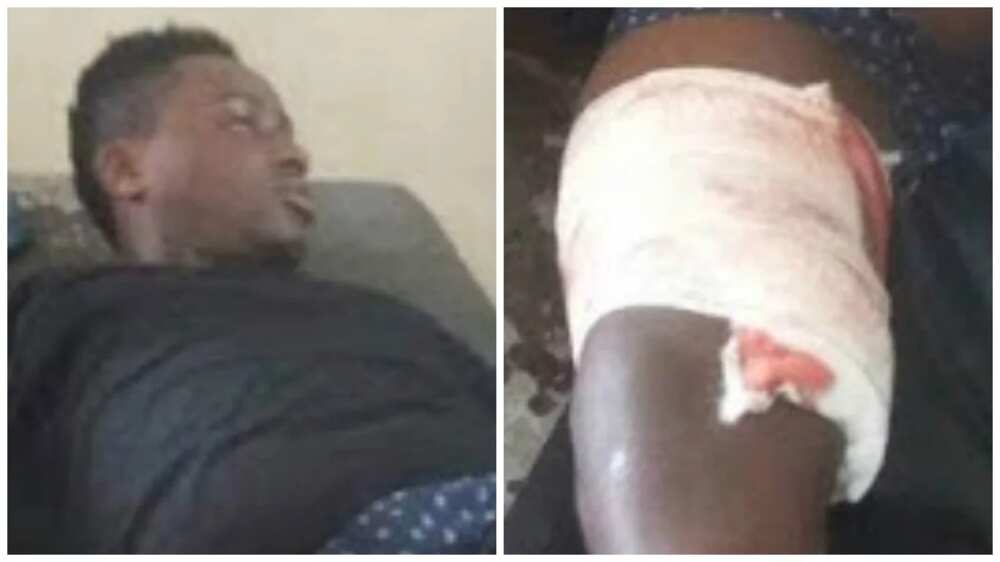 READ ALSO: Young lady caught on camera drunk after drinking spree
The young man was totally shocked when he took some steps further and the security personnel walked up to him from behind and shot him on his thighs.
He then walked up to him again while the victim was on the ground writhing in pain and pointed the gun to his stomach to take another shot before the people around grabbed and disarmed him. It is totally unclear why he shot him.
However, Bakassi has been arrested and I currently detained at police state CID in Umuahia, where the case is undergoing investigation.
READ ALSO: Check out Ghanaian king who works as a mechanic in Europe (photos, video)
Watch video of how lady narrates Nigeria is upside down below:
Nawa o!
Source: Legit.ng