Remove Itsekiri land from Biafra map to avoid civil war – Itsekiri youths warn IPOB, MASSOB
The Itsekiri National Youth Congress, INYC says their name should not be included in Biafra map. According to them, failure to remove it will result in a civil war.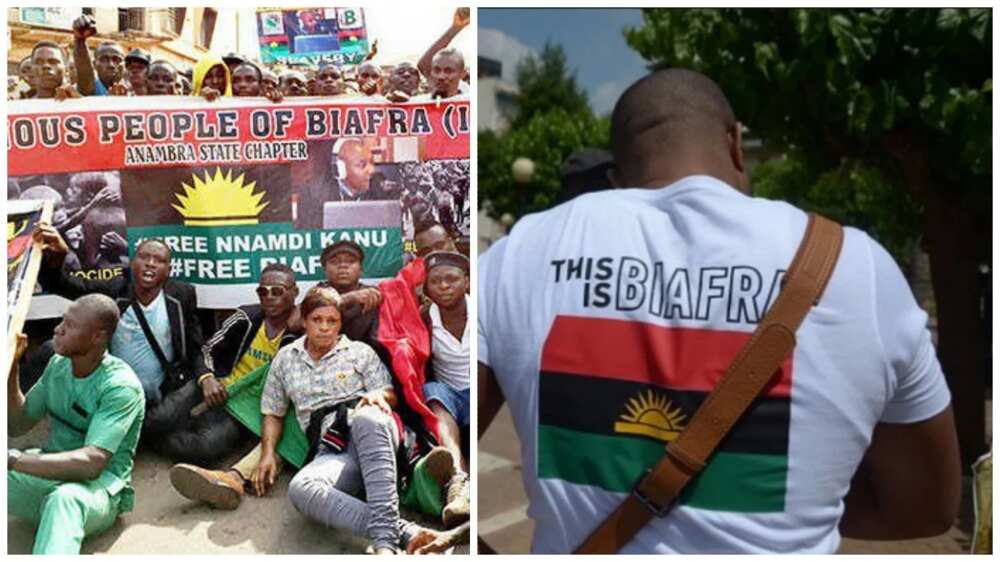 According to the president of the group, Esimaje Awani, 'Itsekiri and its territories should not be included in any IPOB or Biafra plan.'
According to him, the Itsekiri people were an indigenous group of Nigeria's Niger Delta region.
He said the people occupy Warri South, Warri North and Warri South West local government areas.
Going further, he noted that their only neighbours were the Bini to the North, the Ijaw to the South, the Urhobo to the East and the Yoruba of Ondo state to the Northwest.
READ ALSO: Again, Multichoice increases DStv, GOtv subscription fees – See NEW rates here
The president also noted that the Itsekiri people had an independent political kingdom known as Warri Kingdom from about 1490 – 1884, and were not subordinate to any power any in the world.
He also noted that Itsekiri came under the protection of Her Britannic Majesty via the Treaty of 1884 when the Niger Coast Protectorate was established.
He also said that Warri kingdom and Itsekiri homeland remained under the British until the Colony and Protectorate of Southern Nigeria was created.
He however argued that without consultation with the people of the land, Lord Lugard made Warri Kingdom part of the British colony
He went further to insist that the current inclusion of Itsekiri as part of Biafra even without due consultation is preposterous, totally unacceptable and ultimately invalid.
He said: "IPOB and Biafra have their rights of agitation for freedom of self determination as enshrined in the United Nations declaration, but other minority ethnic groups not duly consulted and their approval secured should not be dragged along to avoid the mistake that led to the civil war.
READ ALSO: Buhari could be impeached for insisting on Magu – Senator
"The magnanimity of Itsekiri in allowing Igbos celebrate the Igbo Cultural Day in our land should not be taken for granted as we urge IPOB to de-list Itsekiri territories and Warri areas from its proposed map."
Meanwhile, in the video below by Legit.ng, a Nigerian says anyone who doesn't believe in Biafra is a monkey. Watch video.
Source: Legit.ng