Biafra referendum coming soon – MASSOB
- MASSOB leader, Uchenna Madu, says Biafra can be resolved through referendum instead of war and violence
- Madu describes the 1914 amalgamation of the southern and northern protectorate of Nigeria as a failure
- The MASSOB leader says the failed amalgamation of Nigeria led to the Nigerian Civil war which resulted in the death of over three million Biafrans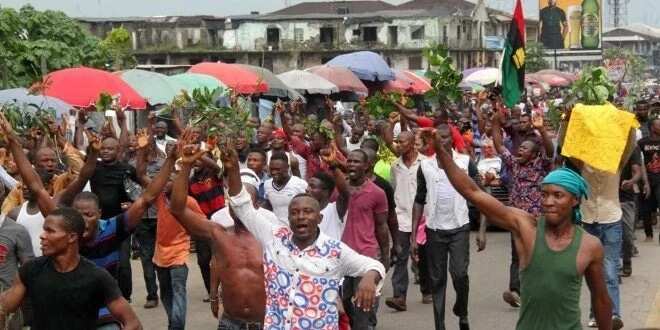 The Movement for Actualisation of the Sovereign State of Biafra (MASSOB), has disclosed that it has started mobilising people on the need to support the Biafra referendum, which it says is imminent.
READ ALSO: Certificate saga: Dino Melaye's school mate finally reveals the truth
According to the Guardian, the leader of the group, Uchenna Madu, in Abakaliki in a statement on Sunday, March 26, said the Biafra republic can be resolved through referendum instead of war and violence.
He said: "Nigeria was on January 1, 1914 artificially cobbled together by the annexation of the Protectorate of Southern Nigeria and the Protectorate of Northern Nigeria in an exercise officially tagged 'Amalgamation'.
"Decades of massive bloodletting which interrupted these monumental failures came to global reckoning between 1967-1970 when eastern Nigeria found itself in a genocidal war."
READ ALSO: EFCC indicts Saraki and his aides in N19bn Paris Club scam
"In the war, over three million Biafrans died. The current escalation of the quest for exit from the failed Nigerian union must therefore be seen by the global community as the continuation of an almost 50 years old fight for self-determination. Referendum can resolve the matter instead of war and violence."
Meanwhile, Professor Wole Soyinka has joined the train of people demanding to know the health status of President Muhammed Buhari. Soyinka who also professed his support for the Indigenous People of Biafra (IPOB) said there is no doubt that President Buhari is ill, but he needs to reveal what is wrong with him.
Legit.ng gathered that Professor Wole Soyinka made this statement at Paris Book Fair over the weekend, according to Vanguard.
Below is a Legit.ng video of pro-Biafra protesters staging a protest in front of the Federal High Court in Abuja.
The Nobel Laureate said the pro-Biafra agitators had a right to assert themselves as a distinct people, even within a political and geographical zone anywhere in the world.
Source: Legit