30+ trendy Adire styles for men: Top styles for the modern gentleman
The fashion industry is continuously evolving, with different styles popping up to fit all genders, ages, and preferences. One fashion trend that has become quite popular is the Adire styles for men. The Adire technique allows fashionistas to create intricate patterns on their favourite fabrics.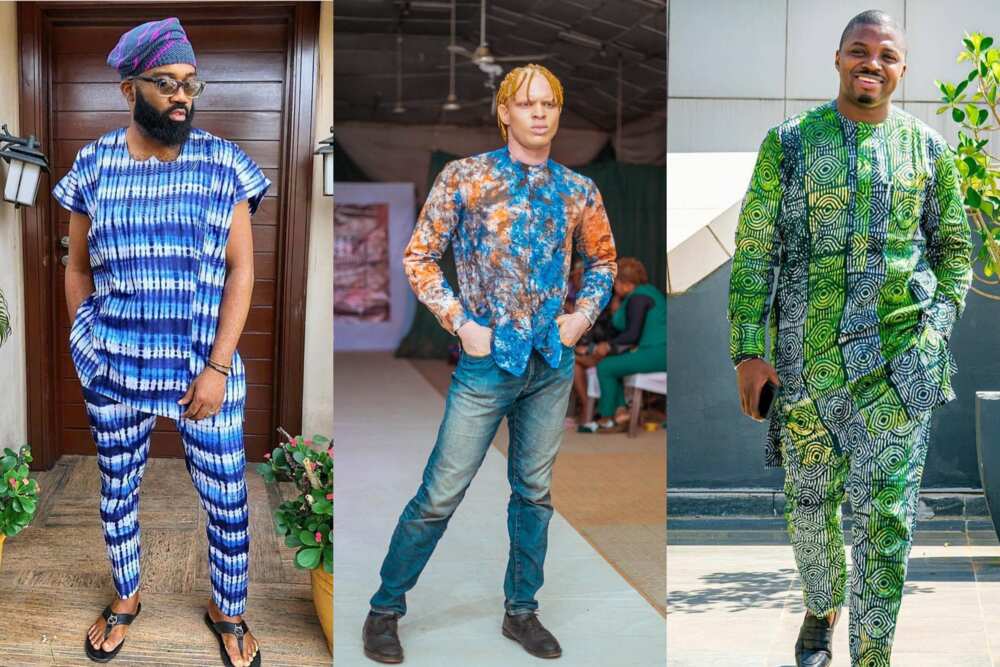 Are you looking for the best Adire styles to rock in any event? The good thing about Adire is that it can fit any cloth design, starting from tops and shorts to hoodies and t-shirts. Whether you want to show your keen eye for details at weddings or funerals, there are always ideal Kampala styles for men.
Top 30+ Adire styles for men
Adire or Kampala is a traditional textile technique that involves creating patterns on fabric by tying it with raffia or cotton thread or painting the fabric with resist dye.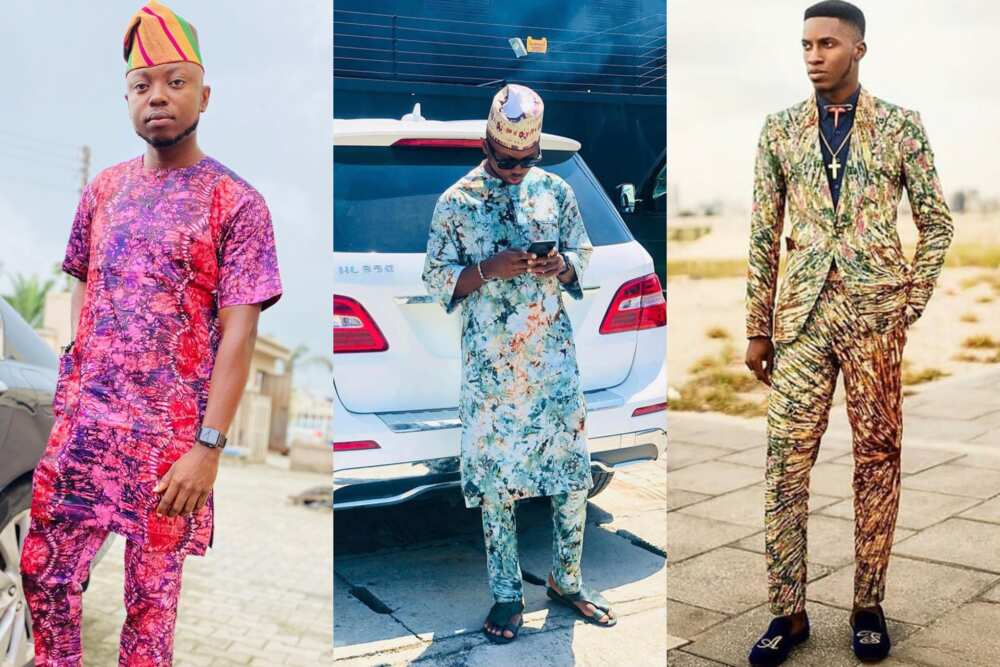 Adire is a Yoruba word that means "tie and dye". Although Adire fashion has roots in Yorubaland, it has rapidly spread to other parts of the globe. That is why it is no longer surprising to see men from other countries rocking in male Adire styles.
Also, while most Adire styles are commercially produced in fashion industries, men can customize their styles using their clothes. Here are the latest Kampala Adire styles for men to consider in 2023.
Adire senator and kaftan styles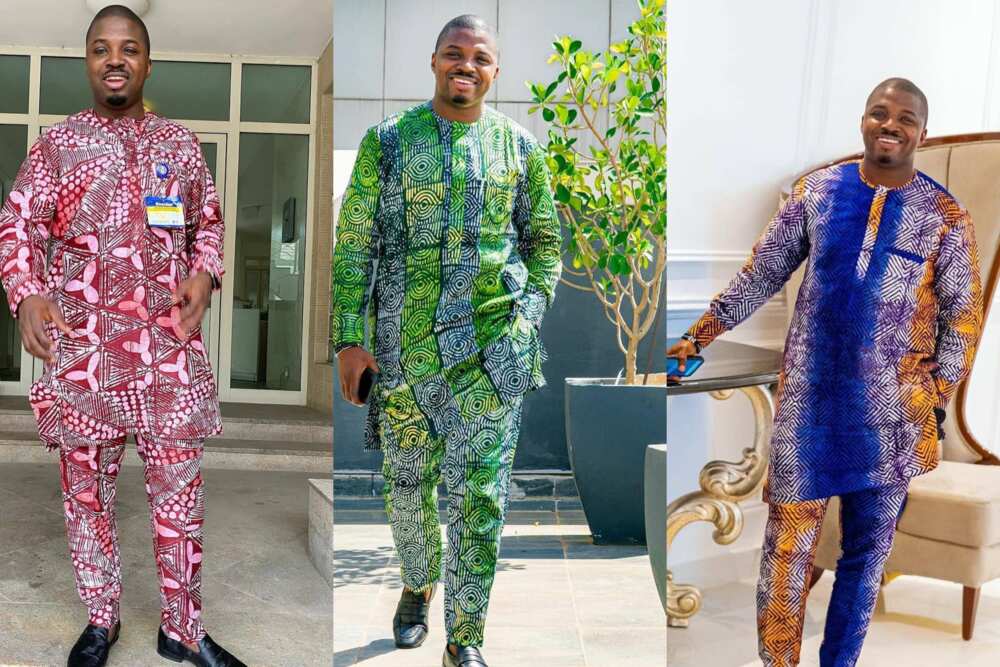 Everyone loves looking good, whether attending a special occasion or chilling at home. And one way to show fashion maturity as a man is to go for the Adire senator and kaftan look.
Senator and kaftan styles have been among the leading designs for a while. The design is primarily a two-piece corporate or casual suit with a top and matching fitted trousers.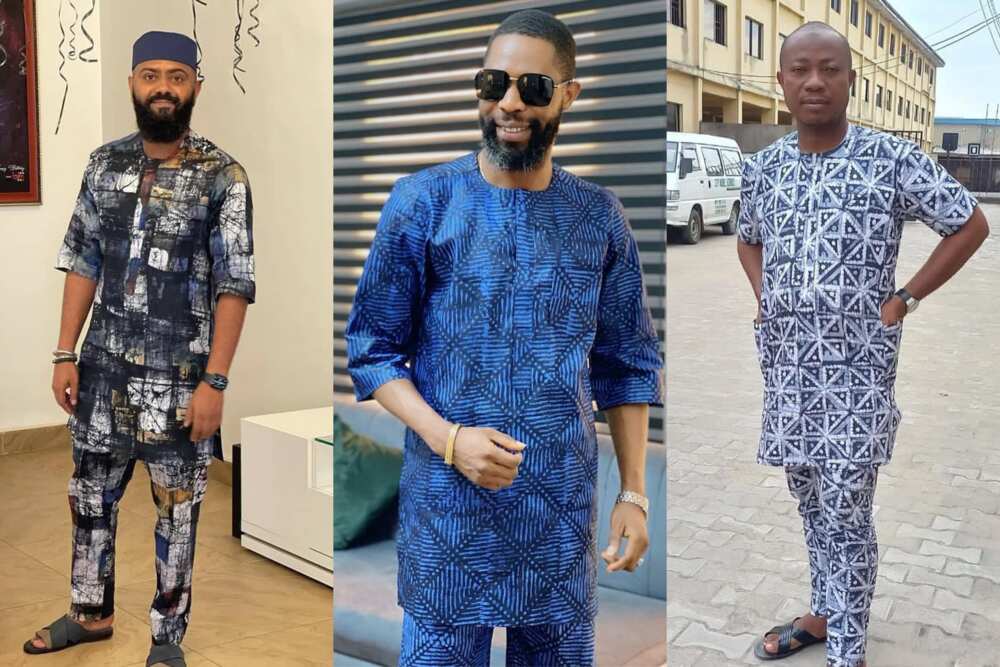 These male clothes come in various styles, including long, short, or sleeveless tops and ankle-length or short trousers that fall slightly below the knees. Some men prefer V-neck or round-neck shirts, while others prefer shirts with one or two front buttons.
The styles can also have colour combinations or a touch of African patterns. Regarding styling, men can wear their attire with matching sandals and open or laced polished shoes.
Stylish Nigerian Adire styles for men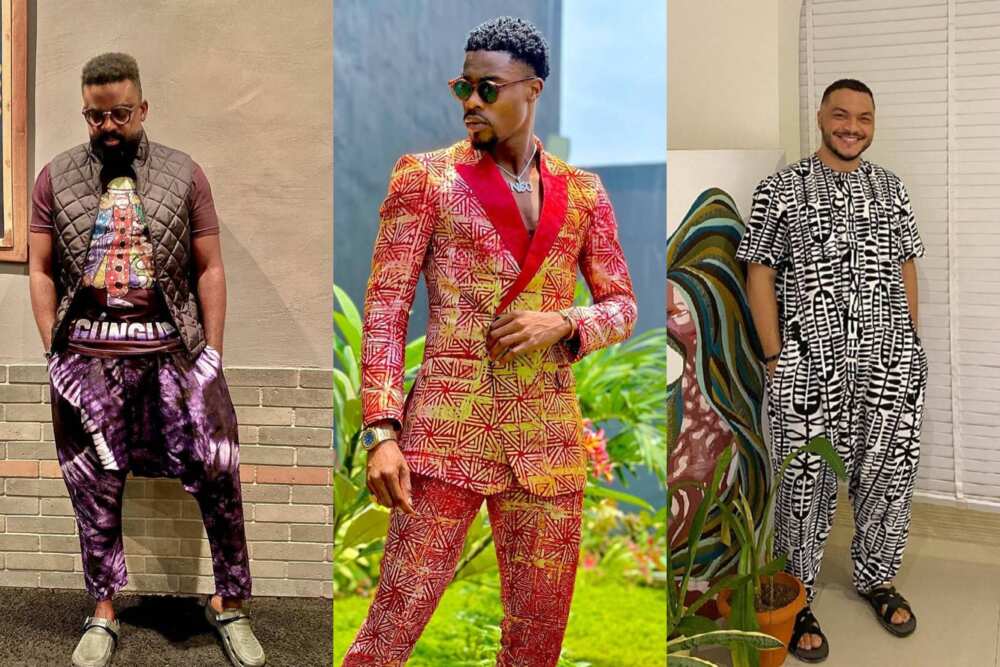 Another way to rock the Nigerian Adire styles for men is to incorporate them into various styles. That means men can wear them as casual or official clothes based on the occasion.
These styles encompass a wide range of clothing options, from traditional Agbada and buba sets to more modern adaptations like shirts, jackets, and even accessories.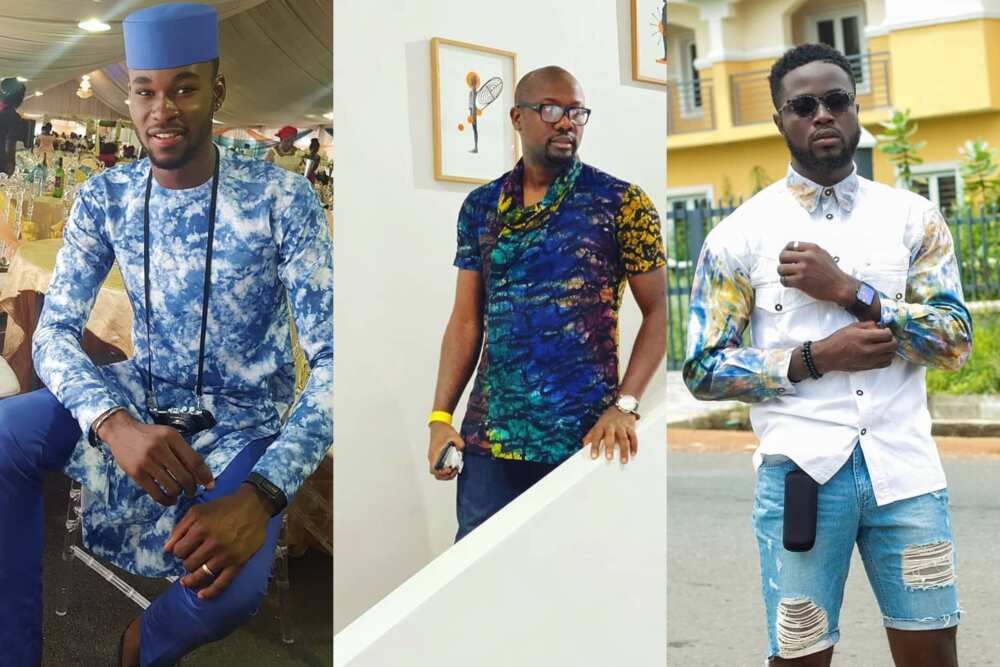 The use of bold and earthy tones, combined with intricate patterns, adds depth and character to the outfits, making them stand out with a sense of pride and heritage.
Adire styles can be worn for various occasions, from formal events to casual outings, allowing men to express their individuality while paying homage to their cultural background.
Adire top styles for men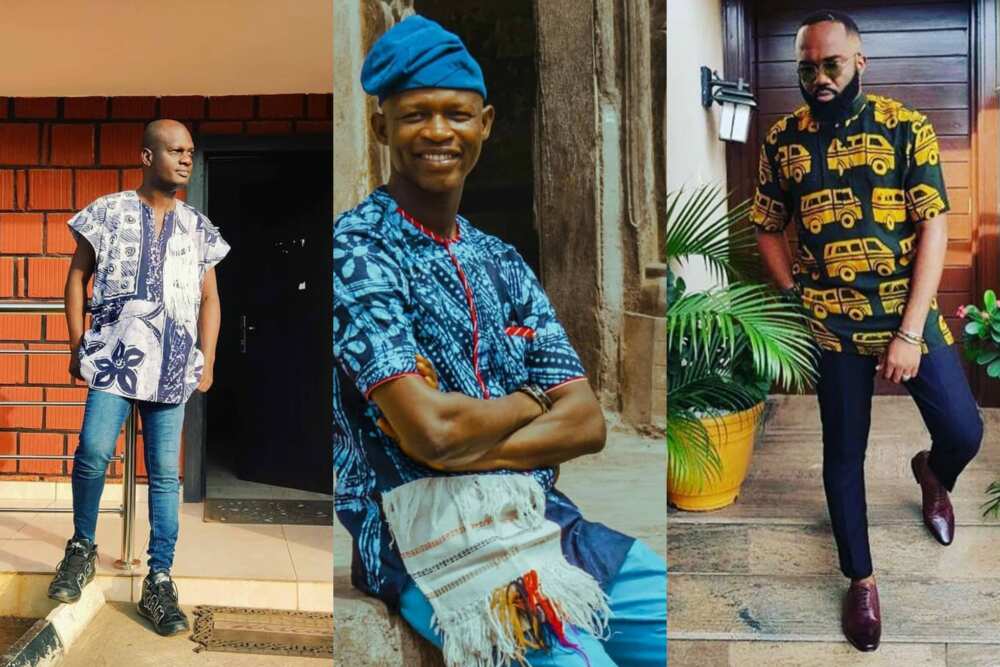 Top Kampala styles for men are the right choices if you are in for a casual look. These styles are common among young men and vary based on personal preferences, occasions, and fashion trends.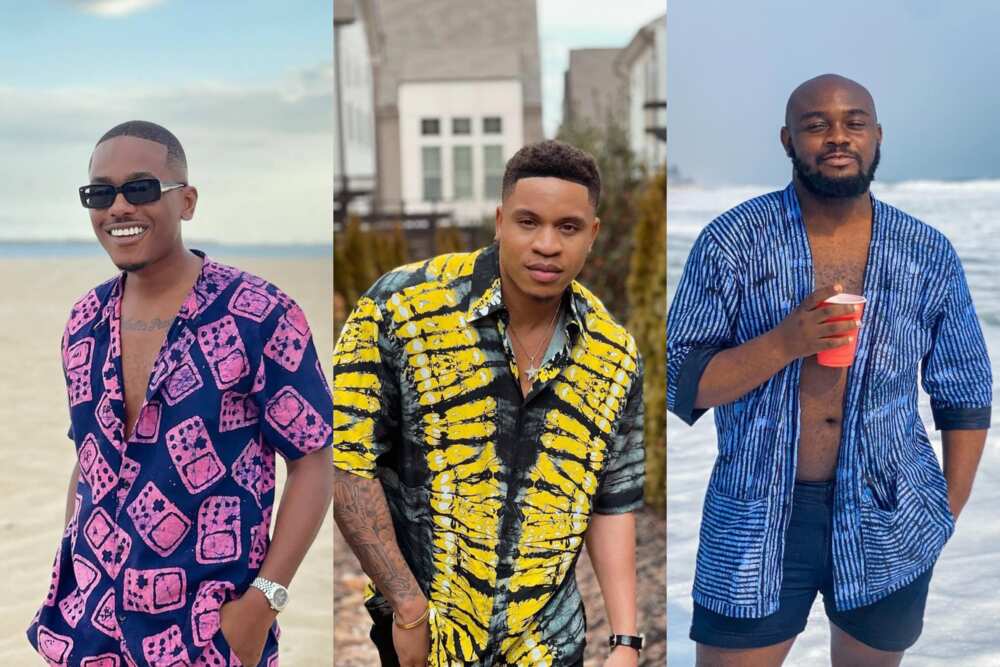 The simple Adire t-shirts can have V-necks or crew necks with differently-themed colours. The polo shirt and chino short combination balance a casual and smart look. You can pair your Adire shirts with shorts, trousers, sandals, sneakers, athletic shoes, or loafers, depending on the occasion.
Adire Agbada styles for men
Agbada is a traditional African attire worn mostly by men and consists of buba, Agbada, and Sokoto. Buba is a loose-fitting, long-sleeved shirt worn to create the base of the entire outfit.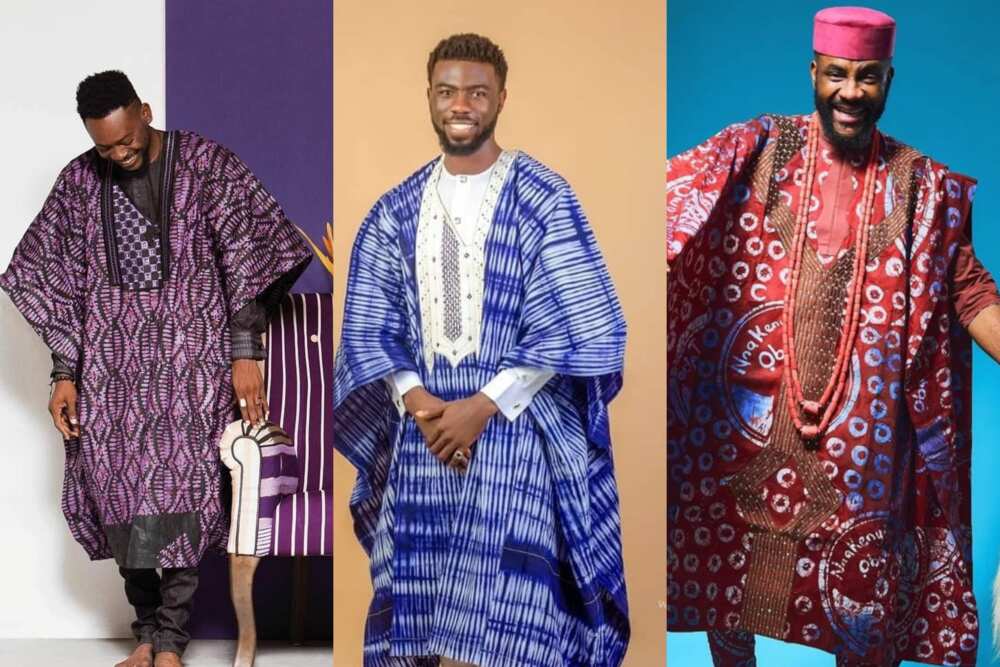 Agbada is the outer voluminous robe or gown, usually with wide, flowing sleeves. Sokoto is the trouser or pants worn underneath the Agbada. Generally, the entire outfit is made from luxurious fabrics such as silk, cotton, brocade, or damask.
Agbada allows the creation of different male Adire styles, especially for men who value their traditional fashion but still want to fit in the fast-paced fashion sector. One way to rock Agbada with Adire is to create garments with ombre effects, contrasting colours, contemporary cuts, and bold patterns.
Latest Adire styles for men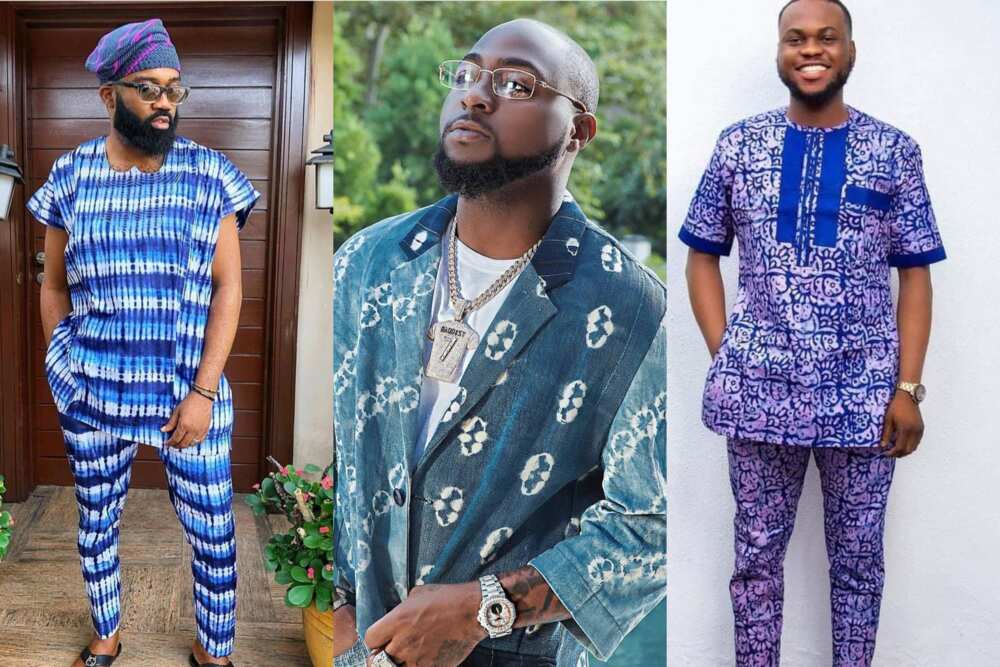 The Adire technique offers endless opportunities for styling your favourite outfits. While most traditional styles focus on flowing tops and matching pants, Adire can also create unique designs on hoodies, jackets, scarves, and footwear.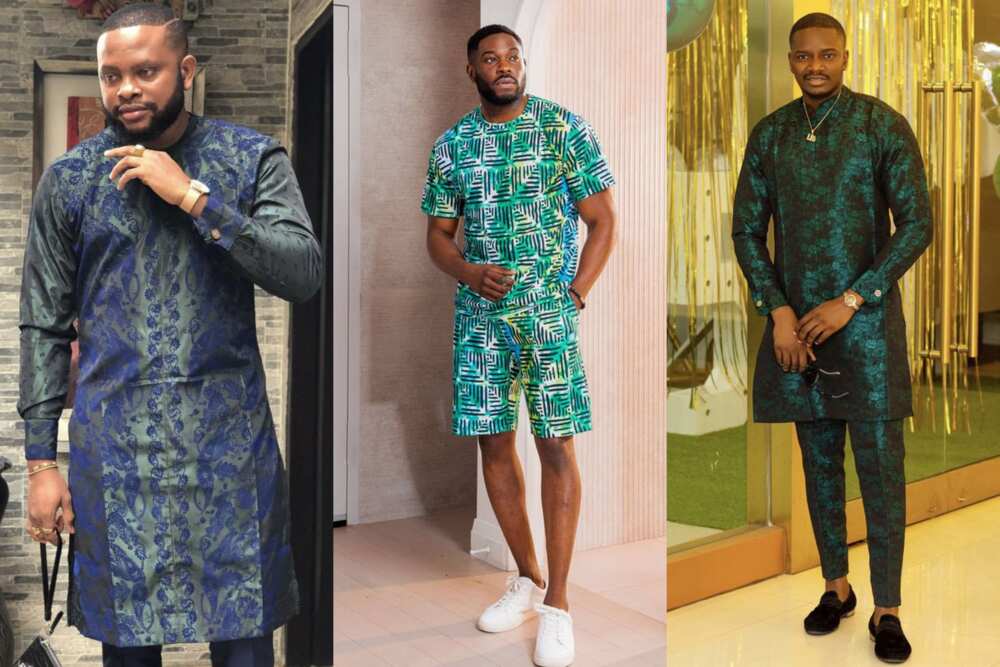 These Nigerian Adire styles for men or accessories complement the traditional tie-dye technique while aiding the wearer in adverse conditions. They also come in unique patterns to enhance their overall look while embracing the African cultural heritage.
The best thing about fashion is that it does not have a universal code to follow. You only need to pick the right Adire styles for men that match the event or speak volumes about your sense of fashion. If you cannot get what fits your preferences, the Adire technique allows you to create your preferred style at home.
Legit.ng recently published an article with the latest stunning Guinea brocade styles that are a must-have in your wardrobe. Guinea brocade is a rich woven fabric with raised patterns and has a unique fiber structure and pongee texture.
Modern Guinea brocade styles have a touch of African and Western clothing designs. These designs are making waves worldwide because most are from bright-colored fabrics attracting attention.
Source: Legit.ng