30+ stunning Iro and blouse lace style: how to wear it the right way?
West African fashion is elegant and stylish. Many people wear vibrant prints. For many years, lace has been incorporated into West African fashion because it is classy and timeless. The iro and blouse lace style, in particular, is pretty common today.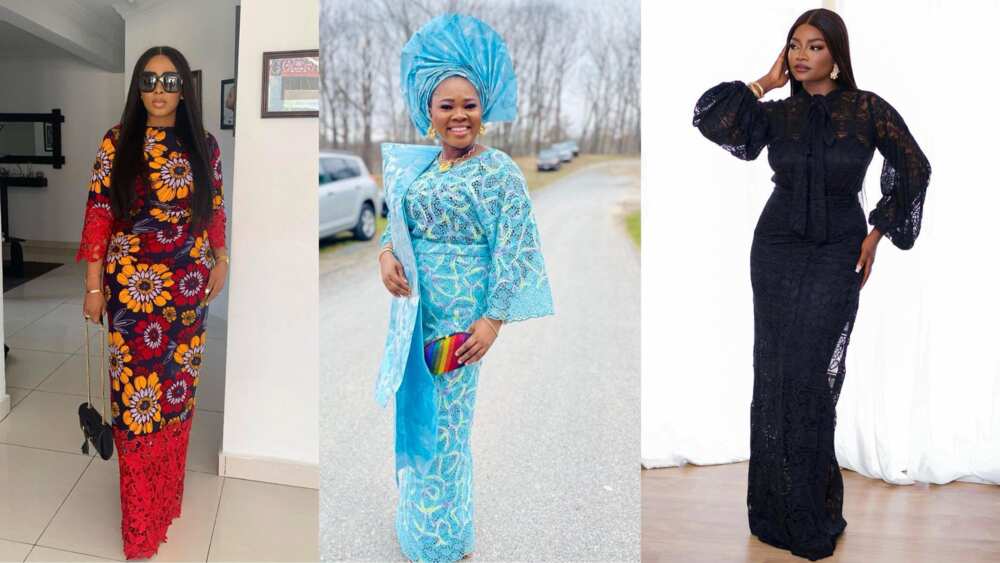 The iro and blouse lace style is timeless. It is classy to wear to your next social function. Iro and blouse is also known as iro and buba. Check out the latest designs below.
Iro and blouse lace style: trending styles
Nigerian and West African women are known for their exquisite sense of fashion. Women from these parts of the world love being at their absolute best at any given time. Below is a collection of elegant iro and blouse lace styles to try in 2023.
Amazing blended designs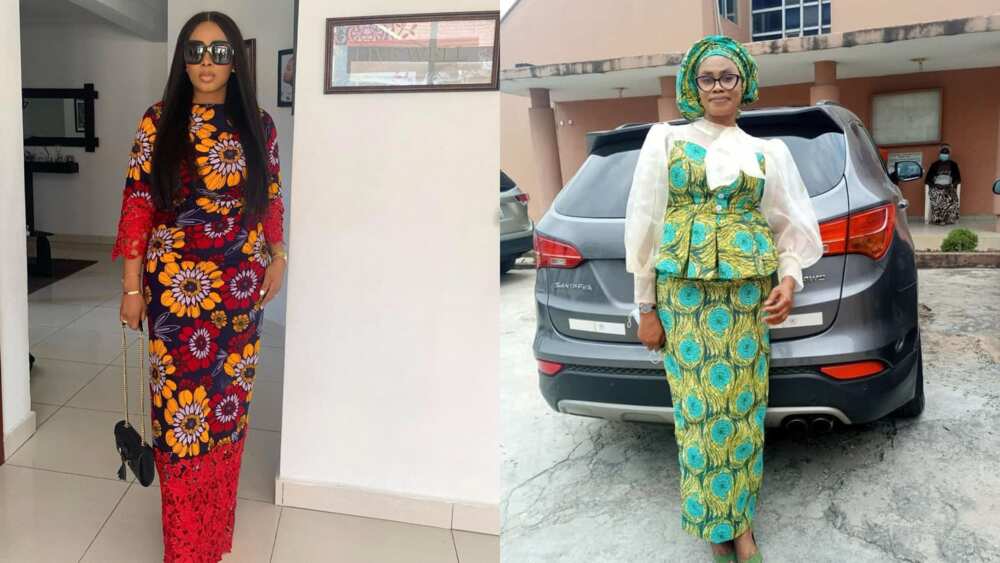 Blending lace and Ankara can be done in multiple ways. The lacy lower sleeves and hem are flattering and stylish. Alternatively, you can have lacy sleeves and necklines. The looks above are perfect for church.
Sky blue goodness
Are you looking for an iro and blouse lace style for a bride? You cannot go wrong with corded lace for your traditional wedding outfit. The sky blue luxury fabric will make a statement on your special day.
Off-shoulder designs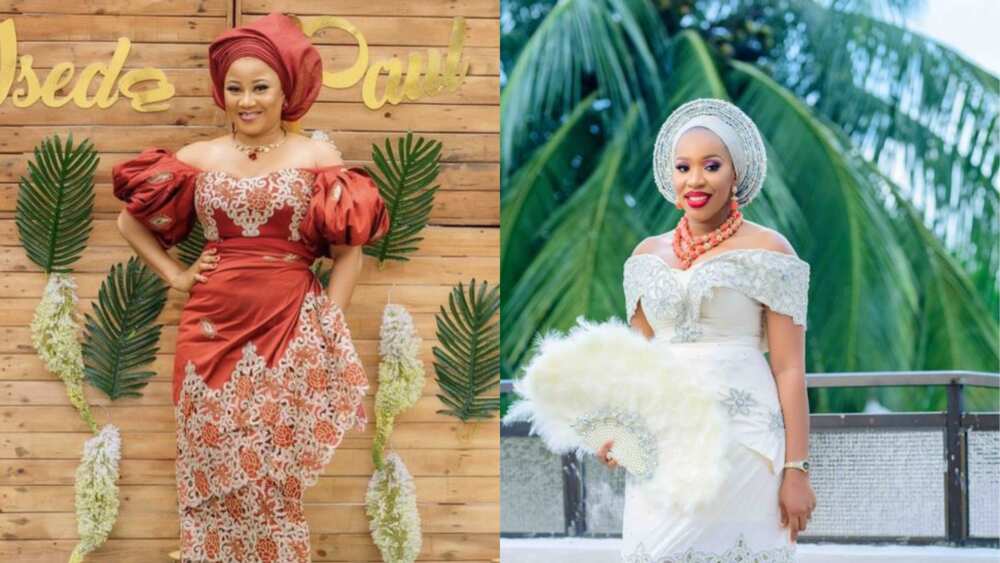 These off-shoulder tops leave both your shoulders and neckline uncovered. This style is popular, especially when the weather is warm. You can play around with sleeve designs.
Simple navy look
If you are looking for a cool and simple iro and blouse lace style, this look is ideal for you. Navy blue represents trust and stability. It is less attention-seeking than lighter shades of blue.
Flared 3/4 sleeves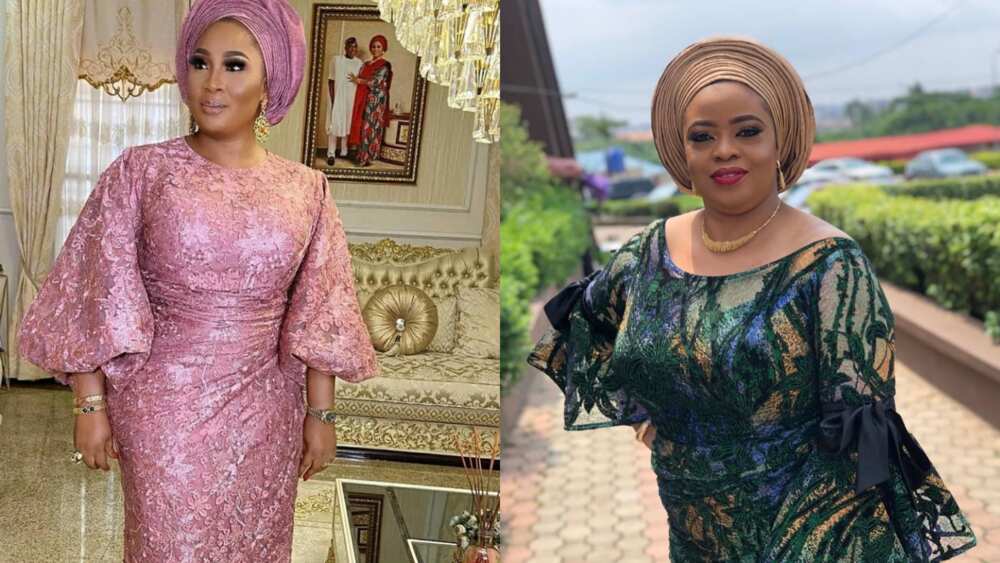 Tops with 3/4-length sleeves create fashionable looks. These sleeves offer an extremely flattering fit for women of all ages.
Short flared sleeves
There are not many variations of the iro and blouse styles. The iro is a wrapper tied around the waist, while the buba is usually a long-sleeved blouse. You can make a small adjustment to the traditional design by having short flared sleeves.
Lace sleeves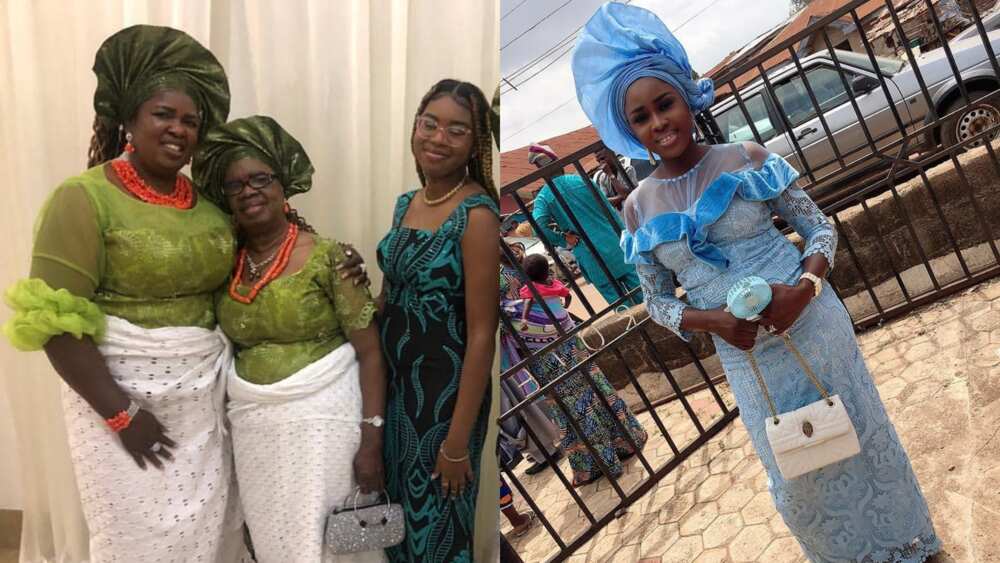 Outfits with lace sleeves are all the rage right now. You can have mix and march iro and buba outfits as you please or have the outfit made in one solid colour.
Black goddess
Black clothing is believed to accentuate or slim a human being's figure. Black iro and blouse styles in 2023 are a must-try. This look conveys tenacity or power.
Lacy elegance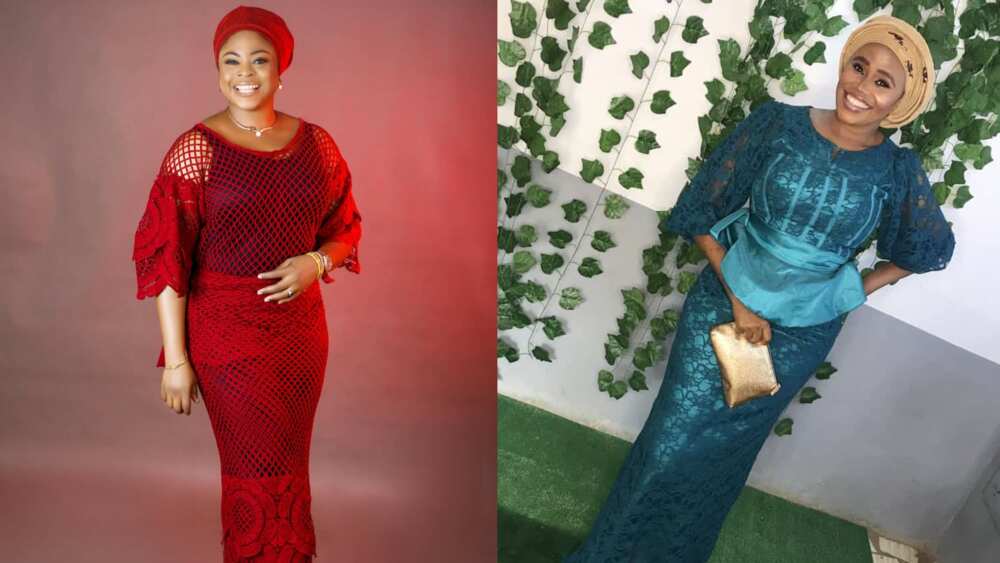 Did you know you can make an iro and blouse outfit from crocheted or knitted lace? The red outfit above is to die for. If you prefer ordinary lace, you can add some style by using headgear with a different colour.
Green-orange blend
Orange and green are contrasting colours and go together when used properly. If overused, it can become too overwhelming and clash. The orange and green fabric above is balanced and adds makes the outfit vibrant for any social event.
Mom-daughter inspo
Did you know young girls can also rock the iro and buba style? Well, the mom-daughter matching look above is proof that you can. The lacy fabric used speaks of class and elegance.
Ankara iro and peplum blouse style
Traditionally, different styles of iro and blouse were made with Ankara fabric only. Today, designers have become more creative and have incorporated lace into the style. The lacy neckline and peplum top add a touch of elegance to the outfit.
Classy in gold and pink
The cord lace iro and peplum blouse with fluffy gold sleeves is mind-boggling! This look is perfect for a bride's mother.
Emerald green goddess
Emerald green is a classic colour that symbolises refinement, wealth, and royalty. The design of the sleeves and the clear lace neckline make the look one of the best iro and blouse styles for a bride.
All lace goodness
Many iro and buba styles use corded lace. If you wish, you can use non-corded lace, which is lighter. This look is perfect for the modern woman who is unafraid of trying new outfit designs.
Wide shoulder design
Black corded lace is timeless. This design is best achieved with stretchy lace. The wide shoulder top can also be worn as off shoulder, depending on your preference.
What is iro and blouse?
In Yoruba, Iro means wrapper while buba means blouse. The wrapper and blouse come in one piece. The wrapper is normally tied around the waist.
How many yards is Iro?
Usually, the iro requires about two yards of fabric. It can be more, depending on your body size.
If you are looking for the best iro and blouse lace style, we hope you find it from the collection of designs above. These looks are a must-try.
Legit.ng recently published trendy Adire styles for men. The fashion industry is continuously evolving, with different styles popping up to fit all genders, ages, and preferences.
One fashion trend that has become quite popular is Adire styles for men. The Adire technique allows fashionistas to create intricate patterns on their favourite fabrics.
Source: Legit.ng