Nigeria faces no threat of famine – Agric Minister, Ogbeh
- The Federal Government has denied the reports by some United Nations (UN) agencies of imminent famine in Nigeria, saying there is no threat of starvation in the whole country
- The Minister of Agriculture and Rural Development, Audu Ogbeh, made the denial when he featured at a News Agency of Nigeria Forum in Abuja
- He said that it was virtually impossible for Nigeria to face famine or starvation because the country remained a major source of food for other African countries
The Federal Government has denied the reports by some United Nations (UN) agencies of imminent famine in Nigeria, saying there is no threat of starvation in the whole country.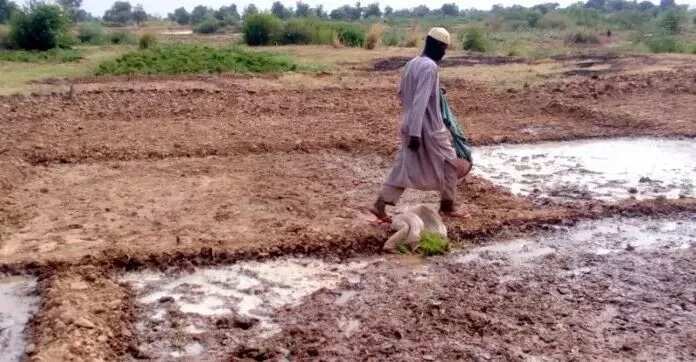 The Minister of Agriculture and Rural Development, Audu Ogbeh, made the denial when he featured at a News Agency of Nigeria Forum in Abuja.
READ ALSO: There will be no famine in Nigeria - Audu Ogbeh
NAN reports that three UN agencies — Food and Agriculture Organisation, World Food Programme and International Fund for Agricultural Development – reported that Nigeria would suffer famine, food shortage and malnutrition.
Mr Ogbeh stressed that it was virtually impossible for Nigeria to face famine or starvation because the country remained a major source of food for other African countries such as Algeria and Libya.
"I think there's a danger of mixing the situation in the North-East with the situation nationwide; I have seen that on CNN, starvation in Somalia and Nigeria, and then they go on to talk about the civil commotion in the North-East
"I don't think that the rest of Nigeria is facing any threat of famine. That is not true and I think these agencies have to be a little more careful in their prognoses.
"I think there are challenges in the North-East because this is a huge part of Nigeria which for five years has not engaged in food production.
Audu Ogbeh, Minister of Agriculture and Rural Development
"That's not the same in the North-West or North-Central or South-West or South-South.
"So, I think there is some degree of exaggeration and a mixture of situations, there's no threat of starvation because we have been feeding Africa.
"People come down from Algeria to buy food in Nigeria, they come from Libya, they come from Sudan and they come from Chad.
"So, to suggest that this country that is feeding the rest of Africa is almost to go totally hungry is not true. "
The minister urged the citizens to use only non-toxic materials for preparing or packaging their cuisines.
Mr. Ogbeh also said the Federal Government is doing everything possible to achieve self-sufficiency in rice production before the end of 2018.
PAY ATTENTION: Nigeria News Legit.ng - Android Apps on Google Play
He said there were strong indications that Nigeria would become self-sufficient in rice production by 2018 because many farmers had rediscovered their potential in rice farming.
"First, let me congratulate Nigerians for responding positively to the made-in-Nigeria rice during the last Christmas period.
"Nigerians have discovered that Nigerian rice is better than rice from Thailand and Vietnam, which are the largest producers of rice in the world.
"We are in a rivalry with the two countries for now and we will soon overtake them in rice production and take over the market from them.
"People in Thailand do not eat parboiled rice but white rice. So, all the parboiled rice they produce is exported to Nigeria.
"Nigeria is the biggest consumer of imported rice in the world.
"By so doing, we are transferring our jobs to these two countries and leaving our teeming youths angry and hungry," he said.
Source: Legit.ng News