UPDATE: Boko Haram kills 7 new Army recruits, injures 20 and abducts others in fresh attack
Boko Haram insurgents have ambushed a convoy of new Nigerian Army recruits in Maiduguri, Borno state capital, killing seven of them and abducting three others that included a female soldier in the attack.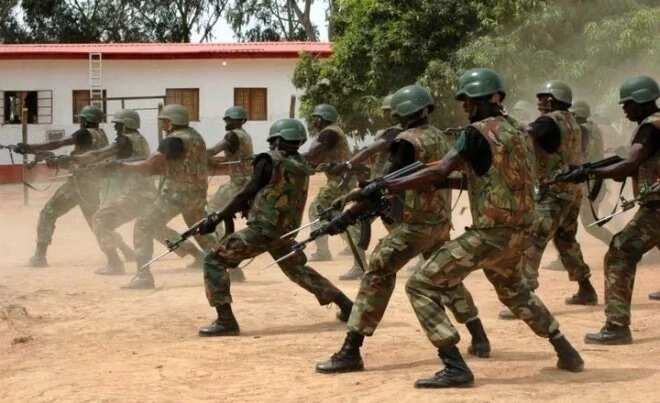 READ ALSO: 9 notorious Boko Haram commanders arrested (photos)
According to the Washington Post, the attack occurred on Thursday evening, February 9, near Mafa town on the main road 50 kilometers (30 miles) east of Maiduguri in Borno state.
The attack has been confirmed by an army officer who spoke under the condition of anonymity.
A humanitarian worker also said he heard military radio traffic confirming the attack.
Premium Times reports that not fewer than 20 other recruits were injured in the gun battle which occurred along the Maiduguri-Dikwa road in the North-Eastern State. Dikwa is 70 kilometres east of Maiduguri.
READ ALSO: UN envoy announces Boko Haram is now broke
The report quotes Army sources as saying that three other soldiers, including a female, were declared missing after the incident.
Quoting eyewitnesses, Premium Times reports that the battle between the insurgents and the soldiers began at about 7.30pm on Thursday after a detachment of troops numbering about 250 soldiers and one officer ran into a Boko Haram ambush as they traveled through the area in Army trucks and buses owned by the Borno state government.
The terrorists were said to have suddenly emerged in large numbers from the bushes and opened fire on the soldiers who were mostly young soldiers fresh from training.
The soldiers are said to be members of the 76 Regular Recruit Intake of Depot Nigerian Army, Zaria.
After the attack, the Boko Haram terrorists fled into surrounding bushes and villages, reportedly taking away with them a gun truck, a mine detector, some AK 47 rifles, explosives and other weapons.
The Nigerian Army has confirmed the attack in a statement released late on Friday, February 10 even as it revealed that the outfit also killed several insurgents.
Boko Haram insurgents have continued to launch isolated attacks on military formations after they were driven out of the Sambisa forest, their last strong hold in December 2016.
Source: Legit.ng