Yar'adua is sick, impeach him now! - Buhari says in 2010
On March 9, 2010, something happened which given the state of Nigeria right now, can best be described as the mother of all ironies.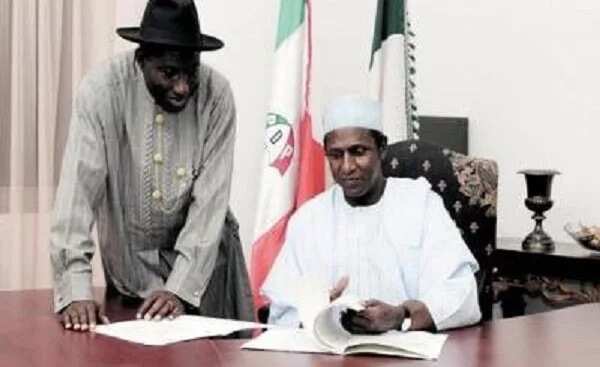 The Nigerian president in that year was Umar Musa Yar'Adua and he had been sick and away from the country for a while. The then vice president, Goodluck Jonathan, was made the acting president and the entire country was confused about the exact state of Yar'Adua's health.
Then an opposition leader, General Muhammadu Buhari (rtd.), joined the growing number of Nigerians to call for the removal of President Umaru Musa Yar'Adua.
READ ALSO: Buhari is not in the hospital - Presidency
According to the This Day article dated March 9, 2010, President Buhari maintained that the only viable option out of the present political logjam in the country was for the Executive Council of the Federation (EXCOF) to declare the president incapacitated and have him impeached.
Buhari, in 2010, said Nigeria should not have been in the situation it was in the first instance because the constitution had made it clear on how an ailing president could be succeeded.
Insisting on Yar'Adua's impeachment, he said the refusal of the council to follow constitutional provisions with regards to the illness of the then president had thrown Nigeria into crisis and he argued that the 1999 Constitution was clear on the issue of succession when an incumbent president is incapacitated.
Buhari, who is the president now, said all this when he received members of the National Unity Forum in Kaduna who paid him a solidarity visit.
Goodluck Jonathan was not spared, as the former military ruler criticized what he described as "extra-constitutional measures", the measures applied by the National Assembly to empower Goodluck Jonathan as the acting president when the constitution already had a solution to the problem.
READ ALSO: 6 things Osinbajo has done as acting president
Below were his words from March 2010:
"Political expediency won't remedy this kind of problem because if the Executive Council of the Federation had acted in accordance with the constitution, by invoking the necessary sections to declare the President incapacitated, we would not have found ourselves in this present situation.
"As you can see, adopting extra-constitutional measures have not addressed the problem. If it had, we would not have been subjected to the raging debates and controversy going on. So, we must go back to the constitution.
"The Executive Council of the Federation must do the right thing because once we start moving away from the constitution, then we are inviting anarchy."
Looking back at 2010, from 2017, it is indeed ironical that President Buhari is now receiving treatment in another country, and he has placed his vice president, Yemi Osinbajo, as the acting president?!
Source: Legit.ng