- Nnamdi Kanu, the leader of IPOB, has been in detention since 2015 and is facing charges of treason
- The Indigenous People of Biafra says Kanu was actually brought by God to save Igbo people like Moses saved the Israelites
The Indigenous People of Biafra (IPOB) has declared that President Muhammadu Buhari's ultimate plan was to Islamise Nigerians, but added that this was why God raised Nnamdi Kanu to counter the move.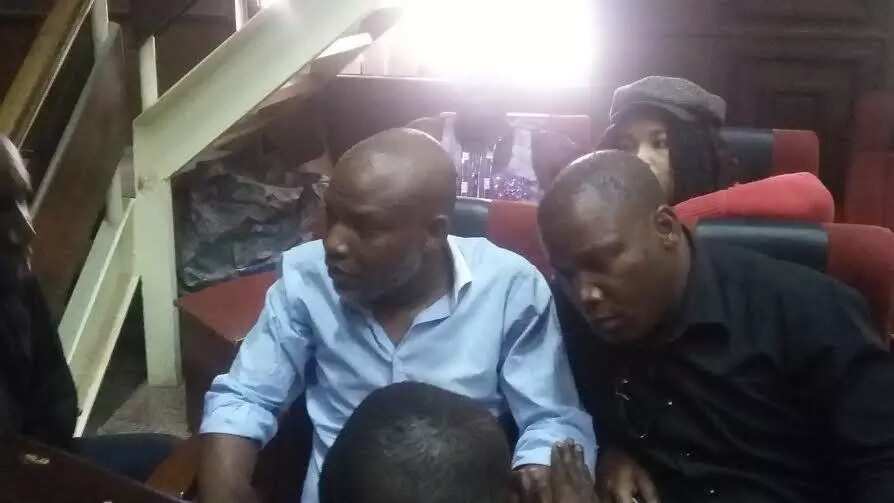 Kanu, the leader of the secessionist group, had been in detention since 2015 on allegations of treason. His followers have constantly clashed with security operatives.
In a statement by its coordinator, Ifeanyichukwu Ononye, the group likened the current situation to what obtained in in the time of biblical Moses and how latter saved the people of Israel from the hands of the Egyptian Pharaoh.
READ ALSO: FG lied! Nnamdi Kanu's co-accused guns were licensed – Lawyer
"These spiritual conformities were revealed to Prophet Nnamdi Kanu by ChukwuOkike (God the Creator) after several encounter and dealings with God. Prophet Nnamdi Kanu was judged faithful to be sent for the liberation of Biafra and Africa at large by God.
"Prophet Nnamdi Kanu, through IPOB as the leader of the Indigenous people of Biafra in truth and honesty, has been ordained spiritually and physically by God and Biafrans in general to lead Biafrans and Biafra, the God's nation on earth, out of the colonial masters' slavery which is human injustice to his fellow human.
"Thank God that the spirit of Biafra has risen to destroy the Buhari led government and his Islamic agenda against Biafra. Buhari should know that ideology can never be killed, as Biafra is an ideology that gave birth to so many Nnamdi Kanus.
"There is no going back, no retreat no surrender because Biafra and IPOB is beyond Nnamdi Kanu. To restore Biafran nation is a task that must be done spiritually and physically.
READ ALSO: It's insane to think Biafra is the solution to our problems - Charly Boy
"To dismantle the Lord Lugard amalgamation of 1914 is a task that must be accomplished," IPOB said in a report by Daily Post.
Source: Legit.ng