Rampaging Fulani herdsmen yet again attacked Rafin Gona and Gbagyi villages in Bosso Local Government Area of Niger State and killed at least nine people including a police Inspector and an Assistant Superintendent Officer of the Nigeria Security and Civil Defence Corps.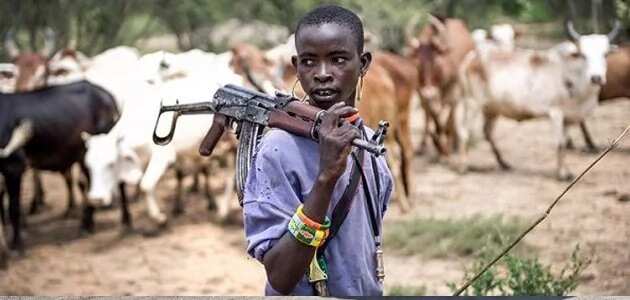 The herdsmen also killed a police inspector and an NSCDC official who were on a rescue mission.
According to a report by Punch, farmlands, houses, vehicles and other belongings worth N700m were destroyed by the rampaging Fulani herdsmen.
READ ALSO: National Assembly to strip Buhari powers to control resources
The report said Chairman of Bosso Local Government Area, Alhaji Isah Wakili, who confirmed the incident to newsmen said about 6,000 villagers were displaced following the midnight attack
"I can tell you that almost all the houses in the villages including yam and corn barns were completely burnt in the attack. We put the estimate of all destroyed property at over N700m."
Senator David Umaru, representing Niger East Senatorial District at the Senate, described the attack as barbaric and inhuman.
He said, "What I have seen is heart-breaking, it is an act of wickedness and complete disregard for human life. This is a very serious problem as a lot of people have been displaced. Most of them have fled from their houses and even if they were here, they would not have anywhere to stay because their houses had been burnt including their clothes and food barns. This kind of situation is not acceptable."
He sympathised with the villagers and urged them to continue to maintain peace, assuring them that he was going to take up the matter at the Senate with the aim of finding a lasting solution to the problem of herdsmen/ farmers clash in the senatorial zone.
The lawmaker said, "The Senate has set up a committee on this Fulani herdsmen and communal clashes and I will liaise with the committee to also look into this problem in my constituency."
READ ALSO: Nigerian Army releases 257 Boko Haram detainees
Meanwhile, the displaced 3,000 Gbagyi villagers and about 2,000 Rafin Gona people were taking refuge in neighbouring Gbagyi communities, the 1,000 displaced Fulani herdsmen were being kept at the IDP camp located inside a private farm belonging to a former head of state, Gen. Abdulsalami Abubakar (retd.).
Recall that the Christian Association of Nigeria (CAN) have said the Federal Government has not been able to live up to its primary responsibility of securing lives and property of Nigerians