- UNIOSUN undergraduates refuse to pay their tuition fees and invest money in MMM instead
- Authorities of the university claim that students already owe the institution two billion naira
- The students who failed to pay their fees won't be allowed to attend classes and write exams
- The MMM ponzi scheme froze funds of its users promising to lift the measure on January 14
Authorities of Osun State University have reported about two billion naira owed by students of the university who put money in the MMM ponzi scheme instead.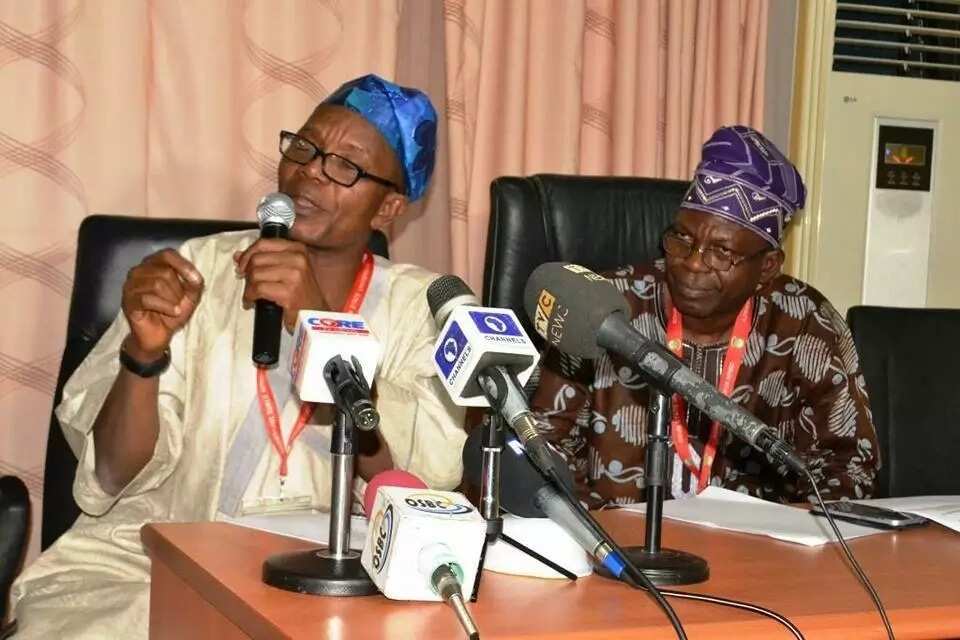 The news has been recently made public by Professor Labode Popoola, the school Vice Chancellor (VC), on the university campus.
READ ALSO: We hope NYSC did not use our 'allawee' to do MMM! Corp members react
Mr Popoola also expressed his dissapoinment with the students who abused the opportunity of tuition fees part payment given by the university for convenience sake of parents and guardians.
He also warned that the school would publish the names and other personal details of the debtors and enforce its full rules and regulations on defaulters.
Besides, defaulters will not be allowed to attend classes and write examinations until they pay their fees.
The professor said: "The university has decided to call this press conference to educate and enlighten the stakeholders in particular and the public in general about the financial position of the Osun State University.
Osun State University, being a public institution, is financed from grants from the state government and she also heavily relies on school fees from its students and other Internally Generated Revenues. The state government under the leadership of Mr Rauf Aregbesola, when he came on board, reduced the school fees.
READ ALSO: Bitcoin is not compulsory - MMM guider reveals 5 vital tips to get paid on January 14
I wish to confirm that the University has not increased its school fees despite the economic recession. The University remains one of the few state owned institutions that charge modest fees. In all matters concerning our students, their interests remain our paramount consideration.
Meanwhile, I wish to let the public know the current amount being charged since 2011: Programmes Amount per session. Freshers: Science 100,000 Naira and 110,000 Naira; Law (including Nursing Science) 125,000 Naira and 135,000 naira; Non-Science, 95,000 Naira and 105,000 Naira; Acceptance fee, 40,000 Naira; Admission Checker, 2,000 Naira; Medical Fee, 15,000 Naira, Matriculation fee, 5,000 Naira and Late registration fee is 10,000 Naira per semester.
From the breakdown above, it can be seen that the highest school fee for staylite is 125,000 Naira in a session for law and nursing science students; whereas there are some private secondary schools in Osun State that charge about 150,000 Naira and above per term.
It is, however, disheartening to note that the University has discovered that despite the fact that the University operates an enviable stable academic calendar, mobilises its graduating students Youth Service without delay, many of our students still owe school fees running to two billion Naira.
If this trend continues, there is no way the university could perform its financial responsibilities.
Henceforth, Senate at its meeting has approved the implementation of the following guidelines:
READ ALSO: Controversy: Femi Adesina is my guider in MMM – Participant alleges
1. That all students who fail to register will no longer be allowed into lecture rooms and will not be allowed to write examination;
2. That only students who fulfil the requirement would be allowed to write examination;
3. That the policy of 70% attendance at lectures for students will be strictly enforced;
4. That new students are to pay school fees in full and on time for retention of their studentship;
5. That names of defaulters will be published soon. All parents and guardians are hereby advised to warn their children and wards to pay their fees on time and not to divert their school fees to other areas."
Meanwhile, the students ask the university management to give them a chance to pay up their school fees within the next three weeks.
Watch related video:
Recall that on December 13 MMM Nigeria announced the freezing of all members' accounts due to systems overload and the negative attention brought on by the government and mass media.
However, MMM representatives promised unfreeze access to its users accounts and funds on January 14.