Chief Ralph Uwazuruike has lashed out at Nnamdi Kanu and the Indigenous People Of Biafra (IPOB) for alleging that he was one of the masked witnesses that will testify against the pro-Biafra leader.
READ ALSO: BREAKING: Nnamdi Kanu arrives court amidst heavy security
The Punch reports that the leader of the Movement for the Actualisation for a Sovereign State Of Biafra (MASSOB) said he would not need to wear a mask he wanted to testify against Kanu.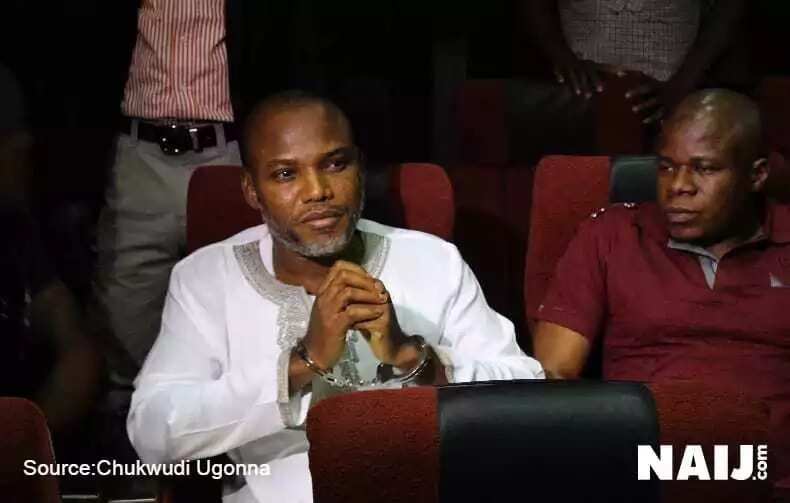 He described Kanu and IPOB members as fraudsters who are out to milk gullible people.
Uazuruike's reaction is coming following allegations contained in a statement released by Emma Powerful on Behalf of IPOB that the MASSOB leader and some other persons were the masked men to testify against Kanu when he appears before Justice Binta Nyako in Abuja.
Meanwhile, Kanu asked a Federal High Court sitting in Abuja to squash all charges leveled against him by the Federal Government.
Speaking in court on Tuesday, January 10, Ifeanyi Ejiofor, Kanu's lawyer said all the six-count charges against Kanu were baseless.
Ejiofor who brought applications before the court also said his client's relatives and visitors were either being harassed or arrested by security agents in Kuje prison.
Kanu's counsel alleged threat and intimidation to his personal life and that of his family by members of the Department of State Securities.
At the commencement of the trial against Kanu and three others, Ejiofor told the court that on several occasions members of IPOB and relatives of the defendants have been harassed and arrested by security officials during their visit to Kanu in Kuje prison.
He also said he suspects that those arrested have been killed by the security operatives.