Army kills 3 suicide bombers, foils second attack on Adamawa in 24hrs
- In less than 24 hours, the Nigerian Army has foiled an attack and killed three Boko Haram suicide bombers in Adamawa state
- The chairman of Madagali local government and Badare Akintoye, the spokesperson of the Army's 28 Task Force Battalion in Mubi have confirmed the foiling of the two attacks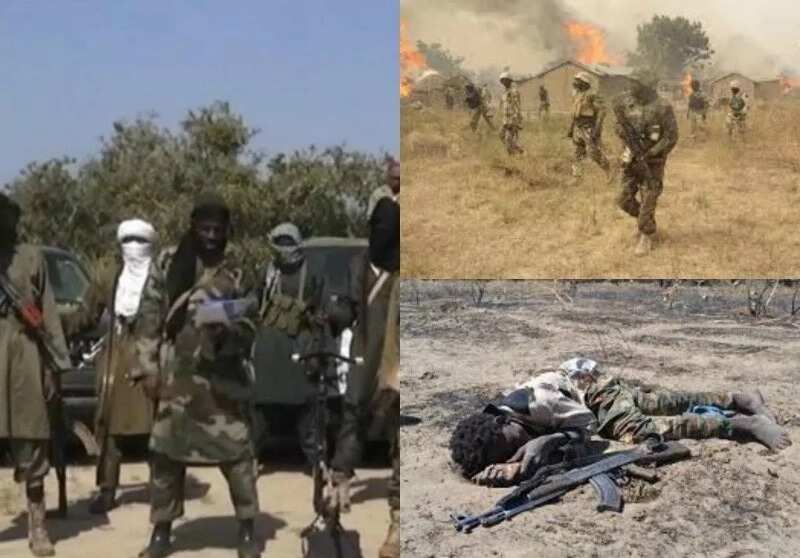 The Nigerian Army has killed three female suicide bombers in Adamawa state to avert a massive attack in the northeast region so early into the new year.
Premium Times reports that the bombers were shot dead in Bakin Dutse village, Madagali Local Government Area of the state.
READ ALSO: Nigerian Army deploys troops in Southern Kaduna to stop killings
The women were caught in the village which is five kilometres from Gulak where hundreds of people are gathered for the market day at the headquarters of Madagali local government.
The incident was confirmed by Badare Akintoye, the spokesperson of the Army's 28 Task Force Battalion in Mubi.
"We gunned down three female suicide bombers. Our soldiers are on alert and commercial activities are going on there," the army major said.
On his part, chairman of Madagali LG Yusuf Gulak said: "Our local vigilantes that are now assisting the soldiers saw the three female suicide bombers who were on a mission to strike in the market.
READ ALSO: BringBackOurGirls threatens showdown with Buhari over remaining Chibok girls
"On seeing them fast approaching, they asked them to stop but the girls declined instead running faster, so one was instantly gunned down and the bomb on her body exploded. So also the second girl.
"The third girl attempted to run but could not succeed as she was also shot dead."
This is the second attack on Madagali in 24 hours.
Recall that Nigerian Army troops early on Tuesday, January 3 repelled Boko Haram fighters who tried to attack Dar village, also in Madagali local government.
Source: Legit.ng