-An Asaba based prophet has predicted death for President Muhammadu Buhari in 2019 in his 2017 prophesies
-The fiery prophet has also declared that Nnamdi Kanu will be released from prison and this will lead to the actualization of Biafra
-According to him, Yemi Osinbajo will lead the country in 2019 after a tough struggle with the military who are poised to take over power.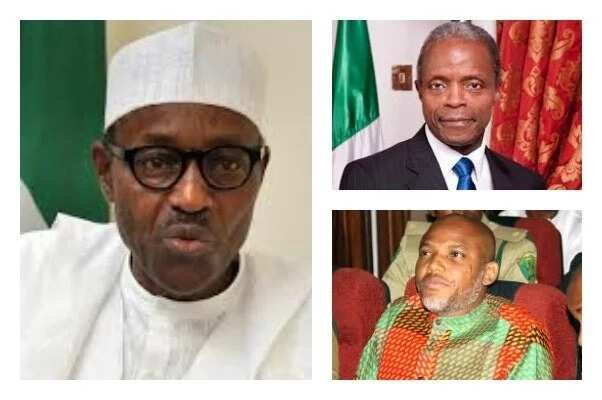 An Asaba based prophet, Emmanuel Chukwudi of King of Kings Deliverance Church, has given his prophesies for 2017.
And according to the prophet, detained leader of the Indigenous People of Biafra, IPOB. Nnamdi Kanu will be released while President Muhammadu Buhari's health will fail him and he "shall go the way of all men", towards the end of 2019, Daily Post reports.
He said that the release of Kanu will lead to the actualization of Biafra
Speaking on the economy, the prophet said that God told him that: "Nigeria will come out of its current recession before the end of 2019."
READ ALSO: Christmas is demonic says Pastor Olukoya
He however warned that the army would attempt to take over power, but the Vice President, Yemi Osinbajo would "prevail" and lead the country.
Prophet Chukwudi said: "Tell pro-Biafrans to stop shedding tears. Their lead¬er Nnamdi Kanu shall not remain in prison custody for too long again. He is already on his way out. As for their (pro-Biafrans) agitations for Biafra, the Lord says it is already in the horizon. Their day shall come soon".
"The Lord is also speaking about Nigeria. Nigeria will come out of its current recession before the end of 2019. Oil price will stabilise and hardship shall disap¬pear.
"But towards 2019, the presi¬dent's health shall fail him, and he shall go the way of all men. But VP Yemi Osinbajo shall wrestle with the soldiers. They shall try to seize power and Osinbajo shall prevail. He shall lead Nigeria into 2019."
READ ALSO: 30-year-old married man marries two new wives same day in Nasarawa
Meanwhile, a popular pastor, D.K. Olukoya, the founder of Mountain of Fire Ministries, has stated that he and his church members don't celebrate Christmas because it has demonic root.
Source: Legit.ng