Biafra: International observers to monitor Nnamdi Kanu's next court sitting
- The Indigenous People of Biafra has said that some international observers will be present during the next court sitting for its leader Nnamdi Kanu
- The IPOB urged all its members resident in Abuja to be at the court on Tuesday, January 10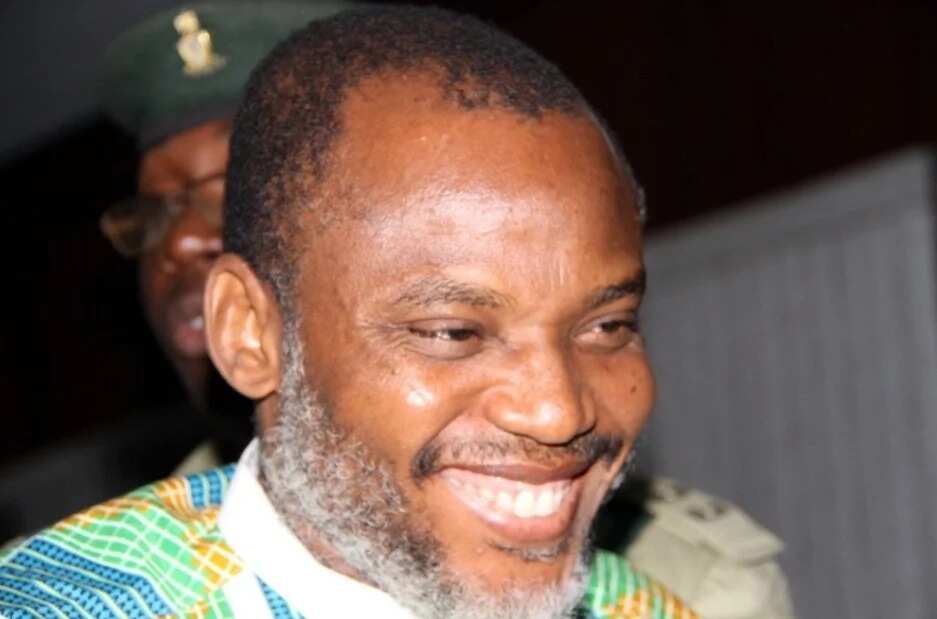 The Indigenous People of Biafra has said that some international observers will be present during the next court sitting for its leader Nnamdi Kanu.
The group in a statement signed by its spokesperson Powerful Emma said the observers will be on ground to monitor the court process.
"This is to let the world know how formidable and resolute we are towards ensuring that justice is done in the case of our leader and to remind the world that the restoration of our God given nation called Biafra is irreversible and on course," IPOB said.
Kanu is expected to appear before Justice Binta Nyako of the Federal High Court in Abuja on Tuesday, January 10.
READ ALSO: Biafra: Buhari chasing Igbos out of Nigeria says former governor
It is also expected that Kanu's secret trial will commence on the said day.
However, IPOB said: The groups that will be on ground in Abuja to monitor the events in the court that day will be International Human Rights Groups, Int'l Media organizations and other foreign observers who will storm Abuja for this case that has caught the attention of the world."
The group also called on all its members in Abuja to be present in court on that day.
"Therefore, we are expecting the entire members of the Indigenous people of Biafra (IPOB) and Biafrans that resides around Abuja and it's environs to be in court on that faithful day in Abuja to witness the court proceedings of the case between our leader and Muhammadu Buhari.
READ ALSO: Biafra: These 12 prophesies have been fulfilled under Buhari - IPOB
The world must know that the presiding judge Binta Nyako is from the same town as Buhari. She is Fulani and a practicing Muslim whose interest quite naturally is to do the will of his fellow Muslim, Fulani tribesman and to keep her fraudulent husband out of EFCC custody.
"That day we shall be waiting for the imported masquerades from Ghana and Cameroon to appear as Buhari witnesses against our leader Mazi Nnamdi Kanu will be exposed by the international observers, international media outfits and the international human rights organizations designated to monitor Nyako Binta with her secret trial pattern on the said date.
The leadership of IPOB are urging every Biafran from far and near to storm Abuja for this purpose. We are also using this medium to urge business men and women residing both within and outside Abuja to dedicate that very day in honour of our leader who has paid so much sacrifice that we may have freedom from oppression and slavery," the IPOB said.
Source: Legit.ng