Tension as Soldier Assassinates Minister He Was Guarding
The Minister of State for Labour, Employment and Industrial Relations in Uganda, Colonel Charles Okello Engola, has been shot dead
Engola was shot dead by his personal bodyguard at about 8am local time on Tuesday, May 2, at his home in Kampala, the Ugandan capital
The motive of the murder has not yet been established; police said investigations has commenced
Kampala, Uganda - The Minister of State for Labour, Employment and Industrial Relations in Uganda, Colonel Charles Okello Engola has been shot dead by one of his bodyguards.
Legit.ng reports that the slain minister, 64, was gunned down at 8:00 am on Tuesday in the Kyanja suburb of Kampala.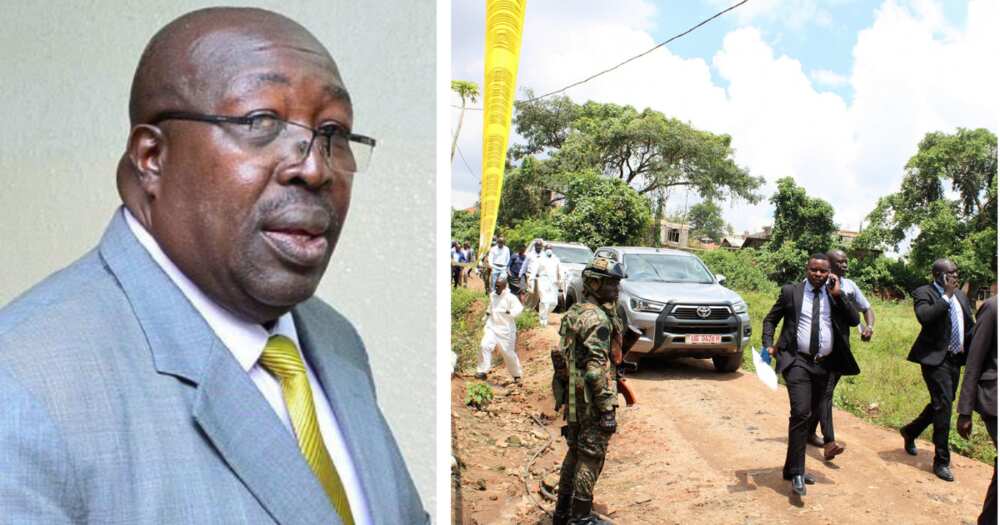 It was gathered that a number of other people were injured in the ensuing commotion.
The killer soldier, Wilson Sabiiti, then turned the gun on himself and took his own life.
Before Sabiiti took his own life, some eyewitnesses said they saw Sabiiti walking around the neighbourhood and shooting in the air.
Uganda police spokesman, Fred Enanga, said, "The shooting was done by one of the minister's bodyguards who also fired several shots at close range. The shooter then fled the scene to the trading centre at Kyanja Ring Road where he entered a salon and shot himself."
Speaker of Parliament reacts to minister's murder
Similarly, the speaker of Uganda's parliament confirmed Col Engola's death in a short statement while presiding over its morning session.
"This morning I received sad news that Hon Engola has been shot by his bodyguard and after, shot himself. May his soul rest in peace. That was God's plan. We can't change anything," Anita Among told MPs on Tuesday.
Legit.ng learnt that Ronald Otim, an aide to the minister, was wounded during the shoot-out at the house. He is receiving treatment at a hospital.
Late Engola was a senior member of the government, and had previously served as a Deputy Minister for Defence.
President Yoweri Museveni has directed that Engola be accorded an official funeral.
Snapshot of political murders in Uganda
Although political killings were more common in the 1970s, various murders in the country seem to be taking a similar trend today as some government officials and political leaders have in recent times been shot dead in broad daylight.
Ibrahim Abiriga, the Arua Municipality MP, was murdered on June 8, 2018.
Andrew Felix Kaweesi, the former Assistant Inspector General of Police (AIGP), was shot dead in his car on March 17, 2017, as he left home in Kulambiro, Kampala at 9am. His assassins were riding on motorbikes when they opened multiple rounds of fire on Kaweesi's car, killing his bodyguard and driver too. He had served as commandant of Kabalye Police Training School in Masindi, commandant of Kampala Metropolitan Police and Police spokesperson in his last posting.
Several other public figures and politically-exposed persons have had their lives cut short.
Source: Legit.ng