Picture of 12-Year-Old at a Competition Standing by 13-Year-Old Nigerian Athlete Enough to Be His Father
National Youth Games in Ilorin is now full of controversies following the manner athletes were screened according to reports
Photo shows 'adults' who claim to be as young as 13 participating alongside real kids of such age group bracket
The chairman of the Kwara State Sports Commission, Mallam Bola Mogaji described the development as "very bad"
Following activities at the ongoing National Youth Games in Ilorin, Kwara State, 'boys' ranging from age 11 to 13 were seen participating with adults.
The games are well underway at the prestigious University of Ilorin but there were earlier complaints from administrators over the methods adopted for screening of athletes.
While speaking with journalists in Ilorin, the chairman of the Kwara State Sports Commission, Mallam Bola Mogaji described the development as "very bad".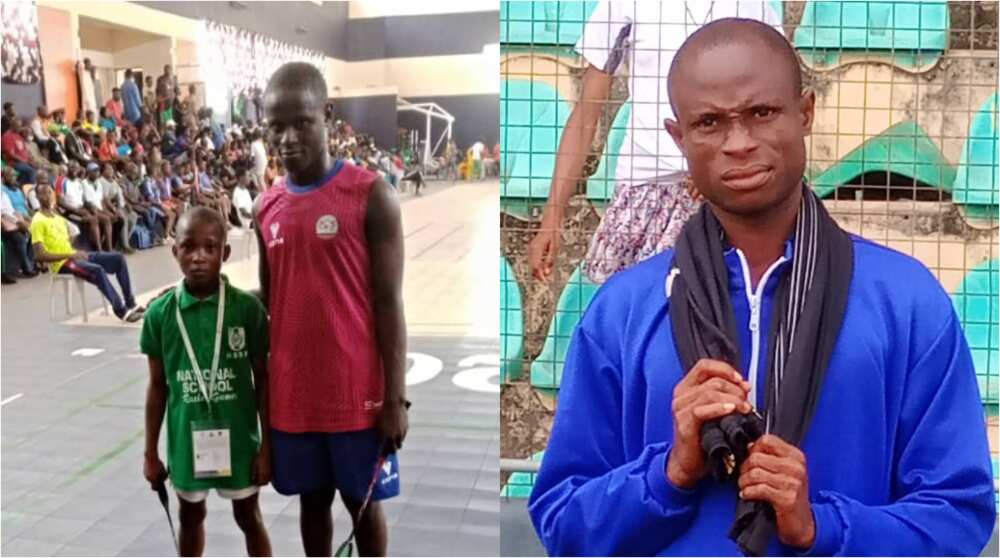 He said via Daily Trust:
PAY ATTENTION: Install our latest app for Android, read best news on Nigeria's #1 news app
"The screening exercise was very bad. I saw some athletes that were allowed to participate but it's obvious they are far above 15 years. It's unbelievable.
"I would advise that each federation screen their athletes as they know them better and have their data. Moreover, even the athletes know one another too."
Sports journalist Godwin Enakhena shared photos of the young boys on social media which have continued to garner reactions. He wrote:
"From the ongoing National Youth Games in Ilorin. The boy is 11 while the two others are said to be 12 and 13 years old."
A fan replied:
"This 13yrs old man should be arrested and tried now."
Another added:
"Nigeria will remain redundant and regress with mentalities like this, winning at all cost instead of building a sustainable legacy."
"This is why we have so many unemployable University graduates, who went to school just for the certificate."
One said:
"They clearly had rapid growth, thanks to good food which is also evident in their looks.
"You can only imagine what the 11yrs old went through to get there, if they were able to find a nonentity like the "youngest old men", we won't have anything to compare."
Nigerians blast Mighty Jets goalkeeper over age cheating
Meanwhile, Legit.ng earlier reported that Nigerians have taken to social media to troll Mighty Jets football club of Jos over the age of their goalkeeper Gobum Rotduwe.
The Jos based football club had taken to their official Twitter handle to unveil their new kits ahead of the start of the Nigerian National League season.
Some of the posts also come with the profile of players who were used as models for the new kits, but eagle-eyed fans spotted the Rotduwe's age.
Source: Legit.ng