Compromised Secrecy of Ballot, Voter Intimidation and 5 Critical Incidents That Marred March 18 Guber Polls
FCT, Abuja - Nigeria's foremost election observer group, Yiaga Africa, says its Watching the Vote data centre received over 50 critical incidents that marred the ongoing 2023 gubernatorial elections.
PAY ATTENTION: Сheck out news that is picked exactly for YOU ➡️ click on "Recommended for you" and enjoy!
Yiaga Africa made this known in Abuja during its mid-day election report press briefing attended by Legit.ng on Saturday, March 18.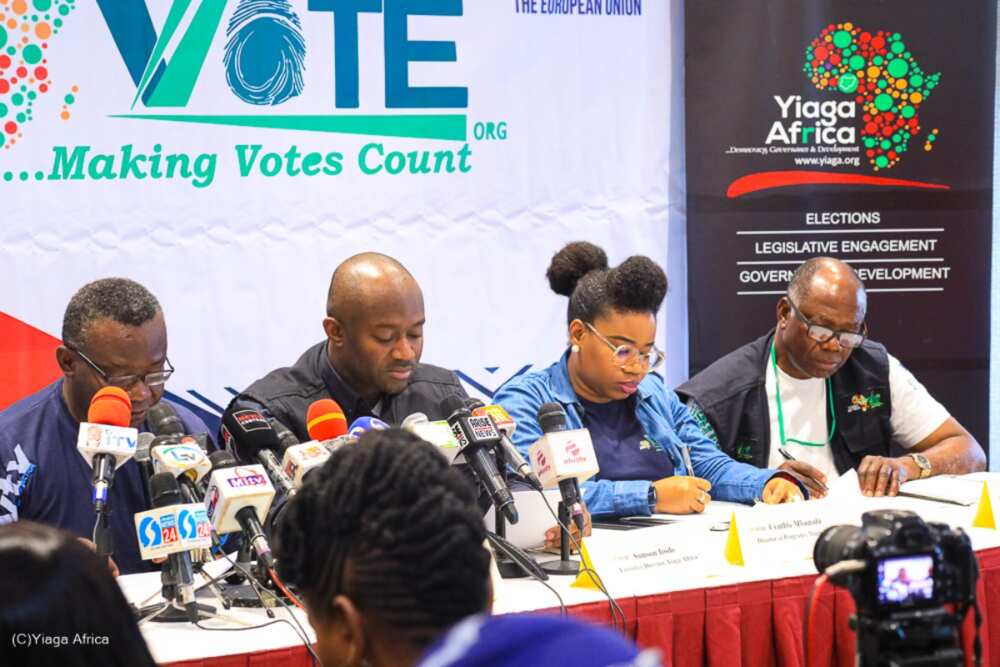 According to the report, its team of well-trained observers scattered across polling units reported cases of intimidation and harassment of voters, disruption of voting, destruction of election materials and a host of others.
Below are the critical incidents highlighted by Yiaga Africa in its mid-day election observation report.
1. The secrecy of the ballots compromised:
PAY ATTENTION: Сheck out news that is picked exactly for YOU ➡️ find the "Recommended for you" block on the home page and enjoy!
According to the mid-day report, polling units 001 and 002, Kofar Hausa LGA Primary School, Iya 1 ward, Keffi LGA of Nasarawa State, the secrecy of the ballot was compromised as security and party agents could see how voters thumb-printed the ballot paper.
The reports also confirmed a similar occurrence in Polling Unit 012, Masaka Garage, Karu LGA, Nasarawa State, where it had over 8,000 voters whose secrecy of the ballot was compromised.
2. Intimidation and harassment of voters:
Observers reported intimidation and harassment of voters, and the report confirmed incidents of intimidation in Kankarofi Quranic Sch III Polling Unit, Kano Municipal LGA in Kano state and Ijando and ward 6/001 Akefan community in Alimosho LGA and Lekki area in Lagos state.
3. Obstruction of election observation:
In Delta state, it was gathered that an APC party agent prevented a Yiaga Africa observer from observing the process, stating that the LGA is under the control of the APC.
4. Disruption of the process:
A clash between party agents in the Zango IV polling unit in Karaye Ward (19-22-03-021) of Karaye LGA in Kano led to the disruption of the voting process. The voting process was also halted in Polling Unit IV in Sagamu LGA of Ogun State due to intimidation of voters and polling officials by supporters of the PDP.
Party Agents also interfered with the process in PU 030 GRA Waterboard, Rimi ward, Keffi LGA, Nasarawa State, where party agents reportedly engaged in folding the ballot papers for voters. Also, in Kankarofi Quranic School III Kano Municipal, Party agents interfered with the process so they could see how voters marked their ballots.
5. Destruction/hijacking of election materials:
Hoodlums destroyed ballot papers and ballot boxes for the Fulatan S/Gari polling unit in Rogo LGA, Kano State. The process was halted as voters scampered for safety.
At Kabuga PU 022, Gwale LGA of Kano State, thugs affiliated with the APC snatched ballot boxes for the PU resulting in voters fleeing for safety.
Similarly, armed thugs hijacked election materials for Wuryo Ward in Gassol LGA in Taraba during a clash between the residents of Wurya and Panya ward over the allocation of election materials. The thugs reportedly stabbed one person.
At PU 003 Ward 4 Etim Ekpo LGA, Akwa Ibom, PDP agents instigated a fight leading to the destruction of the voting cubicle, ballot box and ballot papers for the polling unit.
6. Voter accreditation without using the BVAS:
Observer reports from the Neat Tse-Alour Compound Open Space polling unit in Gwer West LGA in Benue State indicate that the polling officials allowed voters to cast their ballot without using the BVAS to authenticate their fingerprints or facial biometrics. Similarly, polling officials permitted voters to vote with temporary voters cards.
7. Vote buying/bribery:
Yiaga Africa received 15 confirmed reports of vote buying across eight states. In Sarkin Mudu Polling Unit (016) in Giade LGA of Bauchi, PDP agents were sighted bribing accredited voters with N1,000, a wrapper and a pack of spaghetti. The voters handed their ballot papers to party agents in exchange for the bribe.
Another report of the distribution of wrappers, N2,000 and a pack of spaghetti to voters was received from PU 006 Rangan Ward, Warji LGA of Bauchi. Party agents for the APC and PDP party reportedly distributed food, cash and alcoholic drinks to some voters in exchange for votes in Apir market square 1, Makurdi, Benue state.
A case of bribery was reported in PU O6 Ward 05 Isoko North, Delta State, where INEC officials received cash gift from the APC party agent in the polling unit.
Source: Legit.ng