Organ Harvesting: Apostle Johnson Suleman Breaks Silence on Ike Ekweremadu's Arrest
The General Overseer of Omega Fire Ministries, Apostle Johnson Suleman has reacted to the alleged organ harvesting charge against former Senate President Ike Ekweremadu
The cleric in a post shared on his Facebook page prayed for Ekweremadu, his ailing daughter and the minor
Meanwhile, reports have revealed that Ekweremadu's daughter who has been on dialysis for some time needs a kidney transplant
Apostle Johnson Suleman of Omega Fire Ministries has revealed his made his position known regarding the controversy involving a former Deputy Senate President, Ike Ekweremadu.
Reacting to the controversy, Suleman prayed that God would see Ekweremadu through his current travail.
He took to his Facebook page to air his views on the matter and prayed for Ekweremadu's sick daughter and the minor.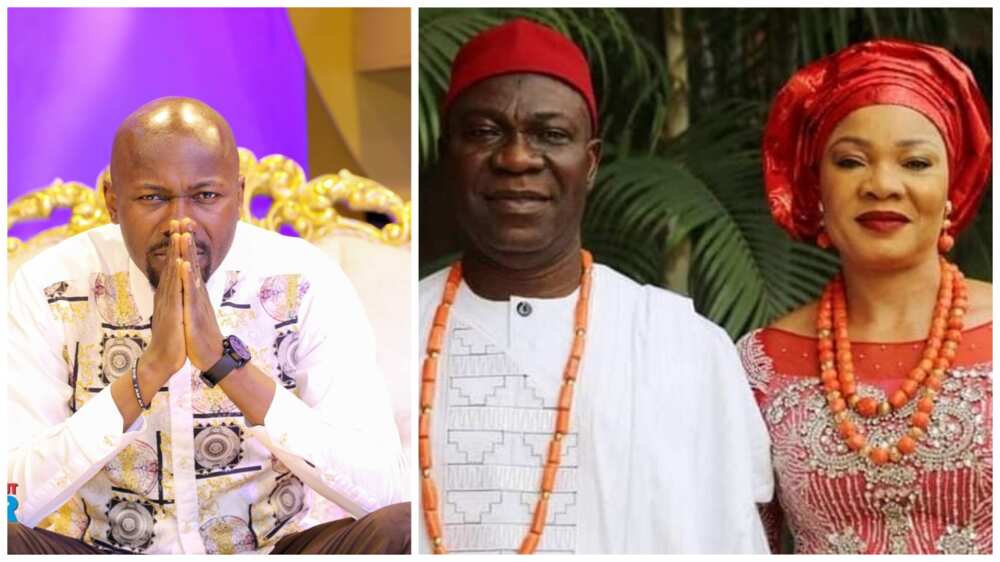 The outspoken cleric urged Nigerians to be careful in their utterances and take their hate somewhere else.
Apostle Suleman
wrote:
"I Just Made A Prayer For All Those Involved In The Issue Of The Former Deputy Senate President And I See Reactions.
Since You Have Become The Law Court, Take Your Hate Somewhere Else And Don't Join Those I Have Blocked.. Even A Confirmed Thief On The Cross, Jesus Prayed For Him."
Nigerians react
Nigerians in their usual way reacted to the development. They took to the official Facebook page and shared their views.
Haunty Lola Anodu said
"Coming from someone always in the news for adultery? Pls take several seats sir. We no rate you at all."
John Okechukwu stated
"When pastors want to justify their wrong doing,they will tell you JESUS this and that.Many pastors in Nigeria have politicians that supports them finance them from time to time."
Princess Ifeoma Osayande prayed
"MayGod heal his daughter, but as a leader in Nigeria he should have helped in building good hospitals in Nigeria so that they don't need to go to UK for medical treatment."
Imoh Saint Chris said
"The same Jesus flogged thieves out of his temple to nigeria churches. Scammers and organ harvesters every where."
Greene Obiora Onyeneke questioned
"Apostle Suleman,must you talk? Are you the only clergy that have seen or heard this?.for goodness sake, this is not religious,if he is found culpable or guilty of the offence,let him face it there in the UK."
Memga Daniel Memga said
"This is not a religious matter so I employ suleman to keep off. Kamar have catch up with ike and I pray he route in jail. Wicked politicians."
Ewenike C Charles said
"Jesus pray for him bcaz he confess but this politics are heartless beside oga don't bring religion on this issue mchewww."
Igho Derin said
"Jesus praying for the thief on the cross symbolizes what apostle? Does it says a person accused of crime shouldn't be tried?let him prove his innocence please."
Court says teenage boy with Ekweremadu was a homeless
An earlier report had indicated that the victim is a homeless boy who was taken off the street of Lagos state.
Ekweremadu and his wife will have to convince the British authorities that the boy was not coerced into giving out his kidney.
The case has been adjourned till Thursday, July 7.
Ike Ekweremadu: Peter Obi speaks on travails of former Deputy Senate President
Peter Obi has offered words of encouragement to Senator Ike Ekweremadu and his wife, Beatrice, over their travails in the United Kingdom.
Ekweremadu, a ranking Nigerian senator, appeared in a British magistrate court alongside his wife on Thursday, June 23 over allegations of organ harvesting.
The Labour Party presidential candidate weighed in on the matter by tweeting:
"My family and I are with the Ekweremadus over their travail. We join all men of goodwill in praying for the healing of their daughter and commit them into God's hand for justice to be done."
Source: Legit.ng