PDP Convention: Party Leaders Move To Prevail On Secondus To Drop Suit
The national convention of the Peoples Democratic Party is scheduled to hold on October 30 and 31, amid an expected court decision on the event
There is still some apprehension among party members over the suit filed against the PDP by its suspended national chairman Uche Secondus
The leaders of the party are already set plans in action to plead with Secondus to withdrawal his suit against PDP
Leaders of the Peoples Democratic Party (PDP) have swung into action with the hope of saving the party from impending doom.
The suspended PDP's national chairman, Uche Secondus had initiated a suit against the party over his suspension and the scheduled national convention.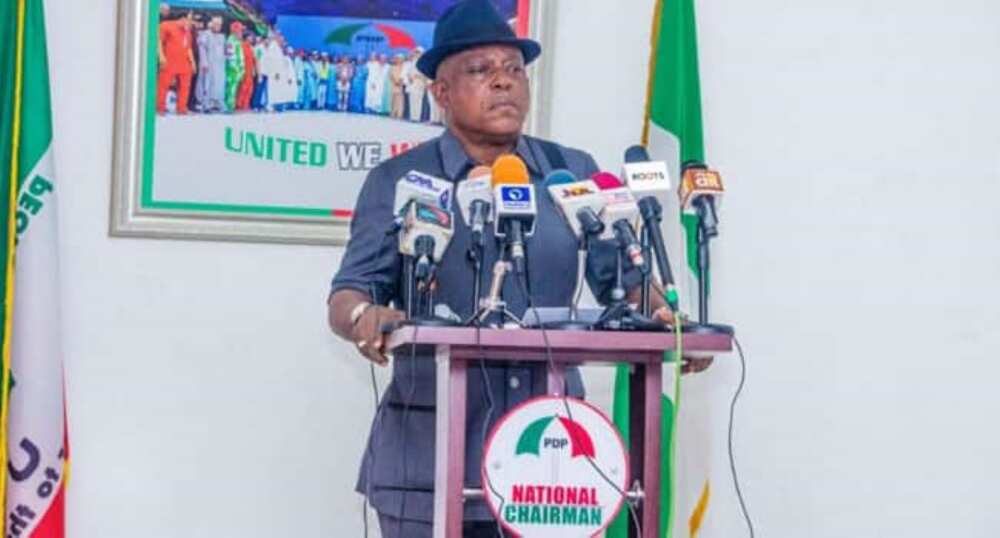 Secondus also sought a court's order mandating the PDP not to proceed with its planned national convention slated to hold on October 30 and 31.
Leaders appeal to Uche Secondus
However, Punch reports that while the PDP is yet to file a response to the appeal filed before a Court of Appeal sitting in Rivers state, sources within the party have continued to plead with Secondus to have a rethink.
A source in PDP said several party leaders have arrived in Abuja in preparation for the national convention while a whole other have concluded plans to be present at the event.
According to the source, it would be unfair for Secondus to be the one to cause such a crisis within the party ranks.
The source who is a member of the PDP board of trustees said:
"We are still pleading with Secondus. It is not too late for him to do the right thing and withdraw the case from court."
"We are all ready to sheathe our swords. He will become an outcast within the party if he continues on this path."
PDP's response to Secondus suit before Court of Appeal
Meanwhile, speaking on the suit filed by his client before the Court of Appeal, Tayo Oyetibo, a counsel to Secondus, said they are yet to receive a reply from the PDP.
Oyetibo said:
"The matter will come up as planned. I understand that the PDP has till 12 pm on Thursday (today) to file a response. To the best of my knowledge, nothing has been filed and we have not been served."
Recall that the PDP had prayed the court to give it more time to respond to the suit. But in its reaction, the court refused the prayer noting that the suit was time-bound with respect to the national convention scheduled to hold on Saturday and Sunday.
The court further gave the PDP 24 hours to file its response to Secondus' appeal.
Meanwhile, Legit.ng previously reported that the Appeal Court had fixed Thursday, October 28, to make its final decision on the suit filed by the suspended PDP national chairman.
The Appeal Court sitting in Port Harcourt, Rivers state reserved its ruling on a motion filed by Secondus seeking an order suspending the planned national convention.
After listening to the parties in the case, the court fixed the date to hear and rule on the motion for an interim order.
Also, the chairman of the PDP BoT, Walid Jibril, has said that it will be wrong for Secondus to insist on making the party ungovernable.
Jibril warned Secondus against engaging in activities that could destroy the party.
Source: Legit.ng