Schweppes excites consumer with great news! Check it out!
Have you seen and tasted the new Schweppes 40cl? If you haven't, then you should check it out! Aside from its irresistible taste and its feeling of satisfaction, the dashingly attractive bottle calls for new ways to enjoy its exciting variants. Now, that is the real deal!
This vibrant transformation of Schweppes, an iconic creation under the umbrella of Coca-Cola Nigeria Limited, heralds the arrival of a pinnacle in the realm of premium sparkling beverages, promising an exhilarating journey for your taste buds.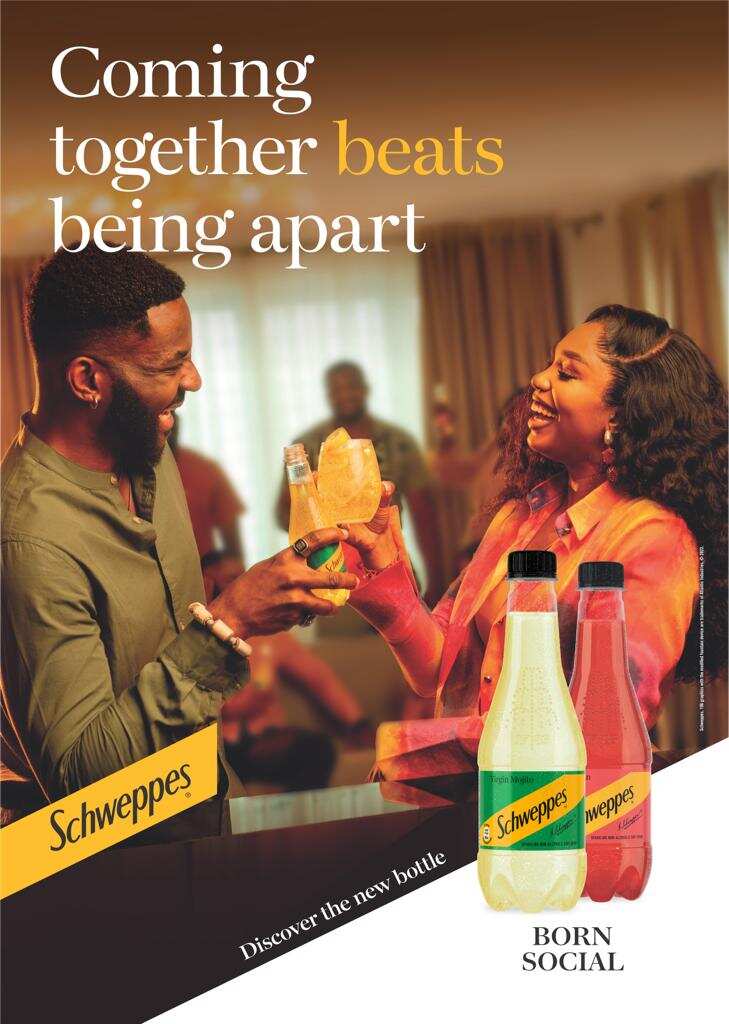 The new 40cl Schweppes PET Bottle, now available at various retail outlets, showcases an array of three delectable variants: Mojito, Chapman and Pineapple with malt extract. Each sip is akin to a symphony of flavours, meticulously crafted to harmonize with your dynamic, on-the-go lifestyle.
It extends a cordial invitation to cultivate meaningful social connections. Whether you find yourself at home, in the company of friends or on the move, Schweppes is your trusted companion
The brand introduces Ebuka Obi-Uchendu and Sharon Ooja, two of Nigeria's highly revered sociable personalities, who will elevate Schweppes to unprecedented heights through the "Born Social" campaign. Ebuka and Sharon are set to shine a spotlight on Schweppes like never before. They're here to show that Schweppes goes beyond being just a beverage; it's a premium experience that will have you feeling on top of the world!
Yusuf Murtala, the Marketing Director, Coca-Cola Nigeria, expressed, "Schweppes boasts a storied history of delivering unforgettable flavours. Our focus is to enrich your Schweppes experience. With these stylish new bottles, you can relish premium sparkling refreshment at your convenience, anytime and anywhere."
With its unwavering commitment to premium quality and an expansive palette of exciting flavours, Schweppes has left an indelible mark on the beverage industry for over two centuries. It is here to infuse your moments with elegance, joy and unforgettable memories. Savour its chilled essence!
We've launched a multichannel campaign to promote Schweppes's brand strategic marketing platform and encourage consumers to socialize.
The "Born Social" Platform will run on digital, cable TV, Digital Out of Home, in-trade and paid digital.
The new platform aims to help consumers connect and create memorable moments. The campaign is designed to inspire young adults to break free from defaults that dampen their natural social instinct by saying "no" to comfort and "yes" to the thrill of socializing , mingling, and letting loose with others.
We've observed noticeable shifts in the ways people socialize and interact post-pandemic, and "Born Social" serves as a powerful reminder for individuals to embrace their social instincts and live life to the fullest.
This campaign reaffirms and reminds people of the thrill and excitement that comes with trying new experiences – with Schweppes in hand, of course.
We believe that this campaign will inspire consumers to make the most of occasions, keeping the Schweppes brand top of mind.
[Sponsored]
Source: Legit.ng