"Move to Abuja": Disappointed Lady Shares Video of N1.5m House Agent Showed Her in Lagos, Causes Stir
A lady could not believe her eyes after seeing the state of the house an agent showed her for N1.5 million
The house hunter shared a video showing the house's interior and sent social media users into a frenzy
Some Nigerians expressed anger over how overpriced houses are in Lagos and called on the government to regulate the prices
A lady, Victoire Mahounou, on house hunting, has caused a commotion on the internet over a house an agent showed her in Lagos.
Victoire said the agent said the house goes on rent for N1.5 million and took her on a tour of the interior.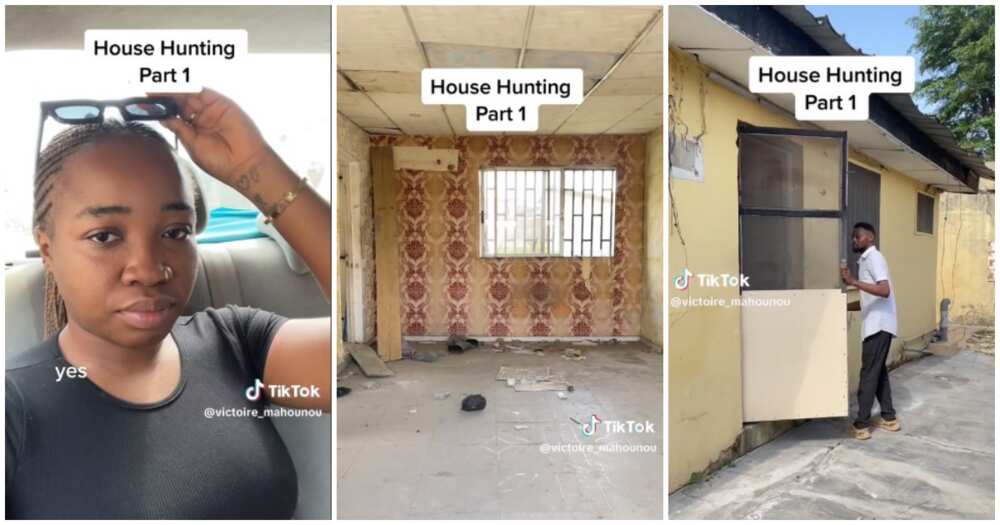 Like the lady, many Nigerians were disappointed that such a small space was slapped with a whopping N1.5 million.
The lady took netizens through some other houses her agent showed her in Lagos and all of them were a minimum of N1 million.
Victoire said the whole thing left her frustrated and tired.
Watch the video below:
Reactions on social media
KING BARRY said:
"That house shld be 250k."
samuelpaulodili said:
"My dear move to Abuja you will see a better apartment on a lower budget."
Certified loner said:
"We are really enjoying here in ikd niyen ooo.. all of these is not even up to the apartment I'm paying 450k for here in ikd with POP self."
Lash Tech Ulu said:
"See some Lagos Agents? Fear them, they don't care about set budget and will still take you to a house falling apart."
THE WIG BAR said:
"My dear exercise patience u will see within ur budget, I can relate."
Eunice_jerry said:
"The worst part is they'll not build good houses and put their price, they'll build rubbish and put ridiculous amount na people wey dey take am I blame."
tywo shola said:
"What Agent's will cause in this con3 on Housing and Rent Matter,God will Judge them. Agent's will go behind and poison the mind of the Landlord."
Lady displays N1.1m house agent took her to
Meanwhile, Legit.ng previously reported that a lady had showcased the N1.1 million house an agent took her to.
The apartment is barely big enough for a person. The kitchen is so small-sized that not all kinds of body types can stay comfortably in it.
According to Nkemjika, she suspected the house would not cut it but decided to go take a look since she was around the area.
That was not all. The N1.1m is just basic rent and does not include other charges that could total payment to over N2m.
Source: Legit.ng