Man Converts Trailer Into Beautiful Home, It Has Several Rooms and Modern Kitchen, He Installs Starlink
Clayton Balabano and his wife, Theresa, dedicated their time and money to making their mobile home
The man did the manual labour of fixing things in the trailer, and he spent five years doing all the work
The couple's mobile home has a modern kitchen and several rooms with a small private space for movies
Clayton Balabano and his wife, Theresa, have been in the news for converting a big truck into a modern mobile home for themselves.
The man said it has always been his dream to have a mobile home to travel around when he retires, but he could not find anyone that suited his needs, Insider reports.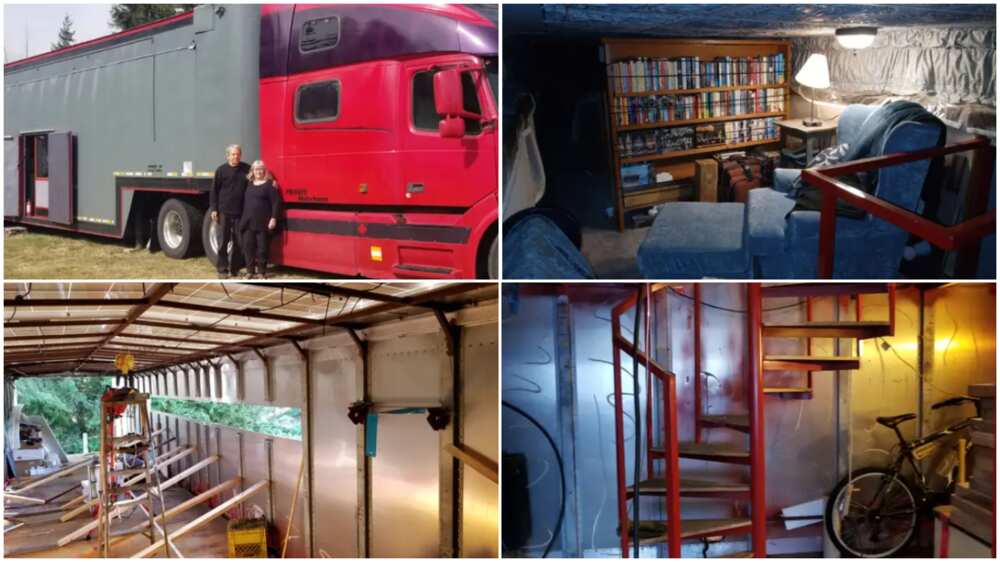 Man buys old vehicle for mobile home
According to Clayton, all the ones he saw did not look durable enough to withstand long vacations. Left with no option, he decided to build his own. When setting out, the man said:
"We needed solar, recycling water, and things like that, which would leave a smaller carbon footprint, making up for the amount of fuel that the truck uses."
Since he could not afford a new truck, the man bought an old one and started to change its interior, Yahoo News report.
The man stated that he did most of the conversion himself. His wife assisted him in getting every material he needed to get the job done. Clayton gave the estimated cost as around $181,100 (N83,396,550).
Kitchen and Starlink for movies
Everything that makes a good home was in it. The kitchen was well done, with cabinets fitted in. There is also a stairway in the truck.
Apart from the rooms and library in the truck, there is also an office. They have a movie theatre with a 75-inch TV. To stream content, they have Starlink installed in their mobile home. The man, however, regretted spending five years working on the conversion.
Another couple who converted vehicle to home
Meanwhile, Legit.ng earlier reported that to save money, a family, @roamwithbus, decided to buy an old school bus and convert the vehicle into their home. It took them many hours to see it to completion.
After paying $4,500 (N2,009,835) for the vehicle, they got to work. The mother in the family stated they spent $1,250 (N558,287.50) on outside materials like paints.
For lumbers and counters, they paid $3,732 (N1,666,823.16). Electrical and appliances gulped $8,106 (N3,620,382.78). They had to part away with $1,342 (N599,377.46) for plumbing work.
Source: Legit.ng