"He Packed His Suitcase": Little Boy Calls the Cops to Take Him to Another Family, Mum Stares in Shock
An intriguing video of a young child who called the 911 emergency hotline has gone viral on TikTok
In the short clip, the child called the emergency line because he wanted to leave his biological family
By the time the cops arrived, the young boy already had his suitcase packed and was ready to leave
Children can be very temperamental, making them act with their emotions without considering the implication.
Their unplanned actions are, however, always a sign that they are learning and developing quickly.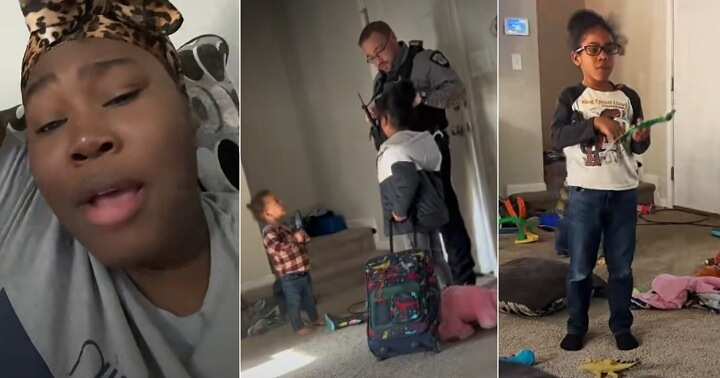 A woman and her little son had a heated interaction in a trending video. Whatever the conversation was about, it made her son take a rather complicated decision.
The little boy packed his little suitcase and called the emergency hotline 911.
No one knew what he told the 911 operator, but they dispatched officers to the boy's address.
The cops arrived to address the issue that made him call 911. The mother sat in the living room and recorded the moment.
While her other children were playing around, the little boy continually glanced at his mother and held his packed suitcase.
He wanted the cops to take him away from his biological family and introduce him to a new home/family.
Social media reactions
@District Attorney wrote:
"I wonder what happened after the one time the cops left."
@unknown commented:
"What he tell them?"
@bebe_bombb wrote:
"Did you love him Everything is funny it's not funny that's not funny that he called 911. That is unacceptable."
@Ice spice commented:
"Stop lying, that is your husband."
@Red Tree commented:
"Dam, what's up with these comments."
@d3zi.capalot wrote:
"If this worked I woulda been gone long time ago."
@user7837063104033 said:
"There is a deeper issue than calling the police. Why is he fascinated with starting fires. Please get help now for him."
@661_.lina wrote:
"You should of asked police to put him in the back of police car to see if he was for reals about going to a new family."
@Sarcastic Ashle said:
"It be your own kids."
@Royaltyglow0088 wrote:
"The way I would have let them take him."
@Toya commented:
"And then the bag was packed too."
@emmacole917 said:
"My son called 911 6 times while we were sleeping because he wanted to see firefighters."
@Chantal commented:
"Whatttt!!!"
@Baby Ali e commented:
"If this isn't a Monday morning idk what is."
@KhaliyahMarie♡ said:
"My son told me he was going to walk to his grandmas the other day at 11pm because he wouldn't finish dinner and had to go to bed pt 1."
@ms_tiffm commented:
"Bags are already packed."
Watch the video below:
4-year-old boy calls emergency number
Meanwhile, Legit.ng previously reported that a four-year-old boy in New Zealand got many talking after calling the police emergency number just to show a female officer his toys.
When the female officer picked the boy's call, the former asked him what was going on and the boy said he wanted to show her his toys. Before the kid could give details of his whereabouts, his dad took the phone from him and told the officer that he was taking care of the boy's sibling when he snuck out to dial the emergency number.
The officer told the man to confirm if there was no emergency, and he did confirm that there was none. According to @trtworld, the boy received a special visit from the police and the female officer who spoke to him on the phone confirmed that the boy 'did have cool toys'.
Source: Legit.ng