"I Have Been Growing My Hair Since I Was Born": Man With Long Dreadlocks That Touches Ground Goes Viral
A man stormed the streets with his incredibly long dreadlocks and people who saw him got stunned
In a TikTok video, the man revealed that he has been growing his hair and hasn't cut it since he was born
The video has sparked massive reactions among people who have seen how the hair touches the ground
A man with extremely long dreadlocks has gone viral after he posted a video of it on TikTok.
In the video posted on TikTok by @rockperry07, the man stormed the street with his long hair and people were in awe.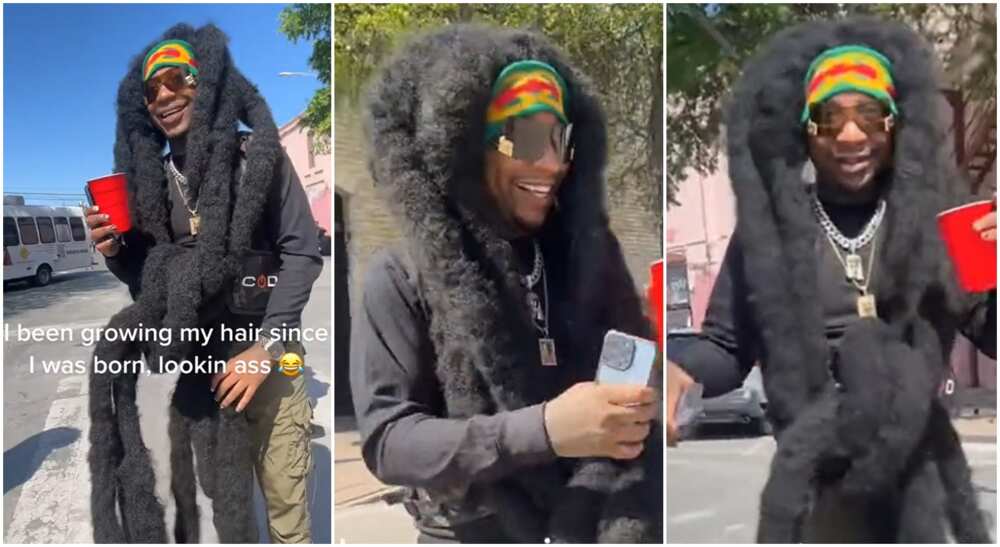 The dread was separated into five long lumps and rolled in front of him.
Man with long dreadlocks that touches the ground
The video showed him holding the locs and trying to control them with his arms as he walked in the streets.
Someone who saw him hailed him. People were amazed at the length of the dreadlocks which were touching the floor.
According to the man, he has been growing his hair since he was born and has not put clippers in it.
The video has sparked massive reactions on TikTok, as people are asking how he manages to sleep.
Watch the video below:
Reactions from TikTok users
@Matthew Henry said:
"Shortest dreads in Jamaica."
@nittythr3e131 commented:
"Somebody said hood rapunzel."
@Ebony said:
"24 hours to wash and dry."
@Simuel Bingham commented:
"Bro use his dreads as a pillow."
@Hason8904 reacted:
"He has completely lost his marbles."
@Mari said:
"How he get that shirt on?"
@Gila commented:
"Shortest dreads in Florida."
@SpireCrimson commented:
"Every night bro wraps up in his dreads like a cocoon and goes to sleep."
@mikeheim158 said:
"It's a wig made from those ropes at the gym."
@Teddy test asked:
"My God this is to much by the way how does sleep with the hair?"
Little girl goes viral because of her hair
In a related story, Legit.ng reported that a little girl blessed with so much hair went viral on TikTok.
In a video that trended for so many days, the girl was described as a blessed princess because of her curly hair.
A lot of people who saw the video were even asking the parents what they use on the girl's hair.
Source: Legit.ng