Sanwo-Olu Finally Meets Man Behind Funny Drawing of him, Says He Will Pay to Appreciate His Work
Taiwo Osinowo who drew a caricature of Governor Babajide Sanwo-Olu of Lagos has presented the drawing to the latter
The artist met with Governor Sanwo-Olu at a symposium in the Ikeja area of the state on Tuesday, October 19
Speaking at the event, the governor promised to pay for the drawing to appreciate the young man's work
Governor Babajide Sanwo-Olu of Lagos state has met the man behind a funny drawing of him, Taiwo Osinowo.
The young man's drawing of the Lagos state governor went viral on social media some days ago after sharing it with Nigerians, The Punch reports.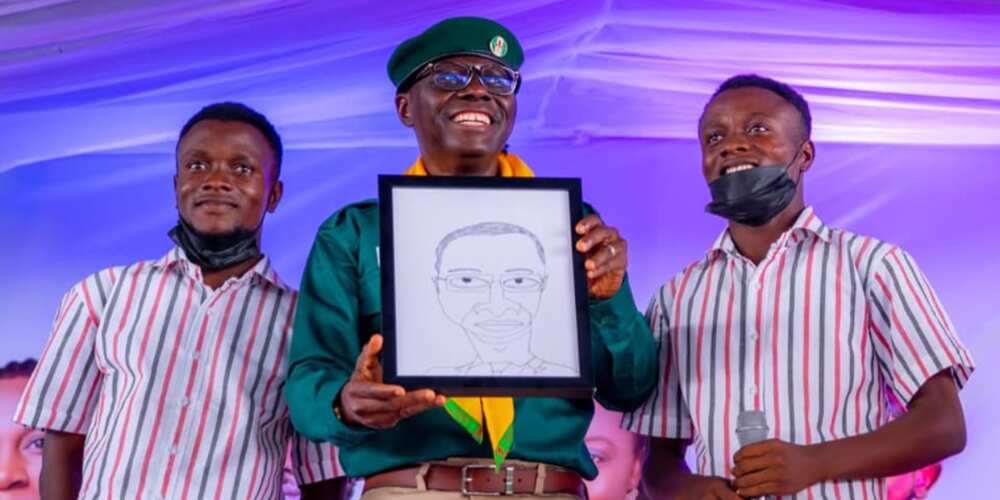 The drawing was presented to Governor Sanwo-Olu by Taiwo at the Lagos Youth Symposium at the Ikeja area of the state, on Tuesday, October 19.
Speaking after the presentation, Taiwo who was at the event with his twin brother disclosed that he was warned not to meet the governor because the drawing he made is a caricature.
According to him, he was reminded that the governor's office is not far from a maximum prison.
Governor Sanwo-Olu who called him up to the podium, however, promised that nothing will happen to him, adding that the drawing will be paid for to appreciate his work.
Speaking about the symposium, the governor on his Facebook page said:
"This event is about aggregating all the conversations of the millions of youths that have been represented here. We remain with the agreement that when we work together, we can build a resilient society we will truly be proud of."
Sanwo-Olu reacts to a drawing of him
Legit.ng previously reported that Governor Sanwo-Olu reacted to a funny looking portrait of him drawn by a Nigerian comic artist, Osinowo Taiwo, popularly known as Bodataiye Oniyakuya.
Bodataiye Oniyakuya, @bodataiye_oniyakuya, with over 21,000 followers on Instagram, is known for drawing popular figures in funny ways.
He described himself as a "funny drawing actor comedian".
Man draws portrait to tell story of his life
In a previous report by Legit.ng, a talented Nigerian artist with the Twitter handle @_TulugoEbuka used his drawing skill to showcase a time in his life that things were rough.
The young man said he made the art in 2019 as a way to document how he was always struggling to make ends meet.
Sharing photos of a boy with a basket carrying cold drinks and 'pure water', the man asked people to retweet his work on their timelines so that it could go viral.
Source: Legit.ng