Anti-terrorism: Nigerian Navy gets encomium for its impact against terrorism
The Nigerian Navy has been given huge credit for its immense impact in fighting insurgency in the northeast
The Building Resilience Against Violent Extremism, Insurgency and Terrorism (BRAVEIT) says the Navy has been instrumental in keeping the peace
Similarly, the federal government were also commended for their contributory role in supporting the operations of the Nigerian Navy in its fight against terrorism
FCT, Abuja - Credence has been given to the Nigerian Navy for its contribution to clamping down on terrorism across the country.
This was has said by Lawrence Audu, the director of operation of the Building Resilience Against Violent Extremism, Insurgency and Terrorism (BRAVEIT) during a press briefing in Abuja on Tuesday, January 17.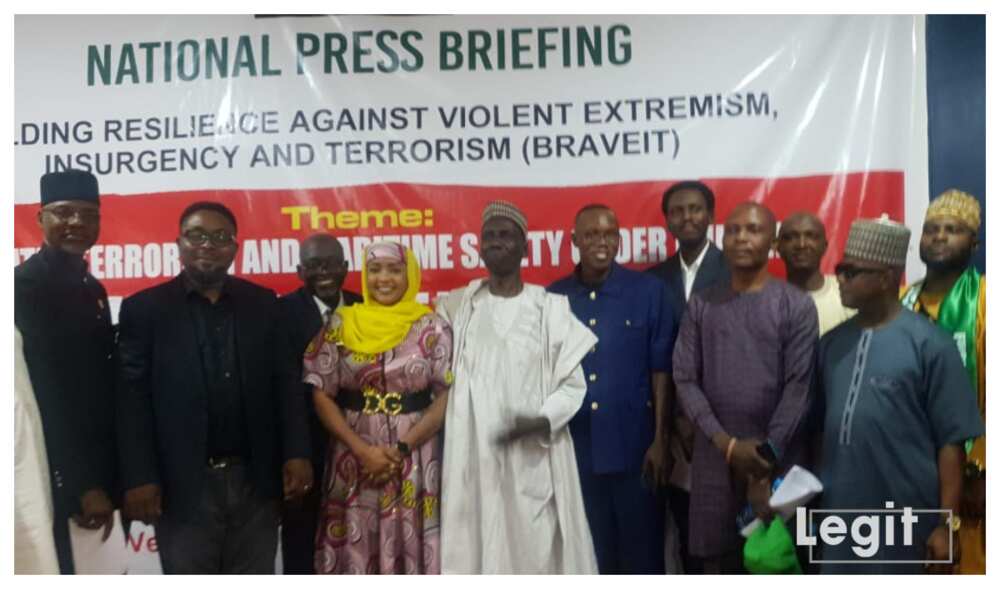 While speaking to newsmen on the theme; "Counter Terrorism and Maritime Safety Under Buhari: Encomium for the Nigerian Navy", Audu stated that the Nigerian Navy has been highly instrumental in fighting against insurgency and terrorism.
He said:
"We would like to commend the Nigerian Navy under Vice Admiral Zubairu Awwal Gambo whose dynamic and pragmatic leadership has changed the landscape of operations for the better."
Audu recounted that his recent visit Baga road fish market in Maiduguri left him in awe when he witnessed the smooth-running of trading activities without the fear of terrorists attack.
While crediting this feat to the Nigerian Navy, Audu said:
"This has been made possible by the presence of the Navy's elite Special Operations Forces (SOFs) and the Nigerian Navy's elite Special Boat Service – which is unmatched among SOFs in Africa, at the Lake Chad basin who have completely rooted out terrorists operating in the region.
"Baga in Borno State is now safe now and people are fishing."
80,000 insurgents surrendered to military without external intervention - Dr Sani
Speaking to Legit.ng shortly after the press briefing, Dr Abubakar Mohammed Sani, an anti-terrorism expert and specialist disclosed that Nigeria remains the only country to have fought terrorism without external help.
Dr Sani stated the Nigerian Navy has been instrumental in all of these operations while noting that over 80,000 insurgents have surrendered to the Nigerian Armed Forces during the course of this period.
He, however, stated that the Nigerian Armed Forces has done its part in fighting terrorism and that it was high time the government step and solidify the victory against terrorism by employing the non-kinetic approach of taming insurgency.
Dr Sani said:
"It's not just military and military all the time, there is a limit to what they can do. The government needs to start creating opportunities for youths to get busy."
Source: Legit.ng