I Have Lost a Dear Brother and Friend: Governor Fayemi Mourn Senator Gbenga Aluko's Death
Governor Kayode Fayemi has expressed deep pain over the death of Senator Gbenga Aluko, a former Senator from Ekiti state
Fayemi described the death of Aluko as a huge loss to the government and the entire people of Ekiti state
Meanwhile, the Ode-Ekiti-born politician and businessman, Senator Aluko died on Saturday in Abuja, at the age of 58
Ekiti state- Governor Kayode Fayemi of Ekiti state on Sunday, November 21, reacted to the death of Senator Gbenga Aluko.
According to Fayemi, the death of the former Senator (PDP, Ekiti-South) was shocking and devastating.
PM News reports that the governor made his feelings known in a statement signed by his chief press secretary, Yinka Oyebode, in Ado-Ekiti.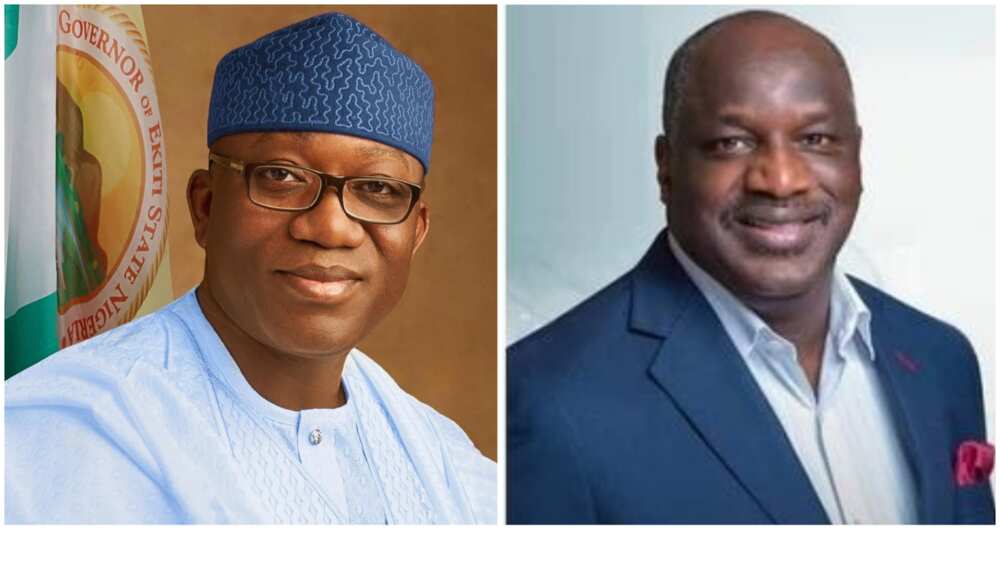 He said Aluko's death was a colossal loss to the government and people of Ekiti State.
Governor Fayemi said the late Gbenga Aluko was not only a brother and friend but also a patriotic Ekiti indigene, whose contributions to the development of the State could not be overstated.
He said:
"I have lost a dear brother and friend. Senator Aluko's death is not only a loss to the state but a personal loss to me, having had close and cordial relationship with the deceased spanning four decades."
Fayemi described the former governorship aspirant as a successful private sector player, refined gentleman, and a decent politician who made great impact in almost every aspect of life.
He added:
"Senator Gbenga Aluko invested his time, resources and energy on many laudable initiatives that impacted positively on the lives of the people.
"For us in Ekiti, this is a huge loss. And it is a personal loss to me."
Late Sani Dangote: Tinubu speaks, points out 'the impossibility of life
As tributes continue to pour in for the vice president of the Dangote group, Sani Dangote, the national leader of the All Progressives Congress (APC), Bola Tinubu, has joined in the numerous eulogy.
It was reported that Tinubu while visiting Aminu Alhassan Dantata, the patriarch of the Dantata and Dangote families said if Sani's survival had been dependant on money, friends, relatives and associates would have rallied around to ensure he did not have to die.
Tinubu described the death of Sani who is also, Aminu's nephew and a younger brother to Aliko Dangote, one of Africa's richest businessmen, as a demonstration of the will of Allah.
Source: Legit.ng