Breaking: Lekki Tollgate Incident Was a Massacre, Leaked Lagos ENDSARS Panel Report Reveals
A leaked report of the Lagos Judicial Panel on #EndSARS has said there was a massacre of protesters at Lekki Toll Gate on 20 October 2020
According to the panel, at least nine persons were confirmed dead at the Lekki toll plaza on the night soldiers stormed there to disperse #EndSARS protesters
The panel was inaugurated on October 19, 2020, to look into complaints of citizens against human rights abuses by the police
A leaked report by the Lagos State Judicial Panel of Inquiry on Restitution for Victims of SARS Related Abuses and Other Matters (Lagos EndSARS Panel) has described the Lekki Tollgate shootings of October 20, 2020 as a massacre.
The panel indicted soldiers and implicated Nigeria's security agents in the killing and forced disappearances of harmless and unarmed youths protesting at Lekki Tollgate on October 20, 2020.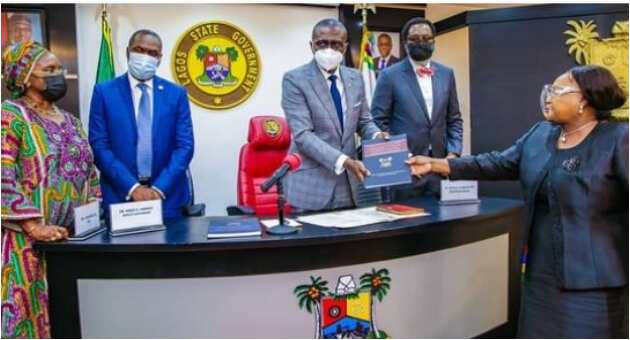 The panel led by a retired judge, Doris Okuwobi, submitted the reports at the Governor's Office in Alausa, Ikeja.
On October 20, the Nigerian army shot at the people protesting police brutality at the Lekki tollgate, but have continuously denied.
According to the 309-page report, the protesters were allegedly killed by policemen and soldiers.
The report read in part, "The atrocious maiming and killing of unarmed, helpless and unresisting protesters, while sitting on the floor and waving their Nigerian flags, while singing the National Anthem can be equated to a massacre in context.
Going further, the Panel revealed that the Nigerian Army "was invited for intervention in the State and was deployed to Lekki Toll Gate on the 20th of October 2020.
The Panel noted "that there was an invitation of the Nigerian Army to Lagos State made by the Lagos State Government through the Governor before the hierarchy of the Nigerian Army deployed its soldiers to the Lekki Toll Gate on the night of the 20th of October.
"The Panel found that there was an attempt to cover up the Incident of the 20th of October by the cleaning of the Lekki Toll Gate and the failure to preserve the scene ahead of potential investigations."
Action governor: Sanwo-Olu begins serious work on Lagos EndSARS panel's reports
The Lagos state governor, Babajide Sanwo-Olu, on Monday, November 15, announced his reception of the reports of the EndSARS commission of inquiry.
Via his Instagram page, Governor Sanwo-Olu expressed his gratitude to the chairman of the panel Justice Doris Okuwobi and his members for their service.
The governor noted that in order to ensure swift implementation of the recommendations made in the report, his administration has set up a four-member committee led by the Lagos state attorney-general and commissioner for Justice, Moyosore Onigbanjo (SAN) to raise a white paper.
He disclosed that members of the committee are: the commissioner for youths and social development, Segun Dawodu; his special adviser on works and infrastructure, Engr. Aramide Adeyoye and permanent secretary, cabinet office, Tolani Oshodi.
Source: Legit.ng