Why Is Maina Smiling After He Was Jailed Eight Years? Here Are Possible Reasons
It is no longer news that the court found Abdulrasheed Maina, a former chairman of the Pension Reform Task Team (PRTT), guilty of the EFCC's charges against him
Maina on his part was filmed smiling as he was being led a way to prison by the personnel of the Nigerian Correctional Service (NCS)
Legit.ng writes that he might be smiling as a result of many reasons including the years he was asked to spend behind bars
Legit.ng had reported that the Federal High Court in Abuja on Monday, November 8, sentenced Abdulrasheed Maina to eight years' imprisonment for money laundering offences involving N2billion in pension fund.
Shortly after his sentence, the former chairman of the defunct Pension Reform Task Team (PRTT) was seen smiling as he was being from the court to prison by the personnel of the Nigerian Correctional Service (NCS).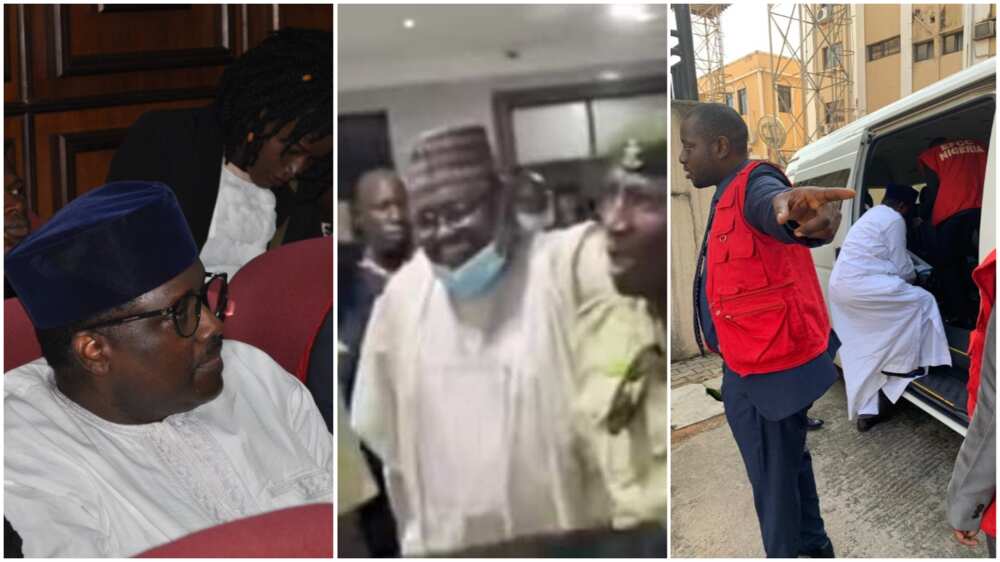 In reaction, many Nigerians blasted him on social media wondering how he would be laughing in such terrible circumstances.
Legit.ng in efforts to understand the situation as well looked at the possible reason he appeared to be unbothered about the court's verdict.
Do you have a groundbreaking story you would like us to publish? Please reach us through info@corp.legit.ng!
A recap of the accusation against him
The Economic and Financial Crimes Commission (EFCC) accused Maina of defrauding the federal government of N2.1bn. They successfully established their case in court.
The court also ordered the forfeiture of Maina's three landed properties in Abuja and his bullet proof jeeps and cars.
His company, the Common Input and Property Investment, was ordered to refund N1.8bn and $537,983 within 90 days to the Federal Government.
Possible reason according to a Legit.ng's reporter.
1. Despite the court fines, there is still more money stashed away somewhere for him
Maina might be smiling knowing that despite the verdict entered against him, he still has much money left. This alone can bring happiness to him. After all, he would have paid his dues and free to spend what is left
2. He only has five years to spend and not eight years
If you are accused of stealing N2billion and who knows how much you have actually amassed over the years and the court sentenced you to eight years out of which about three years is gone, won't you feel relieved?
The light sentence might be another source of joy for the convict who stole pensioners money without any fear or remorse.
3. He might actually use the smile for face saving
Another angle is that the judgement might be a death blow to him but using the smiles as a face saving measure.
4. He might have discovered a way of making prison life comfortable
This might be far fetched but nothing is impossible in this world. Maina might have devised a means of making prison life a mini paradise. Who knows!
21-year-old son of Maina sentenced to 14 years in prison
Meanwhile, Legit.ng previously reported that Faisal Maina, the 21-year-old son of Abdulrasheed Maina, was sentenced to 14 years in prison.
Justice Abang of the Federal High Court in Abuja delivered the judgement on Thursday, October 7. The trial judge found Faisal guilty on a three-count money laundering charge preferred against him by the EFCC
According to the judge, the EFCC was able to establish that Faisal operated a fictitious bank account with a first-generation bank through which his father, Maina, laundered N58.1million.
Source: Legit.ng