Laughing after Conviction: Reactions as Video Shows Maina Smiling after Court Sentenced Him to 8 Years in Jail
After being sentenced to eight years in prison, Abdulrasheed Maina, was seen in a video smiling as he left the court
The development has attracted diverse and heated reactions from hundreds of Nigerians on social media
Maina, a former chairman of the defunct Pension Reform Task Team (PRTT), was found guilty of stealing over N2 billion belonging to pensioners
The Federal High Court in Abuja on Monday, November 8, sentenced Abdulrasheed Maina, a former chairman of the defunct Pension Reform Task Team (PRTT), to eight years' imprisonment for money laundering offences involving N2billion in pension fund.
The judge, Okon Abang, held that Maina stole over N2 billion belonging to pensioners, "most of whom have died without reaping the fruits of their labour".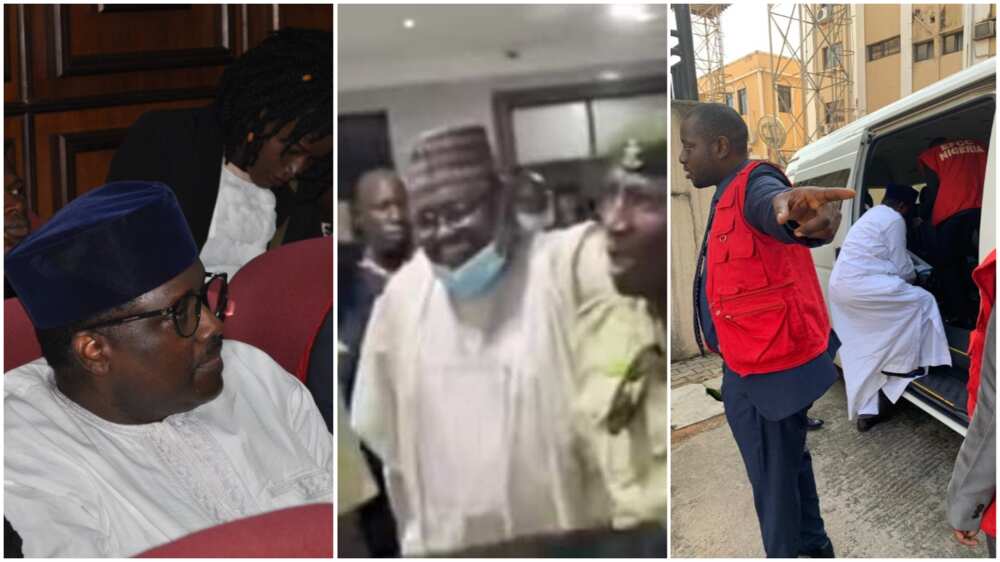 He also ordered the forfeiture of some monies and assets linked to Maina.
However, the former PRTT boss appeared to be unbothered about the court's verdict as he was seen laughing and smiling a video shared by Premium Times and BBC News Yoruba.
Maina was seen smiling as he was being taken from the court to the prison by the personnel of the Nigerian Correctional Service (NCS).
Nigerians react
The video has attracted reactions from Nigerians on social media.
Arigu Arison Audu said:
"Laughing after conviction. God save the poor."
Aiku Adegboyega said:
"I can bet this guy will not spend a year behind the bars before Malami will arrange his pardon. Never seeing correction officer providing bodily support for a criminal like this. This man has stolen the future of retirees yet accorded a red carpet treatment. Shame."
Kingsley Onyeke said:
"How can you sentence a criminal to 8 years Imprisonment and he's putting on agbada and smiling on top without handcuff on him.
"I believe this sentencing is just mere house arrest and not imprisonment."
Onyenobi Chinwendu Samuel said:
"Maina is supposed to be crying but in this case he was seen laughing and going to Nigeria Correctional Services Centre...Am confused here."
Idorenyin Udoh said:
"Look at him smiling all the way out because he has just been given a slap on the wrist. He even feels like a celebrity waving at his fans. He is now sure that billions of people's monies are now gone forever. And I bet he won't be in prison for long."
21-year-old son of Maina sentenced to 14 years in prison
Meanwhile, Legit.ng previously reported that Faisal Maina, the 21-year-old son of Abdulrasheed Maina, was sentenced to 14 years in prison.
Justice Abang of the Federal High Court in Abuja delivered the judgement on Thursday, October 7. The trial judge found Faisal guilty on a three-count money laundering charge preferred against him by the EFCC.
According to the judge, the EFCC was able to establish that Faisal operated a fictitious bank account with a first-generation bank through which his father, Maina, laundered N58.1million.
Source: Legit.ng