Just In: Court Sentences President Buhari's Ex-Appointee to 8 Years in Prison for Money Laundering
After years of trial, the court has finally found Abdulrasheed Maina, a former chairman of the Pension Reform Task Team (PRTT), guilty of the EFCC's charges against him
A Federal High Court in Abuja convicted Maina on charges of money laundering and sentenced him to eight years in prison
The former PRTT boss was also found guilty of stealing over N2 billion belonging to pensioners, most of whom have died
FCT, Abuja - Abdulrasheed Maina, a former chairman of the Pension Reform Task Team (PRTT), has been sentenced to eight years imprisonment.
A statement by the Economic and Financial Crimes Commission (EFCC) on Monday, November 8, indicates that a Federal High Court in Abuja convicted Maina on charges of money laundering.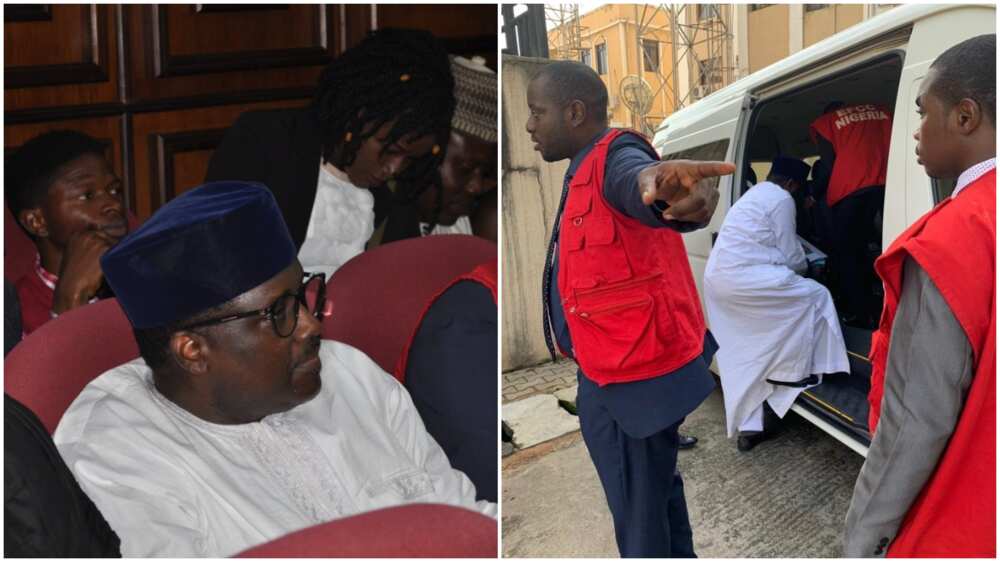 Legit.ng recalls that in 2019, Maina was arraigned by the EFCC but he pleaded not guilty to a 12-count charge of money laundering to the tune of N2 billion.
The verdict: Maina stole over N2 billion
Delivering the judgment on Monday, Okon Abang, trial judge, held that Maina stole over N2 billion belonging to pensioners, "most of whom have died without reaping the fruits of their labour".
PAY ATTENTION: Install our latest app for Android, read best news on Nigeria's #1 news app
The judge also held that the former PRTT chairman is guilty of concealing his true identity as a signatory to accounts opened in two banks by using the identity of his family members without their knowledge.
Legit.ng gathers that the accounts had cash deposits of N300 million, N500 million, and N1.5 billion.
He said throughout Maina's service as a civil servant, his salary and emoluments could not amount to the monies in these accounts.
The court also found Maina guilty of purchasing a property in Abuja, with cash, in the sum of $1.4 million, which is above the statutory threshold of N5 million and without passing through a financial institution.
Maina guilty, sentenced to eight years imprisonment on each
Justice Abang found the accused guilty on count 2, 3, 6, 7, 9 and 10 of the charge and sentenced him to eight years imprisonment.
The judge explained that although the law made provision for a maximum sentence of 14 years, he was moved by Maina's plea of allocutus.
Plea of allocutus is a plea made to the court by a defendant who has been found guilty prior to being sentenced.
The judge held that the sentence would run concurrently, with effect from October 25, 2019, which is the date of arraignment.
About N2.1 billion forfeited to FG
Meanwhile, the court also ordered Maina and his firm, Common Input Property and Investment Limited, to forfeit about N2.1 billion traced to their bank accounts to the federal government, after which the company should be wound up.
The court equally ordered that Maina's properties at Life Camp and Jabi Districts of Abuja should be forfeited to the government.
The convict's bulletproof car and a BMW 5 series vehicle that was found at the premises of the convict would also be auctioned and the proceeds forfeited to the government.
Nigerians react
Abiodun Azeez commented on Facebook:
"Enjoyment berekete after 8yrs. whereas a lot of Nigerians are on awaiting trial after like 10years in prisons already. Eventually a lot of them would be sentenced to 10yrs or more for just mobile phone theft."
Abdulazeez Mohammed Kaura said:
"Just 8 years fro this kind of monumental damages?, While alot of pensioners died as a result of his nefarious action. Anyway Allah will certainly judge accordingly."
Ekezeh Ishioma Sabastine said:
"This judgement is a travesty of justice. It mocked the Nigeria judiciary in no small measure and exposed further the need to reform our anti corruption laws to meet global standard.
"The Maina loot rendered many lives incapacitated and wretched. Main a will spend the few years in jail, come out and enjoy his loot.
"God save this Nigeria."
Bisong Obi said:
"35 years should have been the ideal period to start since it takes same to contribute for pensions and gratuities. You see why there are more criminals out there? There's indeed an incentive for criminality!"
21-year-old son of Maina sentenced to 14 years in prison
Meanwhile, Legit.ng previously reported that Faisal Maina, the 21-year-old son of Abdulrasheed Maina, was sentenced to 14 years in prison.
Justice Abang of the Federal High Court in Abuja delivered the judgement on Thursday, October 7. The trial judge found Faisal guilty on a three-count money laundering charge preferred against him by the EFCC
According to the judge, the EFCC was able to establish that Faisal operated a fictitious bank account with a first-generation bank through which his father, Maina, laundered N58.1million.
Source: Legit.ng